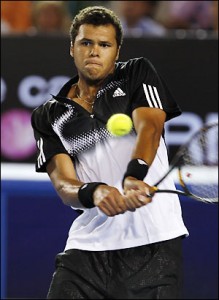 With Novak Djovokic and Serena Williams trading as if it is a fait accompli that they will win their second and sixth Wimbledon singles titles respectively, ante-post tennis punters should focus on some of the men's singles exotics.
Bookmakers have framed 2013 Wimbledon markets on the men's singles player who hits the fastest serve, the men's singles player who serves the most aces, the duration of the longest men's singles match, the number of men's singles tie-breaks and the number of men's singles 6-0 sets. For punters looking for a tournament-long bet, there are options.
Doughnuts – slang for a 6-0 set – are more common in men's tennis than the average punter would think. Bookmakers have fixed the over/under line for the number of men's singles 6-0 sets during 2013 Wimbledon at six and a half. At that line, history suggests that going over is a value bet.
In the 2012 Wimbledon men's singles, there were only five 6-0 sets but that would have been the first time in seven editions that an over bet at six and a half would have failed to turn a profit. In 2011, the total was eight. In 2010, it was seven. In 2009, it was eight. In 2008, it was nine. In 2007, it was seven. And in 2006, it was 10.
Odds compilers are busy people and one must think that the person responsible for setting the 2013 Wimbledon men's singles 6-0 sets line at six and a half did not spend as much time pouring over historical data as the writer of this article did. On face value, there appears to be support for the line being at least one set too low from a trading perspective. The money should come for the over option.
Likewise, there seems to be a decent case for betting over in the market on the total number of 2013 Wimbledon men's singles tie-breaks, with the line framed at 89 and a half. The last three championships have produced totals of 97, 87 and 94 for an average of 92.7 sets over that period. Again, it looks like a market that will attract the bulk of action on the over side, which is not good from the viewpoint of bookmakers who are trying to lay both options equally.
Betting on the fastest serve during the 2013 Wimbledon men's singles is a bit of a raffle for, while there is only a handful of likely lads, the difference between winning and losing will probably be one or two miles per hour. Weather conditions will play a part as well so, even though it is a fun competition on which to bet, it is probably best left.
Most aces during the 2013 Wimbledon men's singles, however, is a market about which one can be more cerebral because it combines not only big, accurate serving but also probable progress through the draw. After all, it is no good backing an ace machine who will struggle to make the second week.
According to the Betfred betting lines, the contenders are Jo-Wilfried Tsonga at odds of around 4-1, Andy Murray (9-2), Milos Raonic (11-2), John Isner (7-1), Philipp Kohlschreiber (7-1), Tomas Berdych (8-1), Roger Federer (10-1), Sam Querrey (12-1), Ernests Gulbis (16-1), Nicolas Almagro (16-1) and Djokovic (20-1). It is 33-1 bar the rest.
One can put lines through a few of the favourites, at least at the odds. Murray is under an injury cloud. Raonic has not reached the third round of a Wimbledon men's singles event and the same goes for Isner and Gulbis. Federer is, bless him, past his best. So that is five players off the list.
Tsonga is a worthy favourite since he has a booming serve and qualified for the last two Wimbledon men's singles semi-finals. Kohlschreiber topped the chart last year when he made the last eight but his Wimbledon form is mixed. If anyone is going to beat Tsonga at long odds, it may end up being Almagro, who has sent down more aces than anyone else on the men's singles circuit this year. The Spaniard reached the third round of this Grand Slam event in 2011 and 2012.