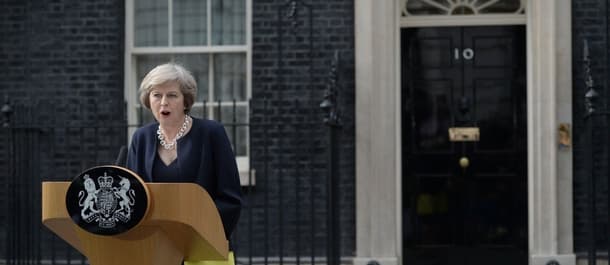 British Prime Minister Theresa May is a dead woman walking after the Conservative Party gave away its House of Commons majority at the recent election and potential successors are lining up to replace her as 10 Downing Street's resident.
May ran an atrocious election campaign in which the party that she leads went from a position of strength to holding onto power by its fingernails. The Conservative Party is having to strike a deal with the Democratic Unionist Party, a Northern Ireland-based organisation that is Eurosceptic but opposes a hard Irish border. Life in Westminster is not going to be plain sailing for May's Conservative Party and there are reports that she may have little more than one week to convince her peers that she should keep her job.
Even if May remains Conservative Party leader in the short term, it is almost unthinkable that she will lead the Tories into the next election, whenever that takes place. Most of the British public have made up their minds about May and her ratings are terrible. May has demonstrated that she is not an effective election campaigner and, in hindsight, it is remarkable that she became the British Prime Minister.
Boris Johnson is the general favourite to be the next leader of the Conservative Party but the attention-seeking former Mayor of London makes no appeal at his current odds. Early favourites have a dreadful record in Conservative Party leadership contests and, while Johnson is a great media performer, many Tories view him as a political lightweight. Currently Foreign Secretary, Johnson has struggled in that high-profile role and failed to convince his critics.
According to next Conservative Party leader betting markets, David Davis is the biggest threat to Johnson and one thinks that he is worth a wager at odds of 5.00Bet €100 to win €5004/1Bet £100 to win £500+400Bet $100 to win $5004.00Bet HK$100 to win HK$5004.00Bet Rp100 to win Rp500-0.2500Bet RM100 to win RM500 with Coral. Davis is the Brexit Secretary so, if May gets the boot in the near future, he is better placed than any of his Conservative Party contemporaries to take the top job and negotiate with the European Union on behalf of the United Kingdom. Davis is a Conservative Party heavyweight and he has bounced back well from losing to David Cameron in 2005 after being the frontrunner in the first of the three leadership votes.
The stocks of Ruth Davidson and Amber Rudd rose during the Conservative Party's disastrous election campaign but, if anyone is likely to deny Davis the post of which he has dreamed for many years, it may be Philip Hammond. Hammond holds the position of Chancellor of the Exchequer and, as the second most senior member of the Conservative Party government, obviously he is held in high regard. Several Chancellors of the Exchequer have made the switch to Prime Minister without going to the ballot box – for example, John Major and Gordon Brown in recent times – so Hammond appears somewhat overpriced at odds of 10.00Bet €100 to win €10009/1Bet £100 to win £1000+900Bet $100 to win $10009.00Bet HK$100 to win HK$10009.00Bet Rp100 to win Rp1000-0.1111Bet RM100 to win RM1000 with Winner Sports.
Davis is the next Conservative Party leader bet to strike if you only want to wager on one person but, if you are not adverse to dutching options, couple him with Hammond and have both of them running for you at odds of 3.33Bet €100 to win €333233/100Bet £100 to win £333+233Bet $100 to win $3332.33Bet HK$100 to win HK$3332.33Bet Rp100 to win Rp333-0.4292Bet RM100 to win RM333 . Backing Davis and Hammond in next Conservative Party leader betting is preferable to supporting them in the next Prime Minister market because Labour Party chief Jeremy Corbyn is a real player in the latter given his new-found popularity. Corbyn lost the recent election but, if a new poll took place today, he would be handed the keys to 10 Downing Street.
Tips Summary
Dutch Davis or Hammond to be next Conservative party leader
Odds: 3.33Bet €100 to win €333233/100Bet £100 to win £333+233Bet $100 to win $3332.33Bet HK$100 to win HK$3332.33Bet Rp100 to win Rp333-0.4292Bet RM100 to win RM333
Conservative Party
David Davis
Philip Hammond
political betting
Politics
Theresa May