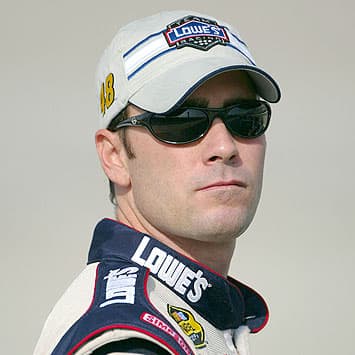 It is the opinion of many NASCAR bettors (and one that might be well-founded) that once Jimmie Johnson has passed Matt Kenseth in the points race for the Sprint Cup, there's going to be no looking back. As the Cup drivers make their way to Martinsville, VA this weekend for the Goody's Headache Relief Shot 500 (don't you just love those names?), there will be every opportunity for Johnson to create more distance between himself and the pack.
Right now, the 38-year-old Johnson, who has won the Sprint Cup five times, is ahead of Kenseth by four points, with last week's results at Talladega Superspeedway producing an eight-point turnaround. It's not that either guy did so well; Johnson finished 13th in a race won by restrictor track ace Jamie McMurray. But Kenseth came 20th, which had to be quite a disappointment, inasmuch as he had a great history at that track.
This week is a little different on the short track at Martinsville. Johnson has been a sensational competitor at this location, so it would seem the only thing that could trip him up is to get into a wreck. The race is slated to go off at 1:30 PM ET on Sunday.
Here are the drivers priced at +4000 and below for the Goody's Headache Relief Shot 500 at Martinsville, as posted at Bovada.lv:
Jimmie Johnson #48 +200
Jeff Gordon #24 +550
Kyle Busch #18 +750
Denny Hamlin #11 +800
Matt Kenseth #20 +1000
Clint Bowyer #15 +1200
Kasey Kahne #5 +1200
Kevin Harvick #29 +1200
Brad Keselowski #2 +1400
Dale Earnhardt Jr. #88 +1800
Carl Edwards #99 +2500
Martin Truex Jr. #56 +2800
Ryan Newman #39 +2800
Greg Biffle #16 +3300
Joey Logano #22 +3300
Kurt Busch #78 +3300
Jamie McMurray #1 +4000
The Martinsville track is one of the longest-standing tracks on the NASCAR circuit, with the first race taking place there in 1948. It's .526 miles, and that short a distance is not for everybody. It is valuable to get to the front row in qualifying, with 27.9% of winners having qualified either first or second.
This isn't a restrictor plate track, so it's probably not prudent to be looking for back-to-back victories from McMurray, who is priced at +4000 in the NASCAR odds.
If Johnson has a good race, Kenseth (+1000 at Bovada) is going to have to do something sensational. Is he in any kind of position to do that? Well, Sprint Cup bettors can judge that one for themselves, but Kenseth has raced in Martinsville 27 times and has yet to come out of there with a victory. The best he's done is finish in the top five three times. And his Driver Rating at the venue is average at best (80.5).
Meanwhile, Johnson has emerged victorious in the last two Martinsville races. His average finish there is 5.3, and he's got eight career wins at the short track, where his record is unmatched. In the last ten yards, Johnson hasn't finished below 12th. That wouldn't leave a lot of room for Kenseth to make up ground.
Jeff Gordon is listed as the second favorite in the NASCAR odds, at +550, and for good reason, as he has a very formidable history at this location, with seven wins at Martinsville. What is also impressive is that even when he doesn't win, he is scoring points. Gordon has been a top five finisher in 26 of his 41 appearances.
It is always possible that spoilers are going to show up. The last two races have been won by non-Chase drivers, Brad Keselowski and Jamie McMurray. These weren't upsets either; we've already discussed how good McMurray is when using restrictor plates, and he has won the Daytona 500 while using them. Keselowski, of course, was last year's Sprint Cup champion.
In this year's race the guy who could shake things up by winning, and has all the ability in the world to do it, is Denny Hamlin, who is priced at +800 in the Bovada betting odds. Hamlin has not been on a hot streak; in fact, he has not finished in the top five since May. But he does love Martinsville, as evidenced by the four races he has won there. He's a local guy, and more important, he is Kenseth's teammate with Joe Gibbs Racing. If there is something he can do to help Kenseth overtake Johnson, you can bet he is going to give it a try.
That appears to be the only way for Kenseth to re-take the lead from J.J. after this weekend's festivities. If he misses at that he is going to have a hard time at Texas, where Johnson won a year ago.
Open an account and bet on all the NASCAR races at Bovada.lv