2013 NBA Playoff Series Betting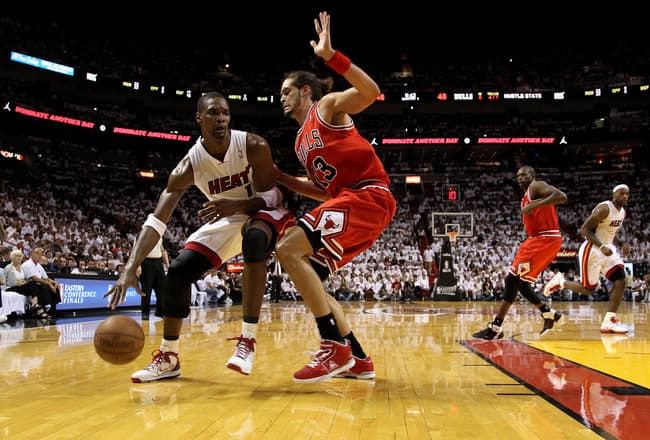 Series Odds: Chicago +1250 – Miami -3000
The Chicago Bulls take on the Miami Heat in an East Conference Semifinals that will give bettors a look at the first true test for Miami. Though beat up after a tough series against Brooklyn the Bulls are surely still up to the challenge as they try to pull a massive upset.
Miami has rested for over a week after they dispatched the Milwaukee Bucks in a sweep. Chicago has done the exact opposite. Their series with the Brooklyn Nets went to game seven and finished on Saturday, May 4th just two days before the start of the series Monday.
The Bulls have all faced injuries issues with Luol Deng and Kirk Hinrich sitting out the crucial game seven. Center Joakim Noah had an impressive game seven but has missed time as well during the series with injury. Hinrich and Deng's status for Monday's game one are unknown.
The regular season series between these teams was split between four games with the Heat and Bulls each winning one home game. Bettors also should remember it was the Bulls who broke the Heat's record 27-game win streak late into the season.
Our Prediction:
It is rare we see -3000 favorites on any selection so the Heat's dominance this season has inspired bettors to heavily bet them to win the finals. However, they are not invincible. Chicago was one of few teams to beat Miami twice this season and have done a good job keeping their powerful offense to less than 100 points.
Miami's talent and reigning 2013 MVP Lebron James give them an advantage of every other team in the league. Perhaps their only weakness is their lack of rebounding, which is one advantage the Bulls could look to exploit in this series. The Heat ranked 6th to last in the NBA in rebounding this season.
Still, no one can argue with Miami's results and their lack of rebounding certainly isn't holding them back from winning a championship. The Bulls will need influential games out of their starters and role players alike to have a chance in this series. Nate Robinson and Jimmy Butler will need to have multiple monster games and be efficient if the Bulls want to stay with the high scoring Heat.
For Chicago, their injuries are the most worrisome factor coming into the series. With fewer bodies available, the starters will face heavy minutes and the Bulls team defense will suffer. They were decent against the Nets defensively, but Brooklyn had few offensive weapons compared to the onslaught of options that the Heat bring.
Noah, Hinrich and Deng all may miss parts of this series due to nagging injuries. Though it has been discussed in the media, it is unlikely Derek Rose will return during the playoffs. Rose has been cleared to play since February, but his inner circle has reported that he will make his comeback during training camp next season. Of course, nothing has been ruled out, but it seems extremely unlikely fans will see Rose until the start of next season.
Miami has an injury concern of their own, as well. Dwayne Wade missed game four against Milwaukee and has been bothered by a knee injury. Wade is an pivotal scorer for Miami, but as shocking as it is – we still think the Heat could handle the Bulls without Wade.
That brings us to our pick. It's hard to ever lay -3000 on a favorite, but Miami looks one of the best teams of this generation. Lebron is one of the greatest players to ever live and the team has had a week off to rest and prepare. Their opponents just went through a tough seven game series and are riddled with injury concerns.
Though the risk versus reward in this kind of wager is low, bettors would be hard pressed to find a better sure thing than the Heat. Of course, anything can happen in sports, but the Bulls winning this series would be one of the biggest upsets in NBA history.
Bulls backers who think this team has a chance of winning will get generous +1250 odds, but we just can't see it happening.
Our Play: Miami -3000 at Bovada.lv