Whilst we all enjoy the odd wager here and there, most of us limit our habits to the norm; an accumulator on the weekend's football, a few horses here and there or a game of poker. Some people, however, choose to make some slightly more obscure wagers. We've searched far and wide to bring you five of the strangest, most bizarre bets we could find. Don't try these at home!
Whatshisname
Given the fact that your name is something you use day-in, day-out throughout your life, it's understandable if you dislike yours and feel the need to change it officially. If you're planning on taking this path, however, we suggest you refrain from using quite so many characters as Mr Frostnova. Yes, we said Frostnova.

After losing a game of poker, the drunken gambler stayed true to his word and allowed the winner to rename him as he saw fit. Unfortunately, the name he had chosen was the notably gigantic Full Metal Havok More Sexy N Intelligent Than Spock And All The Other Superheroes Combined With Frostnova. No more gambling for that young man.
Urine For a Treat
Desperate times call for desperate measures. It's just a shame it was a measure of urine for the man who (wisely) only revealed his alias Bullzonparade.
After seeing his beloved American football team the Houston Texans fall behind at half-time the avid follower made the bold promise of downing a cup of his own liquid waste should they manage to turn the game around. Luckily (or unluckily) they did, and astoundingly Bullzonparade followed through with his promise, toasting the "football gods" before sinking the concoction. One tip – if you're ever round Bullzonparade's house, steer clear of the apple juice.
Today's Forecast: Nudity
It's always fun when celebrities and TV personalities get in on the act in our zany lists, and Doria Tillier is a frontrunner with her courageous streak in dedication to the French national team's remarkable comeback against Ukraine.

Evidently a huge football fan – or astoundingly confident in Ukraine's abilities – Ms Tillier was so assured that France would be unable to overcome their 2-0 deficit in their World Cup 2014 qualifier that she said she would present the weather forecast nude if they managed it. She was left gobsmacked when goals from Karim Benzema and Mamadou Sakho (2) saw the French progress 3-2 on aggregrate, prompting a weather forecast like no other.
Wimble-bum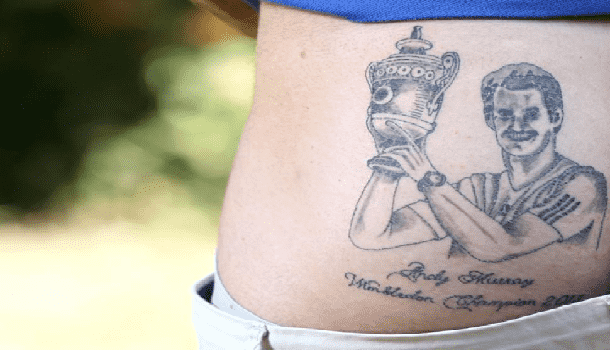 The problem with social media is that there's no escaping the things you've said in the past. Will Hirons' errant declaration that, should Andy Murray win Wimbledon, he would get a tattoo of the scot on his rear end would normally have been forgotten over time. The fact that he tweeted it meant he had to face the music in 2013.
Taking up the full spread of the left cheek, the tattoo clearly depicts Murray holding the trophy aloft with a big grin on his face. We doubt the same can be said for Hirons' girlfriend who apparently labelled him a "prat" for going through with it, but we salute his dedication nonetheless.
Maddenchester United
There are some bets where you just wonder "why risk it?" That was the case when Rodney Ward, a lifelong Manchester City fan, placed a wager with Paul Madden from the red side of Manchester that the former would win the league. United finished 9 points clear, and Rodney was left red-faced and red-chested.
The terms of the bet stated that poor old Rodney had to get a tattoo of the Red Devils crest permanently engraved on his chest. He seemed to take it in good spirits having gone through with it, but we suggest that Rodney keeps his shirt on at the City of Manchester Stadium…they might not be quite so understanding.
Andy Murray
Bizarre Bets
Doria Tillier
Manchester United
naked
tattoo