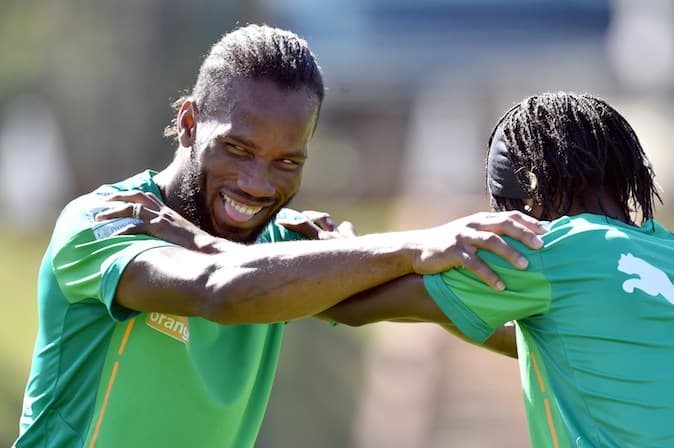 Cote d'Ivoire is the underdog for its 2014 FIFA World Cup Brazil Group C game against Colombia so there is a superb statistic that compels one to nominate an exotic option as the best bet on the eighth day of the competition.
Believe it or not, Cote d'Ivoire has scored in each of its last 26 matches, a run that began when it beat Tanzania 2-0 in its first CAF qualifying game en route to the 2014 FIFA World Cup Brazil. And Cote d'Ivoire has built its scoring sequence on more than weak African sides, with its seven intercontinental foes being Austria, Belgium, Bosnia and Herzegovina, El Salvador, Japan, Mexico and Russia.
But wait, there is more. Both teams have scored in 19 of Cote d'Ivoire's last 26 games, including in six of the seven matches between the Elephants and sides from outside Africa.
Both teams to score in the 2014 FIFA World Cup Brazil Group C game between Colombia and Cote d'Ivoire in Brasilia, a bet that is on offer at odds of 1.95 with Coral, is a cracking play. Cote d'Ivoire's numbers pertaining to the punt are sensational and, while Colombia thrashed Greece 3-0 on its tournament debut, the South American side did not secure at the back and it was lucky that the Greek attack was blunt.
When bets like the suggested one come along one does not need to have a strong opinion on the outcome of the match itself. For what it is worth, 2014 FIFA World Cup Brazil dark horse Belgium has entertained both Colombia and Cote d'Ivoire in Brussels since November. Colombia, admittedly with Radamel Falcao leading its attack, beat Belgium 2-0, whereas Cote d'Ivoire drew 2-2 with the Red Devils. So it would seem that Colombia is entitled to favouritism.
Neither Uruguay nor England expected to enter the second round of 2014 FIFA World Cup Brazil group games on zero points – certainly not the Uruguayans, who were awful in losing 1-3 to Costa Rica. Uruguay was lost without Luis Suarez and, while the Liverpool star looks nailed on to feature versus England in a must-win match for the South American team, surely he will not close to full fitness.
England has a tendency to start under the odds but it does look very well equipped to deal with Uruguay, particularly if Suarez is not his usual effervescent self. It would be illogical for England boss Roy Hodgson to switch away from the attacking line-up that tackled Italy, with the front four of Wayne Rooney, Raheem Sterling, Daniel Sturridge and Danny Welbeck possessing the pace, skill and guile to tear strips off Uruguay's defence. England lost to Italy because the Azzurri got at Three Lions left back Leighton Baines when he did not get strong protection from Rooney. Uruguay right back Martin Caceres is unlikely to pose England the same problems that Italy right back Matteo Darmian did.
Backing England at odds of 2.20 with several bookmakers, including BetVictor, Ladbrokes and PaddyPower, is the way to approach the 2014 FIFA World Cup Brazil Group D game in Sao Paulo. England was so much better against Italy than Uruguay was versus Costa Rica and, in hindsight, the Uruguayans were well under the odds without Suarez.
Finally, there is the 2014 FIFA World Cup Brazil Group C match between Japan and Greece in Natal. One is concerned about Japan's ability to defend aerial attacks but, other than that, one cannot think of a reason to oppose the Samurai Blue against a Greece team that bored its way through UEFA qualifying and is simply not very good.
Japan is the strongest AFC team so the fact that Greece lost 0-2 to South Korea in Piraeus three months ago points one in the direction of the Samurai Blue at odds of 2.20 with many bookmakers, including Bet365 and Sky Bet.
Tips Summary
Ivory Coast and Colombia both teams to score
19th June 17:00 GMT
Odds: 1.95
Where to Bet: Coral
England to beat Uruguay
19th June 20:00 GMT
Odds: 2.20
Where to Bet: BetVictor, Ladbrokes, PaddyPower
Japan to beat Greece
19th June 23:00 GMT
Odds: 2.20
Where to Bet: Bet365, Sky Bet
Bet365
BetVictor
England
Ivory Coast
japan
Ladbrokes
Paddy Power
Tips
Uruguay
world cup