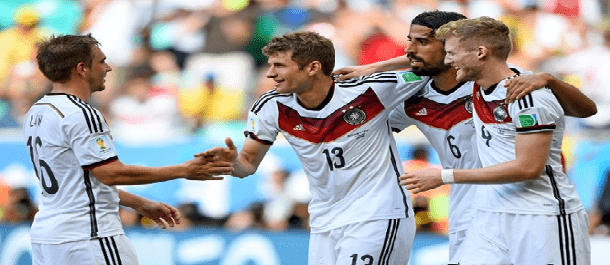 Uruguay broke Brazil's hearts in 1950. Sixty-four years on and one thinks that Germany will play the role of football villain by eliminating A Selecao from a home FIFA World Cup.
Teams have to play seven matches to win a FIFA World Cup and they need to perform well in at least six of those games – one can have an off day in one group clash – to lift aloft the most famous trophy in sport. To perform well in six or seven matches over a one-month period requires strength in depth because, while suspensions are less of a factor since FIFA changed the rules so that pre-semis cautions are wiped out, minor and major injuries are never going to go away.
One has grown up watching any number of Brazil sides that were a joy to behold. The Brazil team of 1982 was possibly the best side not to win a FIFA World Cup – Eder, Falcao, Socrates and Zico were superstars – and since then football geniuses such as Rivaldo, Romario and Ronaldo have worn the yellow shirt with great distinction. But the days of Brazil playing beautiful football are long gone, with Luis Felipe Scolari's team doing whatever it takes to win games.
Throughout the 2014 FIFA World Cup Brazil the home side has relied upon moments of individual brilliance, most commonly from Neymar, to get the job done. Now Neymar is out of the tournament with a fractured vertebra, which Brazil player is going to pull a rabbit out of a hat for A Selecao? Neymar has been Brazil's best attacker by the length of Copacabana Beach with the host nation's other strong performers being goalkeeper Julio Cesar, defensive midfielder Luiz Gustavo and central defender Thiago Silva. The latter is ineligible to face Germany in the semi-finals because he accrued two yellow cards before FIFA's amnesty came into effect so one thinks that Brazil has problems at both ends of the pitch.
One knows that Brazil has not lost a home match since 2002 and that was a friendly game that A Selecao did not take at all seriously. Because of that fact one has been reluctant to oppose the 2014 FIFA World Cup Brazil host nation but, with Neymar in a wheelchair, the time has come to do it.
Germany has kept normal-time clean sheets in four of its five 2014 FIFA World Cup Brazil matches and its fluid attack has had the same success rate when it comes to scoring. One cannot see Brazil's creaky defence holding out Germany – A Selecao has given up at least one goal in four of its five games – provided that Die Mannschaft plays positively. And of that one is confident because Germany coach Joachim Low is a smart cookie and his players believe in themselves.
Several bookmakers, including Boylesports, BetVictor and Coral, are offering odds of 2.80 about Germany qualifying for the 2014 FIFA World Cup Brazil final with a normal-time victory. That is the best bet among the popular options.
Marco Rodriguez will referee the 2014 FIFA World Cup Brazil semi-final between the host nation and Germany. Rodriguez has shown a total of six yellow cards and one red card in his two tournament appointments, which included the match between Italy and Uruguay in which Luis Suarez bit Giorgio Chiellini. Obviously, FIFA does not blame Rodriguez for missing Suarez's bite but he is only human and one thinks that he will be eager to sanction every act of foul play. And one thinks that the players of Brazil and Germany will not think twice about committing cautionable offences since only a red card would result in them missing the final or third-place play-off. Bookmakers are slowly putting up cards-related markets and one is keen to bet on over four and a half cards if that is where the line ends up settling. At the moment, Bwin is offering 4.20 on over 5.5 yellow cards, and one is still tempted.
Tips Summary
Germany to beat Brazil in 90 minutes
8th July 21:00 GMT
Odds: 2.80
Where to Bet: Boylesports, BetVictor, Coral
Over 4.5 yellow cards (awaiting odds)
BetVictor
Boylesports
Brazil
Coral
Germany
Neymar
world cup