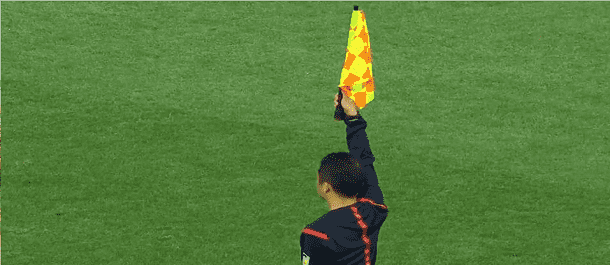 Sometimes one sees a statistic and, so stunning is the data, that one spends the next couple of hours checking out it to make sure that it is worth basing one's betting around.
Argentina has been caught offside just twice during the 2014 FIFA World Cup Brazil, whereas the Netherlands has been flagged 21 times during the tournament. Bwin is offering odds of 2.00 that the Netherlands will be caught offside more frequently than Argentina in their semi-final tie.
At first glance, Bwin's odds of 2.00 about the Netherlands being flagged offside more times than Argentina in the 2014 FIFA World Cup Brazil second semi-final seems like money for old rope and one of the best sports bet in recent years. But before one gets carried away with it, there are some other important numbers that are worth drawing to one's attention.
First, Argentina has only caught its five 2014 FIFA World Cup Brazil opponents offside 12 times and six of them were in its quarter-final game versus Belgium, the side that tops the tournament offsides ladder on 22. For the record, Argentina has lost the offsides count four times (0-3 to Bosnia and Herzegovina, 0-1 to Iran, 0-1 to Switzerland and 1-6 to Belgium) and drawn 1-1 against Nigeria.
And second, the Netherlands has won the offsides count just once in its five 2014 FIFA World Cup Brazil matches (13-2 versus Costa Rica) with three draws (5-5 versus Spain, 1-1 against Australia and 1-1 versus Mexico) and one loss (1-2 against Spain). However, the Netherlands does boast the player caught offside most frequently – Robin van Persie.
All things considered, Bwin is still incorrect to be quoting odds of 2.00 about the Netherlands being flagged more times than Argentina in the 2014 FIFA World Cup Brazil blockbuster in Sao Paulo. One expects the Netherlands to defend deep in a 3-5-2 system so that it can get nine men behind the ball when Argentina playmaker Lionel Messi is in possession and look to hit La Albiceleste on the break through Arjen Robben and Van Persie. One expects Argentina to line up with two central defenders, making it easier for La Albiceleste to operate an offside trap than it will be for the Netherlands. A combination of 2014 FIFA World Cup Brazil statistics and probable tactics means that the Netherlands should be odds on and that Bwin should end up with a lopsided book.
With regards to the result of the 2014 FIFA World Cup Brazil second semi-final, one thinks that Argentina will beat the Netherlands in normal time. The main reason for supporting Argentina at odds of 2.45 with Bet365 and BetVictor is that La Albiceleste have a genius wearing their number 10 jersey and the Netherlands defence has been unconvincing throughout the tournament, conceding goals in three of its first four games before Costa Rica did not really try to find the back of the net in their quarter-final clash.
Netherlands boss Louis van Gaal was nervous about his side's defensive capabilities before the 2014 FIFA World Cup Brazil kicked off, which is why he decided to change formations on the eve of the tournament. Van Gaal is doing a wonderful job but the Netherlands has several players that are an accident waiting to happen, none more so than Bruno Martins Indi. It may take just one moment of Messi magic to propel Argentina into its first FIFA World Cup final since 1990 and there is a good chance that Martins Indi or one of his Netherlands colleagues will put the ball on a platter for the maestro.
Tips Summary
Netherlands more offsides than Argentina
9th July 21:00 GMT
Odds: 2.00
Where to Bet: Bwin
Argentina to beat Netherlands
Odds: 2.45
Where to Bet: Bet365, BetVictor
Argentina
Bet365
BetVictor
Bwin
Netherlands
World Cup 2014