Pakistan will make their bid to win the ICC Champions Trophy for the first time next week when they begin their campaign against India.
The Green Shirts have progressed only as far as the semi-finals in the competition, last reaching the final four in 2009. They were eliminated round one in England four years ago, with Sarfraz Ahmed and his men determined to improve on their poor performance this time around.
The ICC Champions Trophy remains the only international tournament that has evaded Pakistan due to their triumphs in the 1992 World Cup and the 2009 WorldTwenty20. However, it will take a strong effort from all concerned to get Ahmed's team over the line to claim their maiden crown.
Pakistan have had a drain of experience leave their side since the 2015 World Cup, Misbah-ul-Haq, Younis Khan and Shahid Afridi all left after the competition, leaving an inexperienced side in their midst.
As a result, the Green Shirts have struggled against the established sides in the world, twice losing to England along with defeats to Australia and New Zealand.
Their recent victory over the West Indies suggests that there is talent in the squad, but it will take a huge effort for them to compete in the latter stages of the tournament.
We'll now break down their betting odds for the Champions Trophy and assess the key men ahead of a potential surge for the title.
Batting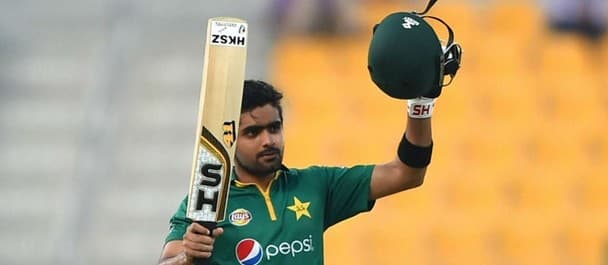 Babar Azam has shown excellent ability at the crease as he aims to replace the runs lost by the departures of Misbah and Khan.
The 22-year-old has been extremely impressive in his fledgling career, scoring five centuries in just 26 matches, including three on the bounce against the West Indies at the end of last year.
He has shown tremendous poise at the crease, making the seamless transition into the international cricket. Azam has displayed no weaknesses to certain types of bowling, remaining consistent against all of his opponents thus far.
Azam has been tested against England and Australia against two of the best pace attacks in the world, notching three half-centuries.
The conditions in England appeared to get the best of him in his side's heavy defeat to the Three Lions in 2016, failing to post a score higher than 40, but he will be a stronger player for the experience of playing the moving ball.
Therefore backing Azam at 4.33Bet €100 to win €433333/100Bet £100 to win £433+333Bet $100 to win $4333.33Bet HK$100 to win HK$4333.33Bet Rp100 to win Rp433-0.3003Bet RM100 to win RM433 with BetVictor would be a prudent bet for the 22-year-old to lead the run column for his team in his debut in a 50-over tournament.
Competition will come in the form of the experienced campaigner Azhar Ali. He has become Pakistan's central figure in the batting line-up in Test and ODI matches.
His average of 38.21 suggests that he has a great deal of quality, boasting three centuries to his name, although those came against inferior opposition.
The 32-year-old struggled against Australia in his last outings in ODI cricket, but against the familiar attacks of India and Sri Lanka he should be able to find his form. Conditions should not be an issue after scoring two knocks in the 80s during last summer's tour of England.
Bowling
The controversial figure of Mohammad Amir looms large over the Pakistan bowling line-up. Like him or loathe him – his talent is there for all to see and his six-year exile from the game has not had a major affect on his play.
Amir was backed at the tender age of 18 to become one of the finest bowlers in the world, and although his ban stunted his development, he has still been a threat to batsmen on his return to action.
He took three wickets on his return to the game against New Zealand and has not lost his ability to use swing – conventional and reverse – to strike with regularity. Amir's average of 27.14 is outstanding, while his strike rate of 33.9 is also very impressive.
The 25-year-old has had issues with his economy rate in his recent outings, with Australia and the West Indies taking the attack to the left-armer. However, conditions in England have suited him in the past and should be able to capitalise this time around.
Amir has taken wickets in his last 11 ODI matches on the bounce – therefore backing him to lead the wicket column for his side in the tournament with Coral at 4.33Bet €100 to win €433333/100Bet £100 to win £433+333Bet $100 to win $4333.33Bet HK$100 to win HK$4333.33Bet Rp100 to win Rp433-0.3003Bet RM100 to win RM433 would be the best option.
Pakistan's wildcard for the Champions Trophy comes in the form of 18-year-old leg-spinner Shahdab Khan.
He made his debut against the West Indies and fared well enough against Jason Holder's men to earn a place in the squad for the tournament ahead of Yasir Shah, who was victimised by England during the ODI series last year.
Khan took five wickets against the Windies and could provide shock value to the sides he faces in Group B enough to inspire a victory or two.
Chances?
Pakistan are in the process of rebuilding their side, with a not a great deal of experience in their squad.
Mohammed Hafeez and Shoaib Malik have over 400 ODI matches between them, but neither are at the peak of their powers, with both players edging towards the end of their respective careers.
The key for the Green Shirts will be the form of Azam and Ali along with Ahmed with the bat, while Amir will have to be a strong spearhead with the ball due to a lack of quality depth behind him.
Pakistan are playing in an extremely competitive group with South Africa and India both well touted to advance, while Sri Lanka will also be determined to make an impact.
Their battle against India will be especially tense due to the fiery nature of their relationship.
Ahmed's men will need to come out of the blocks firing to ensure they advance and even that may not be enough to bridge the gap in quality – therefore approach their odds of 5.50Bet €100 to win €5509/2Bet £100 to win £550+450Bet $100 to win $5504.50Bet HK$100 to win HK$5504.50Bet Rp100 to win Rp550-0.2222Bet RM100 to win RM550 with SkyBet to win Group B due to the challenge ahead of them.
The value of 21.00Bet €100 to win €210020/1Bet £100 to win £2100+2000Bet $100 to win $210020.00Bet HK$100 to win HK$210020.00Bet Rp100 to win Rp2100-0.0500Bet RM100 to win RM2100 is intriguing for Pakistan to win the tournament as Ahmed's men could be a dark horse to emerge should their young talent spring a surprise.
Tips Summary
Pakistan To Win ICC Champions Trophy
1st June – 18th June 2017
Odds: 21.00Bet €100 to win €210020/1Bet £100 to win £2100+2000Bet $100 to win $210020.00Bet HK$100 to win HK$210020.00Bet Rp100 to win Rp2100-0.0500Bet RM100 to win RM2100
Pakistan To Win ICC Champions Trophy Group B
1st June – 18th June 2017
Odds: 5.50Bet €100 to win €5509/2Bet £100 to win £550+450Bet $100 to win $5504.50Bet HK$100 to win HK$5504.50Bet Rp100 to win Rp550-0.2222Bet RM100 to win RM550
Mohammad Amir To Be Pakistan's Top Bowler
1st June – 18th June 2017
Odds: 4.33Bet €100 to win €433333/100Bet £100 to win £433+333Bet $100 to win $4333.33Bet HK$100 to win HK$4333.33Bet Rp100 to win Rp433-0.3003Bet RM100 to win RM433
Babar Azam To Be Pakistan's Top Batsman
1st June – 18th June 2017
Odds: 4.33Bet €100 to win €433333/100Bet £100 to win £433+333Bet $100 to win $4333.33Bet HK$100 to win HK$4333.33Bet Rp100 to win Rp433-0.3003Bet RM100 to win RM433
Babar Azam
cricket
ICC Champions trophy
Mohammad Amir
pakistan