What Happens To Red Sox Without DH in St. Louis?
David Ortiz got robbed of a grand slam in Game 1 of the World Series, but that didn't hurt the Red Sox too much. At least it brought in a run as a sacrifice fly. As if to make up for that, Ortiz later blasted a homer against St. Louis southpaw reliever Kevin Siegrist, who had given up only one previous home run in his career.
You could say that in making that play in right field, which he paid for with a rib contusion, Beltran saved his place on the all-time list for post-season home runs. He's now tied with Ortiz at #8 on that list, where Manny Ramirez stands alone at the top with 29. It's kind of a distorted grouping, in that for players of the past, like Mickey Mantle and Babe Ruth, the only post-season was the World Series itself.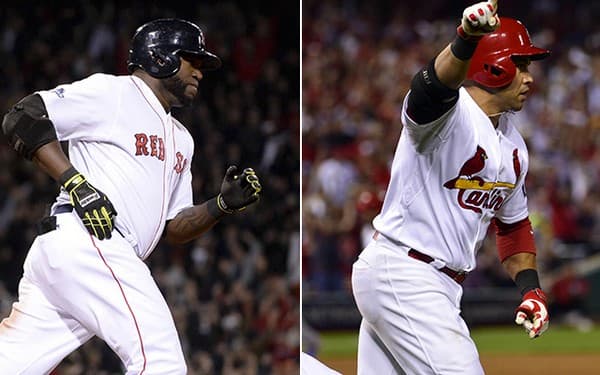 At the outset, the Red Sox were the favorites to win the series, and they were also favored in each of the first two games which took place at Fenway Park against the Cardinals' top two pitchers (Adam Wainwright and Michael Wacha).
When the World Series gets to St. Louis on Saturday, the designated hitter disappears. The Cards are going to make a decision as to what to do with Allen Craig in that situation; he appears to be okay after taking some swings and getting some at bats with his sprained foot. Maybe he gets to play first base, in which case Pete Adams would be coming off the bench.
As far as Boston's situation is concerned, it becomes a matter of what to do with Ortiz. It would seem a rather academic question, since you can't really leave Ortiz and his clutch bat out of the lineup. From a defensive standpoint, however, the only place manager John Farrell can put Ortiz is at first base, which means that the first baseman, Mike Napoli, will have to take a seat. That is a tough break, since Napoli exemplifies Boston's offensive philosophy as well, if not better, than anybody.
The Red Sox saw more pitches than any other team in the major leagues this season, averaging 3.84 per appearance. Napoli saw 4.59, which was the highest figure for any individual hitter. He had 92 RBI and drew 73 walks. Of course, he also struck out 187 times, which is a lot.
As most baseball fans know, Napoli came up as a catcher with the Angels, and though he did play 72 games at that position for the Texas Rangers last season, he hasn't been behind the plate this season. So don't bank on him taking the place of Jarrod Saltalamacchia or David Ross.
Contrary to popular belief, Ortiz does indeed bring a baseball glove to the park with him. He played six games at first base this season, and seven games last year. In other words, he does so in interleague play when the Sox are on the road. He has played only 52 games at the position since 2005.
Actually, that's another area in which the Red Sox might lose a little, because through the Ultimate Zone Rating compiled by FanGraphs.com, Napoli is determined to be the best defensive first baseman in the majors.
Sure the Red Sox would love to get their two big power bats into the lineup at the same time, but that just isn't going to be possible. Will that afford the Cardinals a strategic advantage as they return home?
Bet the World Series now! Open an account and get the most options at Bovada!