The 2013 World Rally Championship will start in Monaco on Tuesday 15 January and end in the United Kingdom on Sunday 17 November and one thing is certain: there will be a new world champion driver for the first time since 2004.
Sebastien Loeb, who has driven Citroen cars to win the last nine World Rally Championship titles, has announced that he will contest just four races in 2013 as he moves towards to joining the World Touring Car Championship in 2014. Loeb, who won nine of last year's 13 World Rally Championship events, has said that he will compete in Monaco, Sweden, Argentina and, of course, his native France only.
Even if Loeb won the rallies in Monaco, Sweden, Argentina and France – a feat that he has never achieved in the same year – the motor sport legend would accrue a total of just 100 World Rally Championship points and that would be insufficient for him to make it 10 titles in a row.
There are 13 events on the 2013 World Rally Championship calendar but not all rallies are created equal, with the surface and weather conditions meaning that certain races are suited to certain drivers. Loeb was special insomuch that he could win rallies irrespective of the challenges.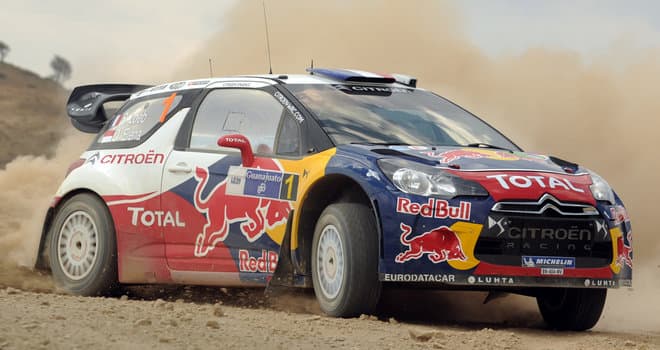 The dominant force in rallying, Seb Loeb will be a big loss to this years WRC
Round-by-round World Rally Championship analysis
In order to deduce who is the best bet to succeed Loeb as the World Rally Championship title holder, it makes sense to look at each of the 13 races separately, starting with the Monaco round that is, arguably, the most famous of all.
Monaco (Tuesday 15 January to Sunday 20 January)
Loeb will be very difficult to beat given that he won five of the six Monaco rallies staged during his World Rally Championship years but Daniel Sordo (runner-up in 2007 and 2012), Sebastien Ogier (winner of the 2009 non-World Rally Championship event), Mikko Hirvonen (winner of the 2010 non-World Rally Championship event and Bryan Bouffier (winner of the 2011 non-World Rally Championship event) command respect. Monaco is raced on mountainous asphalt, which is susceptible to ice and snow in January.
Sweden (7 February to 10 February)
Loeb will be on the start line in Sweden but the race on ice- and snow-covered gravel is not one of his best, with him winning only one of the eight Sweden rallies held during his World Rally Championship years. Jari-Matti Latvala, who won the Sweden rounds in 2008 and 2012, shapes as the man to beat, particularly if his new Volkswagen car performs well in Monaco. Hirvonen will be a contender as well having won across the border from his Finnish home in 2010 and 2011.
Mexico (7 March to 10 March)
Loeb will skip the Mexico round despite having won the last six editions. Hirvonen was second behind Loeb in 2011 and 2012 so he looks the like the driver to follow in the first pure gravel event of the 2013 World Rally Championship.
Portugal (11 April to 14 April)
There will be no Loeb in Portugal but he failed to win the World Rally Championship round in 2010, 2011 and 2012. Mads Ostberg triumphed last year but Ogier won in both 2010 and 2011 so he is the historic form pick for the gravel race.
Argentina (2 May to 5 May)
Loeb will take part in the Argentina round and that has got a lot to do with the fact that he has won seven of its last eight World Rally Championship-sanctioned events. Hirvonen finished runner-up to Loeb in each of the last two years.
Greece (31 May to 2 June)
No Loeb but the Greece round is not one that he has farmed anyway, winning only three of the eight Greece rallies held during his World Rally Championship years. Hirvonen and Latvala placed second and third respectively in 2012, with the former having won in 2009 and run third in 2006, 2008 and 2011. Ogier edged out Loeb in 2011 so the history books suggest it will be between him and the aforementioned Finns.
Italy (20 June to 23 June)
Eight Italy rounds occurred during Loeb's nine World Rally Championship-winning seasons and the Frenchman won half of them. Loeb will not feature in this year's gravel contest, which leaves open the door for Hirvonen, who won the 2012 edition after posting five consecutive second places.
Finland (1 August to 3 August)
With Loeb deciding to swerve one of the more specialist rallies, Latvala looks like the driver to beat having won the 2010 edition and been on the podium in 2009, 2011 and 2012. Hirvonen triumphed in 2009 so he will not be without a chance in a gravel event that draws big crowds to Jyvaskyla.
Germany (22 August to 25 August)
Apart from Loeb, only Ogier has won a Germany round of the World Rally Championship since 2004. Ogier will deserve favouritism but keep an eye out for Sordo, who finished second in 2008 and 2010, as well as third in 2011.
Australia (12 September to 15 September)
Hirvonen will be delighted that Australia is back on the World Rally Championship calendar. Hirvonen has won each of the last three Australia rallies, staged in 2006, 2009 and 2011. Hirvonen's record in Australia is unparalleled.
France (3 October to 6 October)
Frenchmen have dominated the France round of the World Rally Championship since 2005. Loeb has won six of the last seven editions that were part of the World Rally Championship, with Ogier taking out the other one. Loeb will be among the France competitors and only a brave punter would bet against him in what will probably be his farewell rally appearance.
Spain (24 October to 27 October)
No-one other than Loeb has won the Spain round of the World Rally Championship since Markko Martin took advantage of the Frenchman's retirement in 2004. Hirvonen and Latvala chased home Loeb in 2011 and 2012 but Sordo is worthy of a mention as well following five podium finishes from 2006 to 2010.
United Kingdom (13 November to 17 November)
Latvala won the United Kingdom rounds of the World Rally Championship in 2011 and 2012 so he will fancy his chances of ending this year's series with a first-place finish.
Hirvonen worthy favourite to succeed Loeb
Bookmakers have installed Hirvonen as the 2013 World Rally Championship favourite, with the Finn trading at around the 5-6 mark. One could argue that those odds are more than fair because, if one removed Loeb from the 2012 World Rally Championship, Hirvonen would have scored 262 points – 79 more than his nearest challenger, Latvala. And remember, as dominant as Loeb was, he only defeated Hirvonen by 57 points.