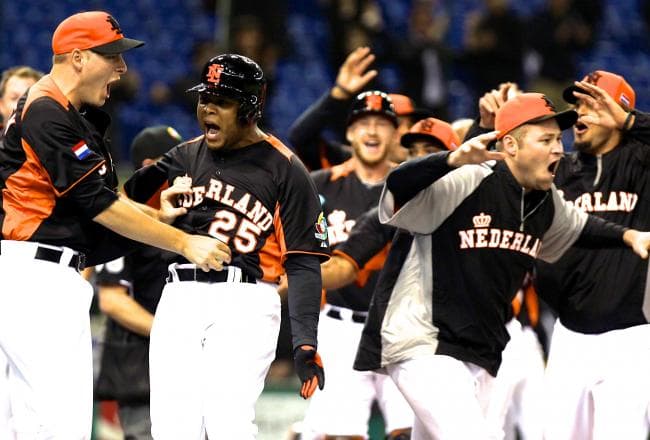 While both teams have already advanced to the next round, Netherlands and Japan still battle it out to see who is top seed in the advancing stages. Netherlands will look to continue the form showed against a powerful Cuban team.
As the World Baseball Classic starts to heat up with Second Round action, we here at SBO will break down some of the matchups as the teams face off in double-elimination Second Round action. With upsets galore so far in the tournament – bettors have quickly learned that any of the remaining teams are viable threats to win the tournament.
The odds below can be found at BetOnline.ag, one of the top online sportsbooks and a preferred betting partner of Sports Betting Online.
The Netherlands (+350) at Japan (-425) Total: OvUn 9 6:00 AM EST
Run Line: Netherlands +3.5 (-120) at Japan -3.5 (+100)
In a game where both teams have already advanced to Round 2 and will be playing for seeding, this matchup is still hotly anticipated.
The Dutch lost their first two games of the WBC. One loss was to Chinese Taipei, and the other was a beating by their opponent in this game, Japan, a 16-4 in Tokyo. However, they rallied late to hand powerhouse Cuba a 7-6 loss and eliminate them from the tournament.
Japan has had little trouble with opponents in this year's classic and have posted a 4-1 record with their lone loss coming against now eliminated Cuba, a game in which they lost 6-3. Japan thrashed the Netherlands in a previous meeting two days ago, 16-4.
Our Prediction
The Dutch have had quite a ride during this classic, and a victory against Japan to win the group would cement an already above expectations tournament for team Netherlands. Regardless, the Dutch and Japanese are moving on to the next round, so most of the pressure is off for both teams.
Japan is clearly leaps and bounds ahead in talent between to the two teams, despite Japan not having any active MLB players. The Netherlands has several active and former MLB players, most nobly Andruw Jones and Roger Bernadina. While they have not had trouble scoring runs, the Dutch cannot seem to get critical outs and have had trouble closing out ballgames.
Baseball has too much short term luck to wager on a -425 favorite such as Japan, but the run line is especially intriguing with Japan laying -3.5 runs. Every game is a point of pride for the Japanese whose national sport is clearly baseball. The two time World Baseball Classic title nation will be playing for pride only, but we're guessing that matters more in Japan than most other countries in the world.
Our Play: Japan -3.5 (+100) at www.betonline.ag

Italy (+350) at Dominican Republic (-375) Total: OvUn 10 1:00 PM EST
Run Line: Italy +1.5 (+170) at Dominican Republic -1.5 (-195)
Team Italy has had the most improbable run of any team in this tournament and in Italian baseball history. Runners up in Pool D, Italy is into the Second Round of the World Baseball Classic.
Despite a roster that contains only six major leaguers, and 11 players from the Italian Baseball League, Italy seems to have an air of confidence.
The Italians will go with right-hander Tiago Da Silva to start the game against the Dominican Republic. He pitched 3 1/3 innings in pool play, allowing one run with five Ks and a walk.
The Dominican Republic is ripe with All-Star MLB talent. They finished with a 3-0 record in Pool C play. The best offensive team in the tournament, the DR has hit .324 as a team far far in this tournament. Robinson Cano has been leading the way, hitting .600 with one home and three doubles.
The Dominicans will start righty Edison Volquez against the team Italy. The DR has also had the best pitching staff so far in the tournament. They have thrown a combined 27 innings with an impressive 2.67 ERA.
Our Prediction
The talent disparity, like the Netherlands/Japan match is again – HUGE. The Dominican Republic is a hot bed of baseball talent and the team has no weaknesses. While Italy is brimming with confidence, they are likely in for a rude awakening against this Caribbean baseball powerhouse.
While we like the Dominican Republic to win straight up, it's too risky to wager -375 on a game with so much short term luck as baseball has. The -195 run line is the wager we like most on the board. Italy has not faced a pitching staff this talented in the tournament and will have trouble seeing pitches off Volquez and the talented Dominican bullpen.
Our Play: Dominican Republic -1.5 (-195) at www.betonline.ag

Puerto Rico (+195) at USA (-225) Total: OvUn 9 8:00 PM EST
Run Line: Puerto Rico +1.5 (+100) at USA -1.5 (-120)
The US and Puerto Rico (which is technically a US territory – we're just saying!) both narrowly got out of tough draws in the First Round. As they face off Tuesday Night at Marlins Park, both teams have a lot to prove in Game 1 of Pool 2 play.
The US was the top seed out of Pool D, but had to play a do or die game against Canada to advance. The US rallied late to take the lead, and then piled on more runs winning the game, 9-4.
David Wright has led the US offensively throughout the First Round. He hit a Grand Slam against team Italy in Pool play and has had a hit in every game of the Classic. The United States has gotten on base quite often but has struggled to get key hits to bring home runners in scoring position.
Gio Gonzalez, a southpaw for MLB's Washington Nationals will get the nod for the Americans. It is his first start ever in the World Baseball Classic. Gonzalez was one of the best pitchers in the Majors last season, striking out 207 batters in 199 innings and boasting a 2.89 ERA.
Puerto Rico is no slouch in baseball talent and is certainly capable of holding their own against the US. Their roster has plenty of major league talent, including a potent outfield of Carlos Beltran, Alex Rios and Angel Pagan.
Puerto Rico will start Mario Santiago, a minor league pitcher from the LA Dodgers organization. He has seven years of minor league experience.
Our Prediction
Even though, Puerto Rico is going with a career minor leaguer as their starter – we still love their chances against the mighty US. Due to WBC pitch counts and rules, starters have a lot less meaning in this tournament on the whole. If he gets into trouble early, Puerto Rican Manager Edwin Rodriguez will not hesitate to pull him in this critical matchup.
Other than a big outburst against a terrible Canadian bullpen in their 9-4 victory, the US has not looked too comfortable in the batter's box. They have struck out a lot and left a lot of runners stranded against subpar pitching staffs. We're not convinced that their outburst in the latter innings of a win against Canada is enough to merit them a powerhouse in this tournament yet.
The Puerto Ricans have the talent to match the US in a lot of areas, and we don't think the Americans have played up to their potential so far. We like Puerto Rico straight up.
Our Play: Puerto Rico (+195) at www.betonline.ag