The ongoing expansion of legalized sports betting in several US states continues to provide bettors and fans with plenty of entertaining stories, one of the latest of which comes from New Jersey, where William Hill US is suing upstart sportsbook rival FanDuel over a how-to sports betting pamphlet that FanDuel appears to have stolen in its virtual entirety from William Hill US.
William Hill US's parent entity, American Wagering, Inc., filed the lawsuit last week in the US federal district court for the District of New Jersey, where the theft is likely to have occurred. According to the complaint, William Hill US published a pamphlet called the "How to Bet Guide" and printed up lots of copies, to be distributed to bettors and visitors to the William Hill US sportsbooks at New Jersey's Monmouth Park Racetrack and Ocean Park Casino. The pamphlet was duly branded as a William Hill US production and copyrighted with the US Copyright Office.
In July, William Hill US discovered that despite this pamphlet being a copyrighted work, FanDuel had stolen the contents — in many parts and pages, literally word for word, and retitled it the "How to Bet Betting Guide".
The content theft was about as blatant as it gets, ranking right up there with Asian knockoffs of movies and CDs and tennis shoes and the like. It's unknown exactly how many people at FanDuel had some sort of connection to the pilfered and repurposed material, but according to (and illustrated within) the William Hill US complaint, the stolen content made its way not only into the knockoff pamphlet distributed by the FanDuel sportsbook at Meadowlands Racetrack, but also onto numerous online pages offered on FanDuel's online site, aimed at New Jersey bettors.
When we say blatant theft, we mean blatant. Here's one of several visual comparisons of the original and stolen material, as inserted directly into the lawsuit's allegations. This full page offers some basic info about betting on American-style football, and one can see that all the FanDuel thieves did was to splash in a couple of new graphics: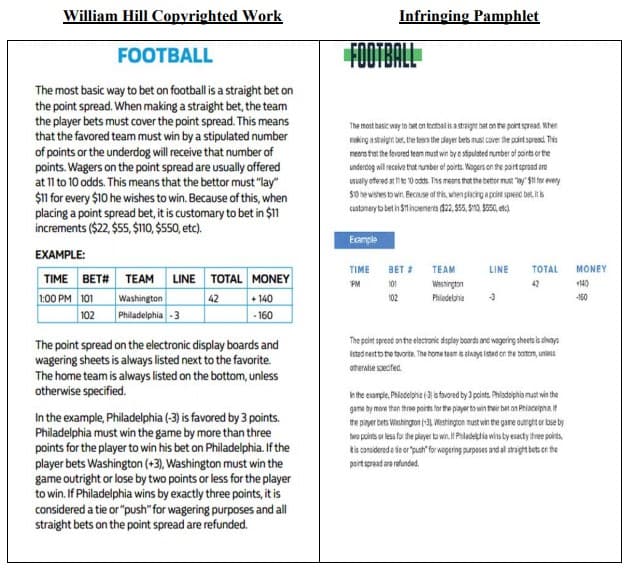 Content theft — or more legally accurate in this instance, copyright infringement — simply does not get any more obvious than this.
Regardless of how many people at FanDuel were involved, this is the sort of shoddy behavior that could lead a prospective betting customer to decide that FanDuel is unprofessional enough to not even bother to consider as a book. SBO fans and readers will remember that just a month ago, FanDuel made a very unusual "goodwill" payout of well over US $82,000 to a handful of bettors involved with an erroneous line briefly offered on an NFL game. Those payouts FanDuel made last month certainly were not legally necessary, as such technical errors automatically render wagers made in those situations null and void. As we pointed out at the time, you'd never see that sort of payout in the UK or another established sports betting market. But because New Jersey is so new to legalized betting, FanDuel saw it as a way to advertise itself to an opening market.
But now this. The thing is, if you want to piss away the goodwill you've literally spent a hundred thousand US dollars to gain, you could hardly do better than this — being so cheap and lazy and incompetent to steal a betting guide from your direct competitor and somehow believe no one's going to notice. High comedy indeed.
William Hill US looks to have a slam-dunk legal win awaiting it, whenever this case goes to trial. The Hills' US entity has asked for a jury trial along with unspecified damages, including for the court to order some sort of disgorgement of profits FanDuel may have earned from providing the stolen pamphlet content to its own customers. Just being forced to find a way to calculate that would be an expensive and time-consuming pain for FanDuel, but it's fair to say the company has earned its punishment here. If its employees don't know how to do things the right, legal way, then… well… stuff like this is bound to happen.
betting guide
copyright
Fanduel
New Jersey
pamphlet
United States
William Hill US