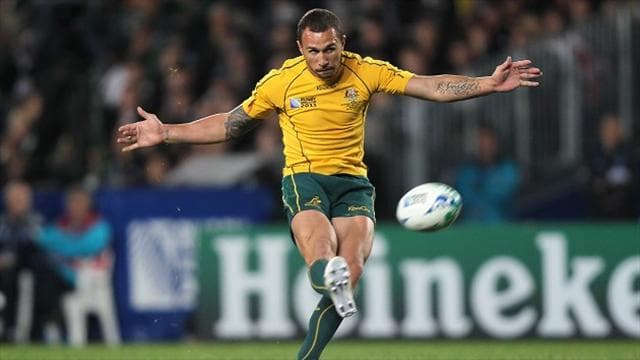 Australia is an outstanding bet against the spread in its Rugby Championship home match versus New Zealand that doubles as the first Bledisloe Cup game of the year.
Bookmakers are offering handicap starts to Australia of up to 7.5 points at odds of 1.73. The line, found at Bet365 looks wrong for any number of reasons but here are four for starters.
First, Dan Carter is out of New Zealand's team for the next month after an old calf injury flared up during a training session this week. One statistic shows that New Zealand has a higher win percentage without Carter than with him – 87 per cent against 84% – but that are others that indicate that the All Blacks will miss him badly versus Australia. Carter is an ace goal kicker and his replacement, Aaron Cruden, is not, with Carter's Super Rugby success rate standing at 86% and Cruden's wallowing at just 69%. And Carter's absence means that New Zealand does not have a natural left-footed kicker in its backs, which makes it easier for opponents to shut down its attacking kicks.
Second, New Zealand captain Richie McCaw has not played a full match at a high level since the All Blacks lost 21-38 to England at Twickenham in December 2012. McCaw and Carter are New Zealand's two best players and, even though McCaw is a freak in the nicest possible way, it is asking a lot of him to make his 80-minute return in a Bledisloe Cup game versus a fired-up Australia side at its Sydney base.
Third, Ewen McKenzie is likely to make an instant, positive difference to Australia having succeeded the most hated Kiwi in the great southern land, Robbie Deans, after the British and Irish Lions embarrassed the Wallabies. McKenzie has made several significant changes to Australia's starting line-up, the eight switches including selecting Matt Toomua at number 10 and moving James O'Connor from five-eighth to wing. Good fortune for McKenzie is that the International Rugby Board has tweaked the law pertaining to scrum engagement, with its modifications aimed at reducing the number of scrum resets, something that is the bane of rugby union fans who want to see the ball in play and fewer penalties awarded. Australia does not have the world's greatest scrum so anything that will level the playing field at scrum time is a bonus for the Wallabies. Former prop McKenzie likes the new rule.
And fourth, history shows that Australia is competitive in matches against New Zealand on home soil. Even under Deans, half a dozen years that most Australia fans would rather forget, the Wallabies kept New Zealand on its toes. Using 7.5 points as its start, Australia would have rewarded handicap punters six times out of eight, with its large losses being by eight and 21 points. Sydney is the home of Australia's rugby union community and its ANZ Stadium is the venue for the 2013 Rugby Championship/Bledisloe Cup opener so the Wallabies will enjoy fervent, passionate support.
South Africa and Argentina will meet in the other game on the opening weekend of the Rugby Championship. Argentina talisman Juan Martin Fernandez Lobbe has been ruled out of the Johannesburg match with a Carter-like calf injury and that kills the appeal of siding with the Pumas, who are receiving 16.5 handicap points from most bookmakers.
It promises to be an emotional day in Johannesburg. In a rare sports double header, South Africa's football team will play Burkina Faso before the Springboks line up versus Argentina on a day that the Rainbow Nation is dedicating to its 95-year-old former leader, Nelson Mandela, who has spent more than two months in hospital fighting to stay alive.
Bookmakers appear to have got their South Africa against Argentina spreads about right and the urge to side with a Springboks side that may play on emotion for Mandela is tempered by the likely game plan of Heyneke Meyer. Also, both South Africa and Argentina are strong up front so the new scrum engagement law could be a hindrance to one or both teams. The match is best watched for future opportunities.