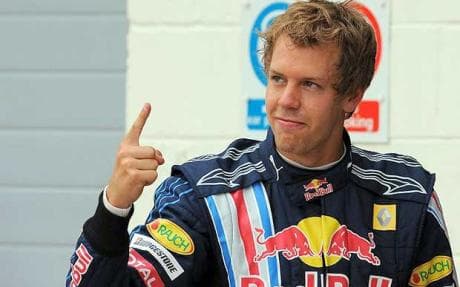 The 2013 Formula One championship will run from 17 March to 24 November and this man will be ready!
If the petrol heads who follow this branch of motor sport religiously are correct in their analysis of the pre-season testing data, it will be a close-run thing.
Only two drivers have won four Formula One titles in a row. Argentina's Juan Manuel Fangio was the first to achieve the feat when he built upon his 1951 championship success with victories in 1954, 1955, 1956 and 1957. Germany's Michael Schumacher went one better in the 2000s, taking out the 2000, 2001, 2002, 2003 and 2004 competitions. A driver whom Schumacher inspired, 25-year-old German superstar Sebastian Vettel, will try to become the third member of the club in 2013 following his superb triumphs in 2010, 2011 and 2012.
Vettel will not have everything his own way, though. He is just one of five Formula One champions who will race in the 2013 season, with the others being Fernando Alonso (2005 and 2006), Kimi Raikkonen (2007), Lewis Hamilton (2008) and Jenson Button (2009). Also, there are a number of good youngsters, including Romain Grosjean, Sergio Perez and Nico Rosberg, while Mark Webber is worthy of a passing mention.
The 64th Formula One season will feature 19 races, with the series getting under way in the Australian city of Melbourne and drawing to a close in the Brazilian city of Sao Paulo. In modifications from the 2012 calendar, the German Grand Prix moves to the Nurburgring as per its event-sharing agreement with the Hockenheimring. Also, the Spanish Grand Prix switches to the Circuit de Catalunya as per a similar deal with the Valencia Street Circuit, while the European Grand Prix gets put into cold storage. Formula One boss Bernie Ecclestone wants his series to be global and this year no country will stage more than one race.
Vettel The Obvious Favourite
The majority of money wagered on the 2013 Formula One title race, at least before the Australian Grand Prix gets under way, will be on Vettel. His four full Formula One seasons have produced three titles and a runner-up medal and it would safe to say that there are motor racing punters out there who have got rich by backing him for everything.
Bookmakers are offering odds of around 7-4 that Vettel joins Fangio and Schumacher as back-to-back-to-back-to-back Formula One champions but, with almost everyone associated with the competition tipping one of the closest in years, it makes sense to look beyond the short-priced favourite. While we mentioned that the the Red Bull design might not be as good as they would have hoped – they and Vettle are still in with a good chance of winning their respective championships. The important fact is their price is not offering us any value.
Alonso's Ferrari Unlikely To Dazzle
Alonso is the universal 2013 Formula One second favourite at odds of around 100-30 but a bet on the steady Italian does not make a great deal of appeal. The word in pit lane is that Ferrari has a good car but not a great one and, once again, Alonso's skill in steering it to podium finish after podium finish will determine how it fares this season.
No-one should write off Alonso given that he is, arguably, the best driver on the grid but it is difficult to see him winning his second Formula One crown with a Ferrari car that may be just a little bit slower than its major competitors.
Opposable Market Leaders Wqual Value Opportunities
The 2013 Formula One betting market has a good look to it from the perspective of a punter who does not mind backing a juicy priced outsider or two. Vettel and Alonso are, at the best prices, around 4-6 to win the championship, a quote that looks on the short side given the various pre-season testing results in which several constructors shone.
Formula One followers were raving about McLaren a couple of months ago but the hype surrounding its car and drivers – Button and Perez – has evaporated because its vehicle is still experiencing the understeering issues that first raised their ugly heads 12 months ago.
Lotus is being talked up in some quarters but there is a real possibility that it has not got on top of its big problem during 2012 – reliability. Lotus did not complete all that many laps during pre-season testing and, while the team is saying that everything is fine, no-one will really know until the lights go green at Melbourne's Albert Park.
Hamilton Could Regain Title
Perhaps the best 2013 Formula One futures bet is Hamilton to regain the title in his first year as a Mercedes man. What would have sounded preposterous just a few weeks ago now sounds logical, with Mercedes impressing everyone during pre-season testing, both with its lap times and the look of its car on the track. Mercedes seems to have a great car.
Hamilton is as big as 10-1 to win his second Formula One championship and he is trading at odds of around 9-4 to finish in the top three. Both bets are worth exploring and one should not discount the prospect of Rosberg doing well this year, even if he plays second fiddle to the Briton.