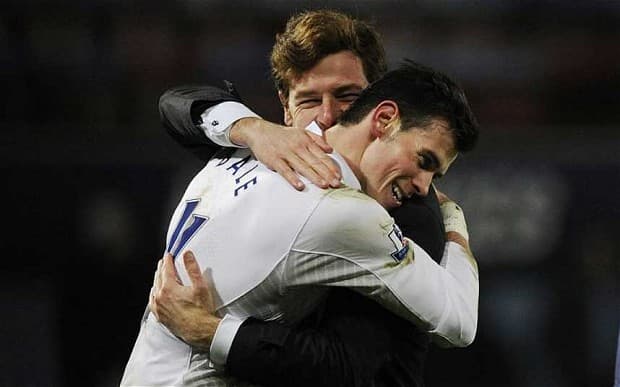 Bale celebrates with manager, André Villas-Boas who will be thankful that his star man is keeping the teams European football dream alive. Is he worth backing for PFA Player of the Year?- not at his current odds anyway.
Tottenham midfielder Gareth Bale is the flavour of the month in the English Premier League right now and bookmakers have promoted the Wales international to odds-on favouritism in betting on the Player of the Year gong that the Professional Footballers' Association will hand out in April 2013.
Bale has received more positive press in recent weeks than some players receive in their entire career, with Tottenham manager Andre Villas-Boas labelling Bale as an inspiration to his Spurs colleagues and Wales teammate Jack Collison saying that Bale is up there with Barcelona superstar Lionel Messi and Real Madrid phenomenon Cristiano Ronaldo.
Bale's brace for Tottenham in its superb 3-2 English Premier League away derby victory over West Ham was his third double in four matches and took his recent tally to nine goals in eight games for his club and his country. Currently there is no hotter player in the world than Bale and that is why the bookmaking fraternity has slashed its odds about him winning the PFA Player of the Year award for the second time.
But is not everyone getting a little carried away with what, admittedly, is one hell of a fine Bale run of form? He was trading at odds of around 33-1 before scoring Tottenham's late equaliser in its 1-1 English Premier League road draw versus Norwich and it just so happens that Bale's sequence of eye-catching performances has coincided with Robin van Persie's quietest month of the season by some distance.
A few weeks ago and one would have killed one's grandmother to back Manchester United striker van Persie at anything close to odds of 4-7 to collect back-to-back PFA Player of the Year prizes. Now the Red Devils forward is out to 7-4, odds that appear worth taking in what looks like a two-man race even though some people, desperate to be different, are talking up the chances of Juan Mata, Michu and Luiz Suarez.
Getting one's hands on decent statistics in this day and age is as easy as clicking a few web hyperlinks and the data on the English Premier League's official website suggests that van Persie remains on track to retain the prestigious prize.
Van Persie has scored an English Premier League-leading 19 goals this term, four more than Bale in spite of having 20 fewer shots. And many of van Persie's goals have been very important ones with regards to Manchester United's title ambitions, including his injury-time winner against the noisy neighbours otherwise known as Manchester City.
Van Persie has, according to English Premier League number crunchers, assisted in 11 Manchester United goals in this season's competition, whereas Bale has assisted in only three Tottenham goals. Assists are subjective but the difference is so large that there is no doubt that the Dutchman is ahead of the Welshman on this score as well.
Something that tries to settle arguments as to which player is the English Premier League's star performer is the EA Sports Player Performance Index. It uses a comprehensive range of statistics to provide objective analysis, rating players on six key indices. According to the EA Sports Player Performance Index, van Persie is well ahead of everyone else on 621 points. Second is Mata on 516, with Patrice Evra (499), Leighton Baines (471) and Santi Cazorla (452) rounding out the top five. Bale is sixth on 445.
One may take issue with the appearance of Manchester United defender Evra in third position but it would be difficult to find all that much wrong with most of the EA Sports Player Performance Index rankings at this point in time. Van Persie deserves his place at the top of the ladder and he is the highest rated player in the Barclays Fan Rating as well.
PFA Player of the Year history shows that one does not have to be a member of that term's English title-winning side to pocket the individual honour. Only 18 of the 39 PFA Player of the Year award winners have done the double, so to speak, and both Bale and van Persie are members of the 21-player majority as a result of their successes in recent seasons.
But with Manchester United likely to win this term's English Premier League championship by a double-digit margin and van Persie, its £24 million recruit from Arsenal seven months ago, so influential in its seemingly inevitable title triumph, surely the case for the Red Devils hitman is stronger than that for the Tottenham wide man.