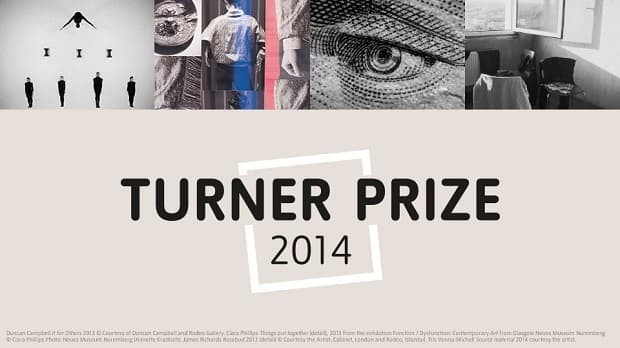 What is the Turner Prize?
For anyone a little unfamiliar with the Turner Prize, it is an annual award set up in 1984 to celebrate new developments in contemporary art. The £20,000 prize is awarded to a 'British artist under fifty for an outstanding exhibition or other presentation of their work in the twelve months preceding'.
Each year the nominations are whittled down to a shortlist of four artists, chosen by an independent panel. The four artists present their works in a show, which is usually held at Tate Britain, and the winner is announced on the 1st of December. The exhibition is open for the public to view the work of those on the shortlist, but the show does not form part of the competition; the winner is judged on the basis of the work for which they were nominated.
Why so controversial?
The prize has been surrounded by controversy since its inception, and even the decision to name it after famous British artist J.M.W. Turner drew criticism from some quarters, arguing that he may not have approved of such a competition. However, he was chosen specifically because he had wanted to set establish a competition for young artists, and because his work was considered controversial in his own day.
Controversy has been synonymous with the award over the years, with criticism leveled at artist's for their obscure works, and the prize itself drawing ridicule for any number of reasons, such as the shortlist containing too many or not enough women, listing foreign-born artists, or encompassing too many different mediums. In 2002 government minister, Kim Howells, made headlines when he described the exhibits as "Cold, mechanical bullshit".
This year is no different, and the Turner Prize has already drawn criticism for featuring three filmmakers and one printing artist, with not a painter or sculpture in sight. The Stuckists Art Group, which has 'valiantly demonstrated against the prize since 2000', simply left a sign outside Tate Britain this year stating that they wouldn't bother protesting as the prize had 'sunk to a predictable and pathetic level of elitist repetition that is not worth bothering about'.
However, supporters of the award would point out that famous artists such as Damian Hirst and Grayson Perry are among its previous winners, so it can't be all bad.
The artists
Last year's winner was French-born artist Laure Prouvost, who created a film which explored the legacy of artist Kurt Schwitters through a fictional grandfather who she had imagined was a conceptual artist and one of Schwitters great friends. The film played in a room which was styled like a tea party, and upon awarding the prize, the panel said the film was "outstanding for its complex and courageous combination of images and objects in a deeply atmospheric environment".
On to this years nominations and the betting forecast, it's apparent that quirky, obscure, and controversial are traits that bode well in the eyes of the judging panel. Perhaps more than anything, the work is intended to encourage and stimulate debate, and to challenge the boundaries between fiction and reality.
Duncan Campbell 3.25Bet €100 to win €3259/4Bet £100 to win £325+225Bet $100 to win $3252.25Bet HK$100 to win HK$3252.25Bet Rp100 to win Rp325-0.4444Bet RM100 to win RM325 with Paddy Power
Dublin-born Duncan Campbell has been nominated for his contribution to Scotland's pavilion at the Venice Biennale. His film, entitled 'It for others', responds to Chris Marker and Alan Resnais' 1953 film, 'Statues also die'. The 55-minute film takes in a number of subjects to challenge the way that history has been documented and seeks to question the integrity of what we accept as fact through different media. It touches on subjects such as the way African art has been appropriated by Western Museums, it attacks the British Museum and its attitude towards the ownership of art, before moving onto a section about the IRA in Ireland in the early 70's.
Ciara Phillips 3.75Bet €100 to win €37511/4Bet £100 to win £375+275Bet $100 to win $3752.75Bet HK$100 to win HK$3752.75Bet Rp100 to win Rp375-0.3636Bet RM100 to win RM375 with Paddy Power
The only non- filmmaker in the line-up, Ciara Phillips has been nominated for her solo exhibition at The Showroom, London. There she turned the gallery into a print workshop and invited artists, designers and local community groups to go and work with her to produce collaborative works. The prints are then stuck directly onto the gallery walls, like wallpaper, covering the surface from floor to ceiling.
Tris-Vonna Michell 4.00Bet €100 to win €4003/1Bet £100 to win £400+300Bet $100 to win $4003.00Bet HK$100 to win HK$4003.00Bet Rp100 to win Rp400-0.3333Bet RM100 to win RM400 with Ladbrokes
Tris-Vonna Michell has been nominated for his solo exhibition 'Postscript' at Jan Mot, Brussels. The performance piece is based around a series of meticulously prepared slides of images which Michell weaves together into multiple stories through fast-spoken word. The frantic monologue is juxtaposed against the slow-moving images, and the narrative mixes fiction and fact to bind them together.
James Richards 4.50Bet €100 to win €4507/2Bet £100 to win £450+350Bet $100 to win $4503.50Bet HK$100 to win HK$4503.50Bet Rp100 to win Rp450-0.2857Bet RM100 to win RM450 with Ladbrokes
James Richards has been nominated for his contribution to The Encyclopaedic Palace at the 55th Venice Biennale. His film 'Rosebud' uses a variety of found and original footage, with an accompanying soundtrack composed by the artist to create an atmospheric mood. The film centres on a series of controverial erotic photographs found in a Tokyo library, which had the genitalia scratched out due to censorship laws.
The Betting
It's a tight betting market with no out-and-out favourite, and all four artists are in with a chance. It was widely expected that last year's winner would be Tino Sehgal, but the eventual victor was Laure Prouvost who was available at 6/1 on the morning of the awards show. This year's award is dominated by film, and as a relatively new medium in contemporary art, there is perhaps more scope for original, conceptual work. While all three of the films nominated could walk away with the award, preference is for Duncan Campbell and his film, 'It for Others'. His critique of the British Museum and its Director Neil MacGregor has already polarized opinion, and while it could work against him, it might just be the sort of controversial, thought-provoking piece that the judging panel are looking for.
Tips Summary
Duncan Campbell to win the Turner Prize
Date: 1st December
Odds 3.25Bet €100 to win €3259/4Bet £100 to win £325+225Bet $100 to win $3252.25Bet HK$100 to win HK$3252.25Bet Rp100 to win Rp325-0.4444Bet RM100 to win RM325 with Paddy Power
art
art 2014
tate
tate gallery
turner prize