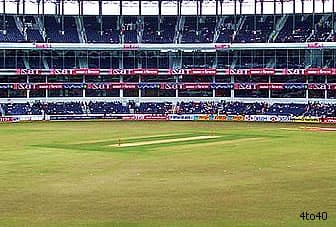 Given the manner in which bat has dominated ball in the One Day International series between India and Australia, plus the history of One Day International matches at the Vidarbha Cricket Association Stadium in Nagpur, it is surprising that bookmakers are offering odds against about a batsman scoring a century in the latest game staged at the fairly new venue.
Inclement weather has meant that India and Australia have completed only seven innings between them during their One Day International series. So far India and Australia have combined for three tons and there have been three near misses with one knock of 98 and two knocks of 92. Those run-scoring figures are just one of the reasons why one should be interested that a Sixth One Day International century is available at odds of 2.10 with Bet365.
Another reason is that the Vidarbha Cricket Association Stadium has been friendly towards batsmen since it staged its first One Day International match in 2009. MS Dhoni scored 124 runs off 107 balls when India christened the Vidarbha Cricket Association Stadium with a 99-run victory over Australia four years ago. Dhoni scored another ton in the next One Day International that the Vidarbha Cricket Association Stadium hosted but his 107 runs off 111 balls was insufficient to stop India losing by three wickets to Sri Lanka. That was because Tillakaratne Dilshan hit 123 runs off 113 balls in an even more impressive innings. All up, the Vidarbha Cricket Association Stadium has witnessed centuries in four of the six One Day International games that it has hosted and that statistic would be five of six had Zimbabwe's Tatendu Taibu accrued just two more runs.
The market on a ton in the Sixth One Day International match between India and Australia should have at least one century as the odds-on favourite but it is the odds-against underdog so that play is the best of all the options. However, there are other interesting bets available on other markets.
First, Australia remains good value to beat India in what matters most – the Sixth One Day International game itself. Australia is a better balanced One Day International team than India, which is why it is 2-1 up in the series with a couple of matches remaining. Even allowing for India being at home, which one could argue is a curse rather than a blessing because the Indians find themselves under great pressure in front of their fervent fans, there is no way that Australia should be longer odds than 2.00. But Bet365 are quoting Australia at odds of 2.30.
Second, Australia remains good value to hit more sixes than India in the Sixth One International game. BetVictor are offering odds of 2.00 that Australia maintains its winning streak over India in this exotic market. Australia beat India 9-2 in the First One International match, with Aaron Finch and Glenn Maxwell scoring sufficient numbers of sixes to beat the Indians on their own. Australia edged India 12-11 in the Second One Day International game, a remarkable result given the breathtaking manner in which the Indians won the high-scoring game. And Australia defeated India 8-5 in the Third One Day International match thanks to James Faulkner, who hit six sixes in his superb 64 not out.
Some punters may be tempted to back Dhoni at odds of 7.50 with Coral to be India's top batsman in its Sixth One Day International game versus Australia because the Indian captain has been his team's top batsman in two of its three One Day International matches at the Vidarbha Cricket Association Stadium. But usually Dhoni does not stroll out to the middle until India has lost four wickets and that may be too late for him to top the home side's scoring chart given the dominance of bat over ball.
A better top batsman bet in the Sixth One Day International game between India and Australia is Dhoni's opposite number, George Bailey. The Australia skipper, who is available at odds of 4.50 with numerous bookmakers, has answered his critics who believed that he was not worth his place in the Australian team, let alone as its captain, by scoring 318 runs in his four innings, including three half centuries. Bailey is playing with incredible confidence and he looks like he has the measure of every bowler in India's limited-overs squad.