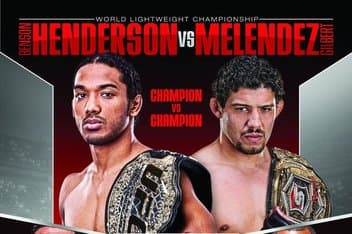 The UFC returns to Fox for the 7th time. It's becoming a little difficult to track the events now that we a have UFC on Fox/Fuel/Fx, as well as the main numbered events. Further confusion arrives this summer with the addition of UFC on Fox Sports 1 events.
After a few podium finishes on the BJJ circuit, Benson Henderson returns to defend his Lightweight title. This time it's the final Strikeforce Lightweight Champion Gilbert Melendez. Since Strikeforce has merged with the UFC this fight is more or less a title unification. And probably the oly UFC/Strikeforce unification that's is worth anything (Excluding the HW titles as Cormier won't fight Cain).

Main Card
Lightweight Title Championship: Benson Henderson vs. Gilbert Melendez
As I said previously, this fight is essentially a unification of titles, to crown the undisputed champion at 155lbs. Usually the UFC is the undisputed champion, (Aldo, GSP, Silva, Jones, etc), but Gilbert Melendez is one of the only champions outside of the UFC that consistently ranks in the top 3 in his division. He has built up a significant string of wins outside the UFC, but even if he is a legitimate top 3 155er, the guys he has been beating are not. He has decent striking, although perhaps not as effective as the volume punching of Nate Diaz, but his true strength is in his wrestling and upper body strength and power. In order to win here, he needs to control his opponent and dictate the pace of the fight and where the action takes place. Given his opponent is Ben Henderson, that's an enormous ask. Henderson has top class striking. His leg kicks verses Diaz completely immobilised him, and from Benson picked him apart. He's no slouch when it comes to grappling either. He regularly competes in BJJ in the brown belt middleweight division. This brings me to my next point. He is absolutely huge at 155. In BJJ there is no time to cut weight, so Benson competes around the 175lbs mark, and he likely steps into the octagon weighing around the same. This size advantage will be a major issue for the wrestling for Melendez. Without that, he has nothing and Henderson will turn this into 5 rounds of striking supremacy.
Henderson by Decision
Bet with Bovada.lv
Heavyweight: Frank Mir vs. Daniel Cornier
This is a fight of extremes. The UFC's smallest heavyweight verses one of the biggest. The newest UFC fighter, verses the fighter thats been around the longest.
Frank Mir is a heavyweight vetern of the sport at this point. He's been in the UFC for 12 years now, and its been a rollercoaster ride for him. At the lowest, a serious motorcycle crash threaten to end everything, at the peak – UFC Heavyweight champion. There's been many different version of Frank Mir in the octagon, but my favourite andin my opinion the most effective by far was the 240lbs Mir who moved with speed and played into his submission game. Mirr is easily the best heavyweight submission fighter. He is responsible for three of the best and most memorable subs in the heavyweight division – His wins over Silvia, Lesnar and Nogueira. If this Mir shows up to the Octagon, he presents problems for any fighter.
Daniel Cormier is making his UFC Debut, but he shouldn't be a new name to anyone. Winner of the Strikeforce Grand Prix, he has long be touted as one of the few fighters who might make a run at the UFC title. Unfortunately that statement always comes with the disclaimer "as long as Cain isn't champion". The two are good friends and they won't be fighting any time soon. Personally I'm glad for once, as the lack of title potential at heavyweight is hopefully the push he needs to take a run at 205 where he belongs. He's undersized as a heavyweight, he's gotten away with is because he has the ability, and e probably get away with it again. In Mirs last fight almost a year ago, he looked like he was showing up to collect a paycheck. I've a feeling this is going to be more of the same. He knows he hasn't got a another run at the title in him. He'll show up, try to take Cormier down a few times, fail and give up. Cormier has the ability to hold him off initially, if Mir breaks after that, Cormier will finish.
Cormier by TKO with TopBet.eu
Lightweight: Nate Diaz vs. Josh Thomson
This fight is another established UFC fighter verses a Strikeforce crossover. It's interesting to note on this card Nate Diaz's team-mate Melandez will try to avenge Nate's lose to Henderson, while Nate takes on Josh Thomson who was famously part of a trilogy of fights with Melendez for the Strikeforce title.
Nate Diaz has shown his improvements as a fighter over the last 18months. His back to back wins over Cowboy and Miller were career highlights for me. He recently lost to Henderson, but that's no slight on anyone. His win over Miller showcased his BJJ and proved that while he lacks the wrestling skills that other 155ers do so well with, he is more than comfortable on the ground with those wrestlers should it go there, but keeping this one on the feet is where Nate wants to be. Toe to toe unload volume after volume of tap tap tap strikes.
I know that statistically, recent strikeforce crossovers have been underated by the public and the bookies. Their recent bout of success, dubbed the strikeforce revenge, has far exceed the winrate implied by the bookies odds. But I think Josh Tompson is a fighter who deserves to be overlooked. Yes he was strikeforce champ, but he crept in and stole the title when Melendez wasn't interested. Melendz learnt from his mistake, and left little doubt when he won the rematch and subsquent rubber match. Diaz is unlikely to make the same mistake as Gilbert did. Tompson will probably look to press his wrestling advantage, and I have a feeling that actually where he loses this match. Getting caught in a triangle or similar while scrambling on top.
Nate Diaz by submission
Find the best odds at Bovada.lv
Welterweight: Matt Brown vs. Jordan Mein
Jordan Mein is the rightful favourite here. But the public hype machine has pushed his odds in to a ridiculous price. There's no way I can consider betting him here unless they odds swing back before fight day. Especially considering its so close to he recent win. Fighters eager to maintain momentum often fight when they shoe rest. Matt Brown isn't without hype himself, he's recent wins have mustered support online. But I can't give much consideration to a bet on him, as I think Mein is likely to put an end to that support.
That said, I don't think it will be entirely one sided, and will certainly be an exciting fight. So much so that I think the 7-1 bet for fight of the night here is a good one. 5 round title fights have a bit of a monopoly on fight of the night awards, but at 7-1 (versers 4-5 for the Main Event) I think this one represents value.
Jordan Mein by Decision – odds are best with TopBet.eu
Featherweight: Chad Mendes vs. Darren Elkins
This is a bad match up for Elkins. On short notice too. In fact Mendes is a bad match up for most of the featherweight division. I have massive respect for Elkins for jumping in. Very few fighters are eager to fight Mendes, but to step up early, and risk ending a 5 fight streak deserves credit. This is another fighter where both fighter have a similar style. Elkins is from a wrestling background and has developed a solid complementary striking game. But that is the exact fighter that Chad Mendes is. And Mendes is probably the best example of that fighter in the division. His wrestling is better, his striking is better. Elkins is good, but Mendes is better everywhere. And the odds reflect that. Everyone knows it, Mendes opened short, and betting action drove it even shorter. At this point, I think the action has potentially opened value on Elkins – but I'm not risking it. I'm going to wait it out and hope that some late action on Elkins improves Mendes' price and I'll, make a bet if I can get 1/4 or so.
Mendes by submission (Guillotine), again best odds are at TopBet.eu
Flyweight: Joseph Benavidez vs. Darren Uyenoyama
This is a really bad match up for Uyenoyama. While he is a submission specialist, Joe Benavidez can probably closely match him when it comes to grappling. And once the grappling is negated, Joe's striking takes this one home easily. After the first round of the flyweight tourney Benavidez emerged as an early favourite after his knock out win over Urushitani. And even though he eventually lost the fight for the first flyweight title, that KO should be a huge testament to his power. As you descend the weight classes, KO finishes are less and less common. So right at the bottom in the 125lbs division, KOs are incredibly rare. With the exception of John Dodson, I can't think of another fighter who has scored a KO or TKO at 125lbs. A method of victory matket might not be available as its the undercard, but if you can find it Joe Benni by TKO is worth a look.
Benavidez by TKO