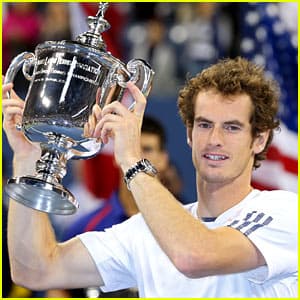 Bookmakers, particularly those based in the British Isles, have gone Andy Murray crazy since he won the US Open to become the first British man to win a major singles title since Fred Perry was the king of the courts in the 1930s.
The result of their craziness is a range of Murray specials that enable punters to bet on everything to do with the proud Briton's performance not only over the next 12 months but also until he puts down his racquet for the last time.
Most specials are quite the opposite, at least for punters who pride themselves on only betting when the odds are in their favour. Bloated percentages abound and the obvious options are, more often than not, quoted under the odds.
But there is an exception to the rule. Several bookmakers are betting on the next Grand Slam men's singles title that Murray wins and one firm, William Hill, is offering a very attractive 11-2 about that title being Wimbledon in 2013.
For those of you who are unfamiliar with the Grand Slam calendar, the Australian Open takes place in January and the French Open in May/June, Wimbledon in June/July and the US Open in August/September follow it. Therefore, for Murray's next triumph to come on home turf, not only must he win in London but also lose in Melbourne and Paris before then.
Murray is around 3-1 to win the 2013 Australian Open men's singles, the second favourite behind Novak Djokovic and ahead of Roger Federer and Rafael Nadal. Those odds are about right, although the Melbourne tournament is the one that suits the Serbian best and fans of the Swiss would argue that he should be no longer odds than the Briton.
The Melbourne Park hard courts are slower than the ones at Flushing Meadows, which is one of the reasons why Djokovic has won back-to-back Australian Open men's singles titles and his win percentage in the event is 86.49%. Murray has two runner-up finishes and another semi-final appearance against his name, with his win percentage at 76.67%. The Serbian holds all the aces on and around Rod Laver Arena.
And Federer is a major factor in Melbourne as well having won four Australian Open men's singles championships and 63 of his 72 matches there. That Australian Open officials often close the roof over Rod Laver Arena also plays to his advantage because no-one knows better than Murray as to how brilliant the Swiss is when there is no wind with which to contend. Closing the roof over Centre Court changed the Wimbledon men's singles final completely this year.
Of course, Murray could win the 2013 Australian Open men's singles but the strong likelihood is that he will find at least one man to good for him in Melbourne. And as far as the French Open goes, it is difficult to see him being the Roland Garros champion at any stage in his career. Only once in six attempts has he made the last four of the clay-court classic and that is probably as good as he will do on the red stuff. The surface is simply too slow for his game.
At this point, Murray should be the clear favourite to win next year's Wimbledon men's singles having been denied by the weather as much as anything else this year. He bounced back from that heartbreak to win the London 2012 Olympic Games men's singles gold medal at the same venue and then, even more famously, went on to win an epic US Open men's singles final before hunting for his mislaid wristwatch.
There would be nothing wrong with snapping up the generally available 3-1 about Murray following in the footsteps of 1934, 1935 and 1936 Wimbledon men's singles champion Perry. Basically, he should be a couple of rolls longer to win the Australian Open men's singles and a couple of rolls shorter to win the most prestigious of the four majors.
But that 11-2 is very difficult to pass over. Based on Murray being, say, 7-2 to win the 2013 Australian Open men's singles and 25-1 to win the 2013 French Open men's singles, he is about 1-3 not win either of next year's first two major tournaments. Then, if one believes that he deserves to be, say, 7-4 to win the 2013 Wimbledon men's singles, the multiple works out at somewhere between 5-2 and 11-4.
William Hill does not make many mistakes and normally its specials are not markets in which one finds value but its Murray quote of 11-2 is wrong by quite some distance. Go to www.williamhill.com now.