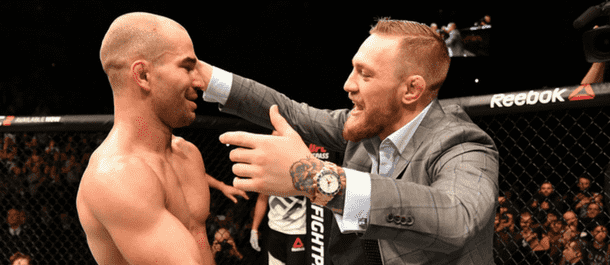 The UFC can be a wild ride at times. Last weekend we were treated to Demetrious Johnson's 10th consecutive title defense as he dominated Wilson Reis in the main event of UFC on FOX 24. This weekend, the main event for the UFC Fight Night 108 card is a seemingly random bout between Cub Swanson and Artem Lobov. The UFC's decision to move Artem Lobov into a headlining role at this point of his career is almost laughable at first glance.
Artem 'The Russian Hammer' Lobov is best-known for being the primary training partner of 'The Notorious' Conor McGregor, training at Straight Blast Gym under John Kavanagh. Lobov has used the wave of popularity that has come with being associated with Conor McGregor and the SBG team to talk his way into a headline slot against Cub Swanson by calling him out.
"Cub Swanson would be the guy I would have picked if UFC told me I could've had anyone in the top ten. His style matches up so well with mine. He's wild, he's open and the throws a lot of shots.
As much negativity as there is surrounding this main event, Lobov is rolling with a two-win streak after defeating the talented 25-year-old Teruto Ishihara and dominating Chris Avila at UFC 202. While Lobov is not necessarily known for being the most skilled fighter around in the division, he's supported by one of the best coaches around right now and gets important rounds with one of the pound-for-pound best fighters (McGregor) in the UFC – his development is unmeasurable.
A win here would effectively see him 'jump' many fighters in the featherweight rankings who are desperate to climb their way to the top.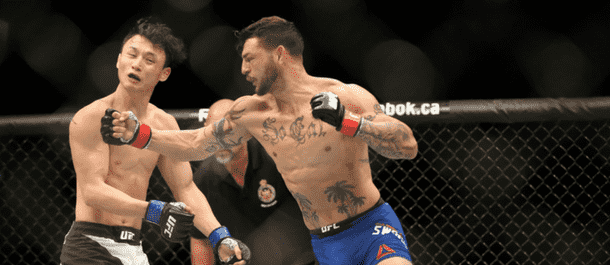 Cub Swanson returns to the octagon after the exhilarating fifteen minutes against Doo Ho Choi back at UFC 206 which was later awarded 2016 "Fight of the Year" at the World MMA Awards. Swanson defeated Doo Ho Choi, one of the hottest up-and-coming prospects in the UFC, after entering the fight as a moderate underdog and is now on a three-win streak dating back to April 2016.
Swanson, strangely, has plenty to prove in this fight after many are claiming that the fight doesn't make any sense for him and that he should have earned higher-ranked fighters after his super fight against Doo Ho Choi. He's also expressed displeasure for Lobov's attitude:
"He thinks he can call me names and it's going to intimidate me or throw me off my game. All it's doing is motivating me to be a monster. I'm gonna teach this disrespectful poser that I'm on another level and to learn some damn respect."
The Breakdown
At first glance, I was like the 98% of the MMA community who wondered how this bout was even conceptualised. However, after a deeper analysis of the two fighters and what they bring to the table – I don't think this is an entirely unwinnable fight for Lobov, and in fact, he has more than a puncher's chance against the fourth-ranked featherweight contender.
Swanson's fight against Doo Ho Choi was memorable, like good fights typically are, not for being a one-sided blowout, but rather for being back-and-forth slugfest between two talented fighters. Swanson proved that he was hittable, in particular by the right hands that "The Korean Superboy" was loading up. Doo Ho Choi and Artem Lobov have similar styles, they stalk forward, waiting to time their shots and pick apart their opponent with accurate punches.
I believe that Lobov can find that forward pressure that he requires against Swanson and effectively look to slow the fight down to his pace and start timing his shots. There'll be chances for Lobov to land his right hand. Now, that's a huge statement for a fighter who is coming into this as a significant underdog.
What diminishes Lobov's chances, however, is that he just cannot even think about trading in the pocket with the innovative and dangerous Cub Swanson. Swanson throws punches from all angles and will tag Lobov with some wild hooks if Lobov doesn't track back out of range.
Prediction
I think Lobov is going to surprise MMA fans around the world in the first round with expert timing and patience, frustrating Cub Swanson. However, Swanson is too experienced, too creative and his rapid advancements will catch Lobov off-guard when his back touches the cage, and he'll damage him with a flurry of strikes that will end the fight in the second or third round.
Tips Summary
Recommended Plays
Cub Swanson vs. Artem Lobov
Under 3.5 Rounds
Saturday 22nd April, 05:00 GMT
Odds: 1.91Bet €100 to win €19191/100Bet £100 to win £191-110Bet $100 to win $1910.91Bet HK$100 to win HK$191-1.10Bet Rp100 to win Rp1910.9100Bet RM100 to win RM191 – PaddyPower
Feeling Lucky?
Cub Swanson vs. Artem Lobov
Cub Swanson to win in Round 3
Saturday 22nd April, 05:00 GMT
Odds: 9.00Bet €100 to win €9008/1Bet £100 to win £900+800Bet $100 to win $9008.00Bet HK$100 to win HK$9008.00Bet Rp100 to win Rp900-0.1250Bet RM100 to win RM900 – BetVictor
Artem Lobov
Cub Swanson
MMA
UFC
UFC Fight Night 108