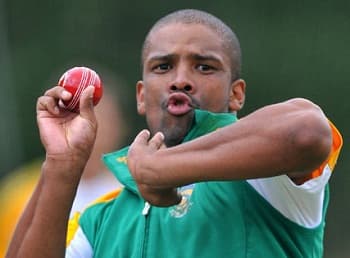 South Africa and India played out one of the greatest draws in Test history last time out and now their two-game series comes down to the Second Test at Kingsmead in Durban.
India belied expectations in the First Test at the Bidwest Wanderers Stadium in Johannesburg where the bouncy pitch was one on which South Africa should have done better. Having won the toss and elected to bat first, India made only 280 runs in its first innings but South Africa's batsmen did not get the job done in their side's first dig, being all out for 244 runs and indebted to Vernon Philander's late half century for getting past 200. With Morne Morkel injured and able to bowl only two second-innings overs, South Africa's bowlers could not prevent India scoring what looked like a match-winning total of 421 runs that left the Proteas having to chase 458 runs for victory or bat out 136 overs to obtain a draw. South Africa achieved the latter but not before getting within eight runs of a record-breaking triumph.
Bookmakers have understandably installed South Africa as the Second Test favourite, with BetVictor offering odds of 1.95 about the Proteas. The Second Test is trading at odds of 2.88 with Stan James to end in a draw, while India is available at odds of 6.50 with Stan James to prevail.
The South African Weather Service is forecasting showers for Durban for most of next week so it is hard to get excited about South Africa at odds on, particularly as the Proteas have lost their last four Test games at Kingsmead, including one to India by 87 runs in 2010. India would have been somewhat interesting at odds of 6.50 if one had not seen the medium-range weather forecast because the Second Test venue is better suited to its skills than most South African grounds. But, in all honesty, this is one match market to swerve in favour of a bet or two on some exotic lines.
When reviewing the results of the recent Test matches in Durban a couple of things stick out like sore thumbs. First, spinners have a proud history of success at the venue. And second, South Africa all-rounder Jacques Kallis would dearly love to take the Kingsmead pitch with him around the world.
For example, Rangana Herath was the man of the match in the last Test game in Durban. Herath took four wickets for 49 runs and five wickets for 79 runs in his two cracks at South Africa as Sri Lanka beat the Proteas by 208 runs. Three Test matches ago it was Graeme Swann who was England's hero. The larger-than-life bowler performed similarly to Herath – four wickets for 110 runs and five wickets for 54 runs – as England romped to victory by an innings and 98 runs. Shane Warne was man of the match in Australia's 112-run win in 2006, while several other spinners have performed well without getting the nod from the official award judges.
Knowing that one should be interested in the top bowler markets regarding the first innings and, when the match is under way, the second-innings top bowler lines. South Africa spinner Imran Tahir is not world class but he is the best slow bowler that the Proteas have at their disposal. Tahir is trading at odds of 11.00 with Stan James to be South Africa's leading wicket taker in the first innings of the Second Test. Tahir should be trading at half those odds. With regards to India, Ravichandran Ashwin is its premier spinner and he is available at odds of 5.50 with Stan James to be the away team's top first-innings wicket taker.
Betting on a spinner to be the official man of the match is less appealing because, with rain featuring prominently in the Durban weather forecast, there is a decent chance that the Second Test will end in a draw and draws tends to favour batsmen in terms of the individual honour. If one is looking for a speculative bet at double-digit odds than Kallis, who is trading at odds of 15.00 with BetVictor, is an option. Kallis was man of the match in three consecutive Test games at Kingsmead between 2002 and 2004.