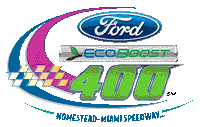 The Championship Weekend for the season has come upon NASCAR fans, with titles in three different series being decided (Sprint Cup, Nationwide, Camping World Trucks). But all of the suspense surrounding Jimmie Johnson has more or less subsided, as he has a commanding lead over Matt Kenseth and Kevin Harvick heading into the Ford EcoBoost 400, slated to begin on Sunday (November 17) at 3 PM ET.
Really, what can the rest of the field do? What can Kenseth or Harvick do? Johnson caught up to Kenseth, then passed him, and is now on the verge of turning the whole thing into a rout. He is 28 points ahead as the Chase enters its final chapter, at Homestead-Miami Speedway, and only a minute or two, it seems, after we thought we might have one of the most dramatic climaxes to a Sprint Cup season, we are left with the proposition that only a catastrophe on the part of the points leader could affect any result other than one that will end with a sixth Cup championship for J.J. Indeed, the NASCAR odds are long for anyone else.
For Johnson and his crew, it's truly been a job well done. His average finish in these Cup races, when the stakes have been highest, is a little better than fifth. He has laid the groundwork for a very easy Sunday, as long as he can keep his engine running. In fact, all he has to do is finish 23rd or better and he is going to clinch that Cup title, regardless of how well Kenseth does. And if he leads at least one lap in the race, you can make that 24th or better.
These are the standings at the moment:
1) Jimmie Johnson – 2384
2) Matt Kenseth – 2356
3) Kevin Harvick – 2350
4) Kyle Busch – 2327
5) Dale Earnhardt Jr. – 2321
As you can see, Kenseth, who happens to be the favorite with the Nascar sportsbooks to win on Sunday, doesn't even have second place wrapped up, as he is only six points ahead of Harvick.
Here is the way it works, in case you didn't know: every one of the positions in this field is worth a point. That means if a driver finishes 8th and another driver finishes 10th, the driver who finished eighth will score two more points than the one who finished tenth. There are bonus points awarded on top of that; if a driver leads a lap, it is one point. The driver who leads the most number of laps in a race will get a bonus point, and the winner of the race gets three bonus points. So as you can see, finishing position is so critical. Without going through all of the winning scenarios for either Kenseth or Harvick, they would have to really bury Johnson in this race, finishing at or near the head of the pack (and perhaps do something to gain bonus points) while Johnson either has a horrible race or develops some kind of mechanical trouble that prevents him from contending or finishing.
Here are the NASCAR betting odds to win the Ford EcoBoost 400 as they are posted at Bovada:
Matt Kenseth +350
Kyle Busch +500
Kasey Kahne +700
Kevin Harvick +800
Brad Keselowski +800
Denny Hamlin +1200
Jeff Gordon +1000
Dale Earnhardt Jr +1200
Joey Logano +1200
Jimmie Johnson +1200
Carl Edwards +1400
Clint Bowyer +1800
Kurt Busch +2000
Martin Truex Jr +2200
Ryan Newman +3500
Greg Biffle +2000
Trevor Bayne +10,000
Marcos Ambrose +10,000
Aric Almirola +10,000
Elliott Sadler +10,000
Ricky Stenhouse +10,000
Mark Martin +10,000
Jeff Burton +10,000
Paul Menard +10,000
Juan Montoya +10,000
AJ Allmendinger +10,000
Danica Patrick +10,000
Kyle Larson +10,000
Jamie McMurray +10,000
Field (Any Other Driver) +10,000
It's a good thing that Johnson (+1200) doesn't have to have a stellar result in Homestead, because he does not have a particularly outstanding record there. He has four finishes in the top five, but no wins. And his Driver Rating of 95.1 is only sixth best in the field of drivers. Kenseth won this race back in 2007, and Harvick is without a win at Homestead. Kenseth and Harvick are ranked 3-4 in terms of the Driver Rating at this track.
There have been fourteen Cup races at Homestead, and since 2002 it has been the final race of the year, after which the Sprint Cup champion is crowned. Tony Stewart (out with injuries) and Greg Biffle have won three times apiece (Biffle won for three straight years, from 2004-06). Jeff Gordon (+1000) won last year's race and set the track's race record at the same time. But the star in this field, as far as performances at Homestead are concerned, may be Carl Edwards, who not only has won two of the last five years, but has also compiled the best Driver Rating there, by a rather considerable margin over Martin Truex Jr. He's also captured two poles.
Edwards is also the Homestead leader in a number of the other statistical categories that NASCAR keeps, including:
Average Running Position (7/1)
Fastest Laps Run (264)
Average Green Flag Speed (162.674 mph)
Average Finish (6.0)
Granted, Edwards has not had a lot of success in the Chase, and in fact is dead last among the thirteen drivers who qualified. But there is something to be said about the whole "horses for courses" principle. And if Edwards holds to previous form, he could provide a lot of value for NASCAR Sprint Cup bettors at +1400, even as Johnson is on his way to capturing the bigger prize.
End the NASCAR season on a winning note by opening up an account at www.bovada.lv for a great selection and great customer service!