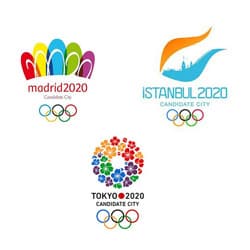 The race to host the 2020 Olympic Games is the most open in decades so it does make sense from a punting perspective to back the odds-on favourite, particularly when it is quite possible that it may not make it past the first round.
The 103 International Olympic Committee members will vote on Saturday 7 September 2013 to determine which of the three surviving bids – Istanbul, Madrid and the favourite, Tokyo – will win the right to host the 2020 Olympic Games. As per the IOC's voting regulations, members who are nationals of countries for which there is a bid in a round are not permitted to vote. That means that Spain's three members, plus the standalone members from Japan and Turkey, will not vote in the first round, leaving 98 other members to do so.
Believe it or not but there are some dedicated IOC watchers out there, with the best known being the teams behind the Around The Rings and GamesBids websites. Both websites have followed the race to host the 2020 Olympic Games for several years and both have published indices that ranks the bids based on a number of what they consider key criteria.
According to Around The Rings, Tokyo has the strongest 2020 Olympic Games bid with a score of 77 out of 100. Madrid is second with Around The Rings on 76, with Istanbul third on 75. Previously, Around The Rings had not been able to split Istanbul and Tokyo on 78, with Madrid well back on 72. The thing to remember about Around The Rings is that it does not take into account geopolitics. Around The Rings bases its scores on first-hand visits to the bid cities, interviews with bid leaders and experts and documents such as the bid files and IOC commission reports. Excluding geopolitics means that Around The Rings does not give the full picture, although its scores are worth taking into consideration.
GamesBids has a different model to that of Around The Rings, one that does factor in its geopolitical observations, using past voting patterns as part of its analysis. According to GamesBids, Tokyo is the 2020 Olympic Games bid frontrunner with a score of 62.14, with Istanbul second on 61.45 and Madrid bringing up the rear on 58.76. But do not write off Madrid based on its GamesBids score: it is interesting to note that the Spanish capital went up 2.27 between May 2013 and this month, while both Tokyo (-0.17) and Istanbul (-0.51). GamesBids thinks that Madrid has momentum.
How should one bet on the upcoming 2020 Olympic Games host election? Well, Tokyo does not deserve to be shorter than even money even though both Around The Rings and GamesBids have it on top of their respective rankings. The race is too close to call for Tokyo to be in red numbers and, what is more, it is not the most likely bid to survive the first round. GamesBids boss Robert Livingstone thinks that Madrid will advance through the first round with a strong group of voters, with either Istanbul or Tokyo crashing out. Listen to IOC watchers and they will tell you that Madrid was very close to winning the right to stage the 2012 Olympic Games. Madrid won the second round – 32 votes as opposed to London (27), Paris (25) and New York City (16) – but it did not make it past the third hurdle, falling two votes short of Paris and eight votes short of London. IOC watchers believe that Madrid would have beaten London in the final round had it got there. Instead, London defeated Paris 54-50.
The 2020 Olympic Games host play is to back Madrid at odds of 4.00 with William Hill. One can either choose to lay off one's bet if Madrid makes the second round or let it ride. Backing Madrid makes more appeal than laying Tokyo, which would result in one obtaining odds of around 2.50.
For the record, Europe has 44 IOC members, with Asia (23), the Americas (18), Africa (12) and Oceania (six) making up the numbers. One can watch the three bids make their final pitches to the 103 IOC members online and that is something worth doing if one is considering trading during the event because there is no doubt whatsoever that champion athlete Sebastian Coe won the 2012 Olympic Games for London with his brilliant presentation in Singapore eight years ago.