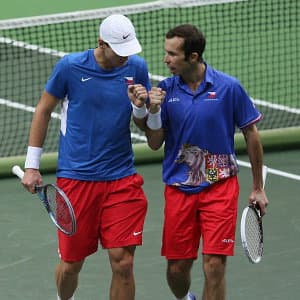 The Czech Republic has more strength in depth than Serbia but one cannot help thinking that the Czechs are under the odds to retain the Davis Cup by upsetting the Serbs at the Belgrade Arena where the final will take on a hard court.
Three Czech Republic squad members are ranked in the men's singles top 50 – Tomas Berdych (seventh), Radek Stepanek (44th) and Lukas Rosol (47th) – whereas Serbia has only two players in the same section. The bad news for the Czech Republic is that Davis Cup tennis requires only two men's singles players and Serbia has Novak Djokovic (second) and Janko Tipsarevic (36th) to play in the four singles rubbers.
Djokovic, one of the most openly patriotic players on the men's singles circuit, loves representing Serbia in Davis Cup ties. Djokovic has a 24-7 Davis Cup singles record and his numbers improve to 22-3 indoors – the Belgrade Arena will be enclosed for the final – and 11-3 on hard courts.
Also, Djokovic holds imposing men's singles head-to-head advantages over all four members of the Czech Republic side. Djokovic leads Berdych 14-2 on all surfaces and 12-0 on hard courts. Djokovic leads Stepanek 8-1 on all surfaces and 5-1 on hard courts. Djokovic leads Rosol 2-0 on hard courts. And Djokovic leads Jan Hajek 1-0 on hard courts. There is no such thing as a certainty but Djokovic winning both of his Davis Cup singles rubbers is pretty damn close to one.
If Djokovic scores two points for Serbia – his hard-court record against the entire Czech Republic team reads 20 wins and one loss, with Stepanek's victory over the six-time major men's singles champion occurring in Rotterdam seven years ago and even then the Czech required a third-set tie-break to seal the deal – then the home side will need only one point from either Tipsarevic or its doubles team.
Tipsarevic is not the most reliable of men's singles players but he raises his game in the Davis Cup. And Tipsarevic has winning men's singles head-to-head records against the two Czech Republic stars whom he has met. Tipsarevic leads Berdych 5-3 on all surfaces and 4-2 on hard courts, plus he leads Stepanek 3-1 on all surfaces and 2-0 on hard courts. Tipsarevic's non-hard court victory over Stepanek was in last year's Davis Cup quarter-final tie in Prague when the Serb won an epic match 9-7 in the fifth set. And it took three tie-breaks for Berdych to dispatch Tipsarevic in the same clash and all three tie-breaks were nail biters.
It is a surprise that Serbia is available at odds of 1.44 with Unibet to win its second Davis Cup title in four years. Not only does Serbia look capable of winning all four singles rubbers but also it has a doubles pairing in Ilija Bozoljac and Nenad Zimonjic that beat the United States of America's Bryan brothers en route to the final. The Czech Republic is no mug at men's doubles tennis – for example, Stepanek is ranked number nine in the world – but home advantage in Belgrade is a massive, massive factor.
Bookmakers are being slow to go up with Davis Cup markets pertaining to anything other than the raw result but, once they get their act together, one should be looking to back Serbia to beat Czech Republic 5-0. Serbia is going to go all out on the first two days of the final and, knowing how much stock both Djokovic and Tipsarevic place in representing their country, they are not going to go easy on the Czech Republic even if they go into day three leading 3-0.
This year's Davis Cup title decider is the second time in recent times that Serbia and the Czech Republic have met in Belgrade. Serbia won its 2010 Davis Cup semi-final against the Czech Republic 3-2 even though Djokovic did not play in the first batch of singles rubbers. Djokovic and Tipsarevic won on the final day of competition to get the job done.