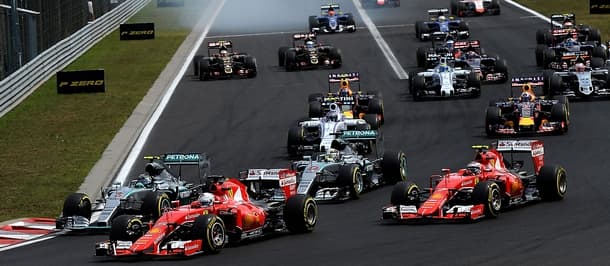 Carlos Sainz is the subject of the most interesting bets on Sunday's Hungarian Grand Prix, with the Spanish driver worth backing to beat a Russian rival and one of his compatriots.
Sainz and Kvyat are tied at 5-5 in Formula One qualifying this season but the Spaniard holds a decisive 6-1-3 lead over the Russian in this term's races, including four wins and no losses when both Toro Rosso cars take the chequered flag. Sainz was eighth in last year's Hungarian Grand Prix, comfortably getting the better of Kvyat both in Saturday's qualifying competition and Sunday's main event – the Russian started the race from 12th on the grid and finished 16th.
One rates Sainz as a driver with a good Formula One future whereas Kvyat is highly unlikely to earn himself another seat in a genuinely competitive vehicle after losing his spot at Red Bull to Max Verstappen. The rivalry between Sainz and Kvyat is one of the hottest in Formula One this season and, under pressure, one favours the Spaniard over the Russian. Kvyat's tally of four Formula One points this term is nothing short of embarrassing for him and his team.
Bwin is listing odds of 1.70Bet €100 to win €1707/10Bet £100 to win £170-143Bet $100 to win $1700.70Bet HK$100 to win HK$170-1.43Bet Rp100 to win Rp1700.7000Bet RM100 to win RM170 that Sainz outperforms his Toro Rosso teammate, Daniil Kvyat, in the Hungarian Grand Prix and the same bookmaker is quoting odds of 1.85Bet €100 to win €18517/20Bet £100 to win £185-118Bet $100 to win $1850.85Bet HK$100 to win HK$185-1.18Bet Rp100 to win Rp1850.8500Bet RM100 to win RM185 about the eponymous son of the former world rally champion beating Fernando Alonso at the Hungaroring this weekend.
Alonso posted a decent result in last year's Hungarian Grand Prix – he finished seventh, one place ahead of Sainz – but the McLaren man cannot rely upon his Honda-powered car this season. Alonso has seen the chequered flag in just two of eight Formula One races that he has started this term, with the two-time world champion failing to begin the Russian Grand Prix and skipping the Monaco Grand Prix so that he could participate in the famous Indianpolis 500 event.
Sainz enjoys a 5-2-2 lead over Alonso in Formula One races this season if one includes the Russian Grand Prix in which the latter's McLaren vehicle failed during the formation lap, resulting in him retiring from the contest.
With regards to the outcome of the Hungarian Grand Prix, it is difficult to get away from Lewis Hamilton at odds of 1.91Bet €100 to win €19191/100Bet £100 to win £191-110Bet $100 to win $1910.91Bet HK$100 to win HK$191-1.10Bet Rp100 to win Rp1910.9100Bet RM100 to win RM191 with SkyBet. Mercedes may have won just two of the last four editions of the Hungarian Grand Prix but the Silver Arrows have provided the pole position sitter in each of the most recent five renewals and history over a longer period of time suggests that the Hungaroring is hard on which to overtake. Furthermore, this year's new breed of Formula One cars are not going to make overtaking in Hungary easier.
Loose headrests and gearbox changes have conspired against Hamilton in two of the last four Formula One races otherwise the British driver would have won at least three races and, perhaps, all four. Mercedes appears to have a performance edge over Ferrari at the halfway point of the Formula One championship and, even when Sebastian Vettel was winning world titles, he was not dominating at the Hungaroring – the German pilot has just one Hungarian Grand Prix win to his credit and that was in one of his non-championship years.
Tips Summary
Sainz to beat Kyvat in the Hungarian Grand Prix
Sunday 30th July, 13:00 GMT
Odds: 1.70Bet €100 to win €1707/10Bet £100 to win £170-143Bet $100 to win $1700.70Bet HK$100 to win HK$170-1.43Bet Rp100 to win Rp1700.7000Bet RM100 to win RM170
Sainz to beat Alonso in the Hungarian Grand Prix
Sunday 30th July, 13:00 GMT
Odds: 1.85Bet €100 to win €18517/20Bet £100 to win £185-118Bet $100 to win $1850.85Bet HK$100 to win HK$185-1.18Bet Rp100 to win Rp1850.8500Bet RM100 to win RM185
Lewis Hamilton to win the Hungarian Grand Prix
Sunday 30th July, 13:00 GMT
Odds: 1.91Bet €100 to win €19191/100Bet £100 to win £191-110Bet $100 to win $1910.91Bet HK$100 to win HK$191-1.10Bet Rp100 to win Rp1910.9100Bet RM100 to win RM191
F1
Formula One
Hungarian Grand Prix