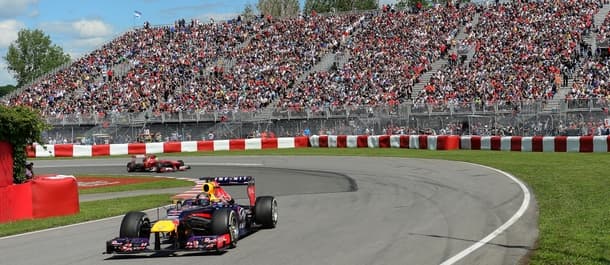 The Canadian Grand Prix is synonymous with two things – safety cars and close finishes – so it makes sense to concentrate on betting markets pertaining to them.
The Circuit Gilles Villeneuve is a street track on which even the barrier punish even the smallest mistakes behind the wheel. Thirteen of the last 18 editions of the Canadian Grand Prix have featured at least one safety car period and, therefore, one can understand why bookmakers are quoting short prices about it becoming 14 out of 19 on Sunday. Many bookmakers, including Bet365, Bwin and William Hill, are offering odds of 1.40Bet €100 to win €1402/5Bet £100 to win £140-250Bet $100 to win $1400.40Bet HK$100 to win HK$140-2.50Bet Rp100 to win Rp1400.4000Bet RM100 to win RM140 about one or more Canadian Grand Prix safety car periods and that is more than fair enough in the circumstances. This season's Formula One cars are harder to keep on the racing line than many of their predecessors and, consequently, one is expecting Canadian Grand Prix carnage.
Several bookmakers, including Coral, Ladbrokes and Paddy Power, are listing odds of 2.25Bet €100 to win €2255/4Bet £100 to win £225+125Bet $100 to win $2251.25Bet HK$100 to win HK$2251.25Bet Rp100 to win Rp225-0.8000Bet RM100 to win RM225 about the Canadian Grand Prix winning margin being under five seconds and that is one's idea of the best bet on the race at odds against.
The Canadian Grand Prix had a year off the Formula One calendar in 2009. Since then there have been seven editions of the Canadian Grand Prix and five of them have been won by under five seconds, while Lewis Hamilton defeated Sebastian Vettel by 5.011 seconds in the 2016 renewal. With Ferrari and Mercedes evenly matched in 2017 and the Canadian Grand Prix known for keeping the safety car driver busy, there is a rock-solid case for betting on Sunday's race being close.
Bookmakers have installed Hamilton as the Canadian Grand Prix favourite but one cannot find a genuine edge in the betting market on the seventh race of the most exciting Formula One championship in years. Hamilton has won each of the last two editions of the Canadian Grand Prix and four times in his Formula One has he tasted victory in Montreal. But Mercedes has had major issues with tyre temperatures this season and the Silver Arrows will have to work with Pirelli's softest compounds, the ones with which they have struggled in warm conditions. At not much bigger than even money, Hamilton does not represent good betting value.
To complete one's Canadian Grand Prix punting portfolio, there is an argument for opposing the pole sitter, whoever that ends up being. Betfair and Paddy Power are offering odds of 3.30Bet €100 to win €33023/10Bet £100 to win £330+230Bet $100 to win $3302.30Bet HK$100 to win HK$3302.30Bet Rp100 to win Rp330-0.4348Bet RM100 to win RM330 about the second fastest qualifier winning the Canadian Grand Prix and odds of 6.00Bet €100 to win €6005/1Bet £100 to win £600+500Bet $100 to win $6005.00Bet HK$100 to win HK$6005.00Bet Rp100 to win Rp600-0.2000Bet RM100 to win RM600 about either the third fastest or fourth fastest qualifier triumphing in Sunday's race. Dutching those two odds produces an anti-pole wager at odds of 2.13Bet €100 to win €213113/100Bet £100 to win £213+113Bet $100 to win $2131.13Bet HK$100 to win HK$2131.13Bet Rp100 to win Rp213-0.8850Bet RM100 to win RM213 .
Pole position is on the left-hand side of the Circuit Gilles Villeneuve when the racing line is on the right-hand side. Only six of the last 15 renewals of the Canadian Grand Prix have been taken out from pole position and, while four of those races have been won by drivers who began from worse than fifth place on the grid, one is confident that Ferrari and Mercedes are so far ahead of the rest of the Formula One teams that they should fill the first four spots in Saturday's qualifying and boss Sunday's contest.
Tips Summary
Safety car to appear in the Canadian Grand Prix
Sunday 11th June, 19:00 GMT
Odds: 1.40Bet €100 to win €1402/5Bet £100 to win £140-250Bet $100 to win $1400.40Bet HK$100 to win HK$140-2.50Bet Rp100 to win Rp1400.4000Bet RM100 to win RM140
Winning margin to be under 5 seconds
Sunday 11th June, 19:00 GMT
Odds: 2.25Bet €100 to win €2255/4Bet £100 to win £225+125Bet $100 to win $2251.25Bet HK$100 to win HK$2251.25Bet Rp100 to win Rp225-0.8000Bet RM100 to win RM225
Dutch 2nd, 3rd and 4th fastest qualifiers to win the Grand Prix
Sunday 11th June, 19:00 GMT
Odds: 2.13Bet €100 to win €213113/100Bet £100 to win £213+113Bet $100 to win $2131.13Bet HK$100 to win HK$2131.13Bet Rp100 to win Rp213-0.8850Bet RM100 to win RM213