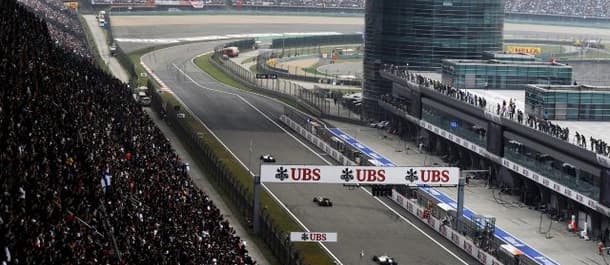 Meteorologists are forecasting rain throughout the Chinese Grand Prix weekend, including on the day of the second race of the Formula One season, so backing there to be at least one safety car period appeals.
The Shanghai International Circuit has hosted each of the 13 previous editions of the Chinese Grand Prix dating back to its 2004 debut and five of them have featured safety cars, including each of the last two renewals. The 2015 Chinese Grand Prix ended under safety car conditions because Max Verstappen's Toro Rosso was stranded on the start-finish straight after its tranmission failed. The safety car came out early in the 2016 Chinese Grand Prix when officials took the decision to clear debris off the track following several minor racing incidents. The Shanghai International Circuit was dry for the 2015 Chinese Grand Prix and 2016 Chinese Grand Prix so, if the heavens do open this weekend, the drivers steering Formula One's fastest cars in years, may struggle to keep them on the tarmac and out of trouble. Back a safety car appearance at odds of 1.67Bet €100 to win €16767/100Bet £100 to win £167-149Bet $100 to win $1670.67Bet HK$100 to win HK$167-1.49Bet Rp100 to win Rp1670.6700Bet RM100 to win RM167 with BetVictor.
Sebastian Vettel's victory in the Australian Grand Prix two weeks ago has Formula One fans hoping that this season's driver and constructor championships will be tight. One thinks, however, that Lewis Hamilton's Mercedes team made a tactical error during the Australian Grand Prix that cost the British superstar dearly and opened the door for his Ferrari rival to take the chequered flag first. It will be fascinating how the Chinese Grand Prix pans out, particularly if it takes place on a wet track because none of the Formula One outfits has done more testing in the rain than Ferrari.
Looking at the Australian Grand Prix results, though, the one fact that sticks out is that a Mercedes driver was the fastest in each of the three qualifying sessions – Hamilton in Q1, Valtteri Bottas in Q2 and Hamilton in the crucial Q3. One is willing to wager – for now at least – that Mercedes has the fastest package in Formula One and, therefore, one is tipping Hamilton to start the Chinese Grand Prix from pole position at 2.00Bet €100 to win €2001/1Bet £100 to win £200+100Bet $100 to win $2001.00Bet HK$100 to win HK$2001.00Bet Rp100 to win Rp2001.0000Bet RM100 to win RM200 with BetVictor, something that he did in 2007, 2008, 2013, 2014 and 2015. Hamilton is the winning-most Chinese Grand Prix driver of all time with four victories – 2008, 2011, 2014 and 2015 – and, unless the Shanghai International Circuit is underwater on Saturday, all of the cars will be using some kind of slicks rather than full-on wet tyres.
For the sake of Formula One's future, one is hoping that not only is there a genuine tussle between at least two teams at the front of the grid and race but also that there is a lot of overtaking. The Australian Grand Prix was boring to watch because, as many Formula One fans forecast, drivers found it mighty hard to overtake on the Melbourne Grand Prix Circuit. It may have been because the Australian Grand Prix venue is not ripe with overtaking opportunities but these new Formula One cars may be making it difficult for chasers to get close to the drivers that they are trying to get past due to their aerodynamics. Formula One could do with Mercedes, Ferrari and Red Bull fighting over the silverware, with the likes of Force India, Toro Rosso and Williams making a nuisance of themselves from time to time. No-one wants to see the same drivers and teams take pole positions and race wins.
In summary, take a punt on a Chinese Grand Prix safety car and back Hamilton to bounce back from his Australian Grand Prix race loss with a second pole position of the year.
Tips Summary
Chinese Grand Prix Safety Car – Yes
Sunday 9th April, 07:00 BST
Odds: 1.67Bet €100 to win €16767/100Bet £100 to win £167-149Bet $100 to win $1670.67Bet HK$100 to win HK$167-1.49Bet Rp100 to win Rp1670.6700Bet RM100 to win RM167
Lewis Hamilton to win Pole Position
Saturday 8th April, 08:00 BST
Odds: 2.00Bet €100 to win €2001/1Bet £100 to win £200+100Bet $100 to win $2001.00Bet HK$100 to win HK$2001.00Bet Rp100 to win Rp2001.0000Bet RM100 to win RM200
Chinese Grand Prix
F1
Formula One
Lewis Hamilton