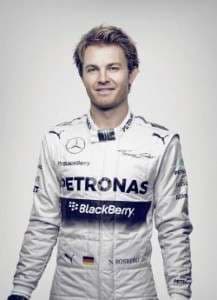 Lewis Hamilton has won every Formula One race that he has completed this year but he does not appeal as the Mercedes driver to back to win the glamorous Monaco Grand Prix.
Hamilton and his Mercedes teammate, Nico Rosberg, have won the first five Formula One races of the season between them and, even though there is no doubt that Red Bull and others are making ground on the Silver Arrows, a large gap remains. Hamilton and Rosberg lapped all but four other cars in the Spanish Grand Prix and they were nearly 50 seconds clear of Daniel Ricciardo, who finished third in his Red Bull car.
Another Monaco Grand Prix factor in the favour of Mercedes is the importance of starting the most famous race on the Formula One calendar from pole position. Just once in the last 10 years has the Monaco Grand Prix not been taken out by the quickest qualifier and that was in 2008 when Felipe Massa started the race from the premium spot on the grid only to finish third behind Hamilton and Robert Kubica.
No-one doubts that Mercedes has the fastest car in Formula One right now and, while things can and do go wrong during the third and final qualifying session that determines the front 10 positions on the grid, the likelihood is that one of the Silver Arrows stars will be the fastest qualifier for the Monaco Grand Prix and, therefore, have a significant advantage in the race around the tight street circuit.
Most Monaco Grand Prix punters will opt for Hamilton since he has four pole positions and four race victories against his name this season. But one thinks that Hamilton is too short at odds on and that Rosberg is the value play.
First, Hamilton did not look comfortable with his Mercedes car throughout the Spanish Grand Prix weekend, with the usually cocky British driver admitting that Rosberg was quicker than him. The clock does not lie and Hamilton was slower than Rosberg in sector three of the Circuit de Barcelona-Catalunya track, the technical part that is similar to the layout raced in the Monaco Grand Prix.
Second, Rosberg is the defending Monaco Grand Prix champion having won last year's race from pole position. Rosberg was just under one-tenth of a second faster than Hamilton in the third qualifying session and he took the chequered flag more than three seconds ahead of Sebastian Vettel, with Hamilton another 10 seconds back in fourth place. Also, Rosberg was the 2012 Monaco Grand Prix runner-up behind Mark Webber.
And third, the Monaco Grand Prix has been one of Hamilton's least successful races. Since finishing second in 2007 and first in 2008, Hamilton has not placed higher than fourth in his last five Monaco Grand Prix appearances. As dominant as Hamilton has been so far this season, one would have to be brave to back him at odds on given his recent course form.
Rosberg is trading at odds of 3.00 with Betfair's sportsbook and Spreadex to be the Monaco Grand Prix pole sitter, while he is available at odds of 3.25 with BetVictor to win the race. Accidents and the resultant safety cars can have an impact on races contested on street circuits so one thinks that backing Rosberg to secure pole position makes more appeal than backing him to win the race once again.
With regards to Monaco Grand Prix exotics, the modifications to Formula One cars for this year have made them harder to drive and, therefore, there may be a high rate of attrition in what is one of the toughest races anyway. Over the last five seasons, 70 per cent of Monaco Grand Prix starters have been classified, which equates to under 16 finishers in a field of 22. Look to back under 16 finishers at 2.10 with Bet365.