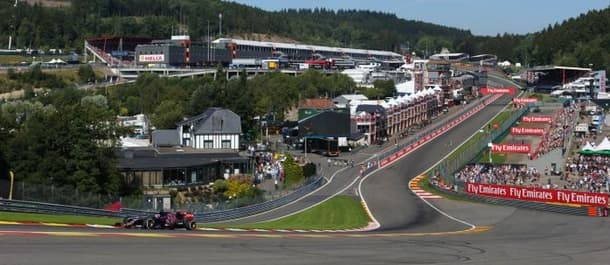 Mercedes has won every Formula One race this season in which at least one of its cars has made it to the finish so, with Lewis Hamilton set to start Sunday's Belgian Grand Prix from the rear of the grid after taking a 30-place penalty, surely the event is Silver Arrows driver Nico Rosberg's to lose.
Formula One fans are talking up the chance of Hamilton going from last to first but no-one has ever pulled off that trick in Formula One history so one is not interested in backing the British driver to take the Belgian Grand Prix chequered flag first for what would be the third time in his career.
William Hill is offering odds of 1.62 about Rosberg breaking his Belgian Grand Prix duck and that seems more than reasonable. Rosberg won this year's Chinese Grand Prix by more than 37 seconds when Hamilton started from 22nd position on the grid after failing to register a qualifying time and that was in spite of the German driver giving up the early lead at the first corner. And Spa-Francorchamps, the Belgian Grand Prix circuit that always polls really well with drivers, is a track that suits the strengths of the Mercedes car.
Ask yourself how many times you would expect Rosberg to win Sunday's Belgian Grand Prix if it was run 100 times with Hamilton starting every race from the back of the grid. William Hill's odds of 1.62 equate to Rosberg winning around 60% such races. One would argue quite strongly that Rosberg's win probability should be a lot higher than 60 per cent. Therefore, one rates Rosberg as a value bet this weekend.
What about Hamilton? Well, one has sufficient faith in his Formula One rivals – most particularly Rosberg, Daniel Ricciardo, Max Verstappen, Sebastian Vettel and Kimi Raikkonen – to back against the Formula One champion failing to make the Belgian Grand Prix top three. Hamilton could only manage seventh place in this year's Chinese Grand Prix, completing the 56 laps more than 78 seconds behind Rosberg and more than 32 seconds after Daniil Kyvat, who secured third position for Red Bull. Bookmakers are quoting short odds about the safety car making at least one appearance during the Belgian Grand Prix, something that may assist Hamilton. However, it is worth nothing that Formula One officials deployed the safety car during the aforementioned Chinese Grand Prix as well.
If one is looking to strike a more speculative Belgian Grand Prix wager then taking a punt on Hamilton being the last driver to make a pit stop at odds of 8.00 with Bet365 is something worth considering. Hamilton's 30-place penalty means that Saturday's qualifying competition is a complete waste of time for him and one expects him to run dead and preserve his tyres. Clearly Bet365's odds imply that the favourite option is Hamilton but its offer of 8.00 still represents value in the circumstances. Hamilton is highly likely to stay out of the pits for as long as possible because he has ground to make up and his tyres should be more durable than those on the vehicles of his rivals.
Tips Summary
Nico Rosberg to Win the Belgian Grand Prix
Sunday 28th August, 13:00 GMT
Odds: 1.62
Lewis Hamilton to be the Last Driver to make a Pit Stop
Sunday 28th August, 13:00 GMT
Odds: 8.0
F1
Formula One
Lewis Hamilton
Motor Racing
Nico Rosberg