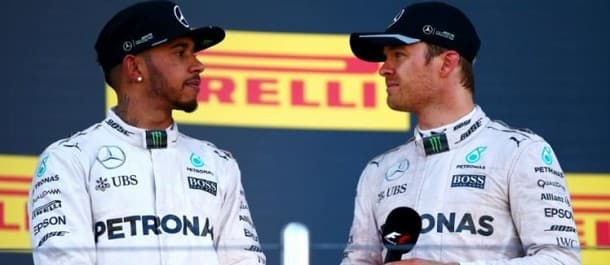 Lewis Hamilton has won each of the last two editions of the Japanese Grand Prix but the reigning Formula One champion is a false favourite for Sunday's race at spectacular Suzuka.
Hamilton has not won a grand prix since taking the chequered flag first in Germany on the final day of July, he trails Nico Rosberg by two victories and 23 points this term, he experienced good fortune to triumph in Japan in 2014 and 2015 and never has he started a Suzuka race from pole.
In 2014, Rosberg failed to make the most of beginning the Japanese Grand Prix from the prime spot, losing the lead for the first time to Hamilton in a pit-stop battle. Rosberg did not have any luck during the race and eventually he finished 9.180 seconds adrift of Hamilton, who survived a few scary moments in a race that forever will be associated with the death of Marussia driver Jules Bianchi. In 2015, Rosberg's race plan blew up at the first corner, a temperature problem limiting the power available to the German's Mercedes and enabling Hamilton to overtake his Silver Arrows colleague.
Hamilton has won three editions of the Japanese Grand Prix and three editions of the Formula One championship but he has not had the honour of starting from pole at Suzuka. Hamilton's seven Japanese Grand Prix qualifying performances have earned him grid positions of second (twice), third (four times) and ninth (once). Hamilton has failed to beat his then teammate in qualifying for four of his five races at Suzuka so his overall Japanese Grand Prix statistics are nowhere near as impressive as they appear at first glance.
One does not want to look beyond Mercedes cars in betting on the Japanese Grand Prix winner because the Silver Arrows and the other teams that share their engines have dominated the recent editions of the race. Prior to 2014, Suzuka equalled Red Bull but, while the Japanese Grand Prix track's twists and turns suit the RB12's chassis, the Renault power unit does not like the circuit's couple of full-throttle stretches as well as its uphill acceleration zones.
Therefore, as so often is the case in the current Formula One environment, betting on a race winner boils down to a choice between Hamilton and Rosberg. One thinks that Rosberg represents the value play, either at odds of 2.63Bet €100 to win €263163/100Bet £100 to win £263+163Bet $100 to win $2631.63Bet HK$100 to win HK$2631.63Bet Rp100 to win Rp263-0.6135Bet RM100 to win RM263 with William Hill to win the race or odds of 4.00Bet €100 to win €4003/1Bet £100 to win £400+300Bet $100 to win $4003.00Bet HK$100 to win HK$4003.00Bet Rp100 to win Rp400-0.3333Bet RM100 to win RM400 with Bet365 to do the pole position-race win double. Rosberg has won eight of this season's 16 races, which equates to odds of 2.00Bet €100 to win €2001/1Bet £100 to win £200+100Bet $100 to win $2001.00Bet HK$100 to win HK$2001.00Bet Rp100 to win Rp2001.0000Bet RM100 to win RM200 . Rosberg has done the pole position-race winner double five times this term, which equates to odds of 3.20Bet €100 to win €32011/5Bet £100 to win £320+220Bet $100 to win $3202.20Bet HK$100 to win HK$3202.20Bet Rp100 to win Rp320-0.4545Bet RM100 to win RM320 . Bookmakers are willing to lay Rosberg at generous odds because he has not won a Japanese Grand Prix and there is a school of thought that the German can afford to drive conservatively because he enjoys a 23-point Formula One title lead over Hamilton.
There would have been a time when one would have subscribed to the theory that Rosberg would take it easy at Suzuka but one is not so sure now. Rosberg has his foot on Hamilton's throat and the public comments of the British driver are giving out the impression that he is really rattled.
At the very least, Rosberg should he sharing Japanese Grand Prix favouritism with Hamilton. That there is a such a big discrepancy in the odds available about the Mercedes men means that value punters have to side with Rosberg.
Tips Summary
Nico Rosberg to win the Japan Grand Prix
Sunday 9th October, 06:00
Odds: 2.63Bet €100 to win €263163/100Bet £100 to win £263+163Bet $100 to win $2631.63Bet HK$100 to win HK$2631.63Bet Rp100 to win Rp263-0.6135Bet RM100 to win RM263
F1
Formula One
Japanese Grand Prix
Lewis Hamilton
Nico Rosberg