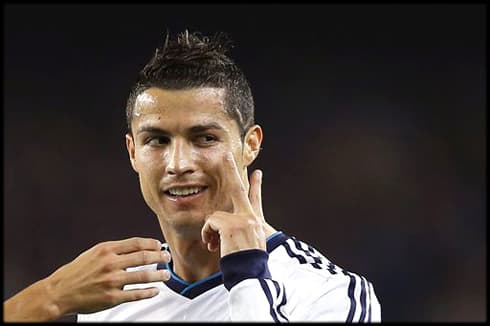 The Ronaldo show – This weeks Champions League showdown promises to be all about Cristiano Ronaldo.
Sports Betting Online's SBO Weekly looks at the The Champions League which is back this week. The game of the round is obviously Man Utd vs. Real Madrid – all the potential of a goal feast. Cristiano Ronaldo believes that his current team will defeat his former one in their UEFA Champions League tie and it is hard to disagree with the Real Madrid forward's assessment.
Manchester United's clash with the nine-time European club champion is the pick of the pairings in the last 16 of this season's UEFA Champions League but, assessing the tie from an objective perspective, there looks like only one winner.
Alex Ferguson's Red Devils are running away with the English Premier League because of the inadequacies of their rivals and the off-the-cuff brilliance of Robin van Persie, who has dug his side out of deep holes several times this term.
Manchester United would be embroiled in an English Premier League relegation battle if matches this season had ended when the first goal went in. Van Persie's goals, often brilliant, have enabled the Red Devils to fight back and beat most of their domestic rivals in high-scoring games.
It is one thing to come back from conceding an early goal against Southampton, as Manchester United did at Old Trafford last week. It is quite another to salvage something from a massive match versus Real Madrid at the Santiago Bernabeu after falling behind. The stark reality is that the Red Devils do not have the defence required to win the UEFA Champions League this term and that they are more likely than bookmakers think to bow out at the last-16 stage.
Ahead of its English Premier League home game against Everton, Manchester United has conceded 31 goals in its championship matches this season – more than every other top-10 team except Liverpool and West Bromwich. The Red Devils are going to come under enormous pressure against Real Madrid from not only Ronaldo but also Angel di Maria, Gonzalo Higuain and Mesut Ozil. Jose Mourinho has a wealth of attacking options at his disposal – Karim Benzema and Luka Modric have not been starting lately – and Ferguson does not have the defenders to be confident of keeping out the Meringues, particularly in the first leg of the UEFA Champions League blockbuster in the Spanish capital.
Manchester United has kept a remarkably low eight clean sheets in its 36 games across all competitions this term, including only one in its last four matches. Giving up soft goals has been one of the constants for the Red Devils this season and they can thank their lucky stars that neither Chelsea nor Manchester City has got its act together on a consistent basis, otherwise the English Premier League trophy would not be heading back to Old Trafford.
Real Madrid is a class above Manchester United and its superb home form – 14 wins, four draws and no losses in competitive Santiago Bernabeu games this term – means that bookmakers should be quoting Mourinho's team at much shorter odds than those of around 3-4 that are available about it.
Every statistic in the book suggests that punters should bet on a high-scoring UEFA Champions League first leg in Spain. Both teams have scored in each of Real Madrid's six games in this season's tournament and surely Manchester United will approach its away match figuring that it needs to find the back of the net at least once because of the away goals rule. Any score that ends in nil – yes, even 0-0 – would have to go down as a negative for the Red Devils. So one should expect Ferguson's side to have a real crack at the Meringues. After all, attack is the best form of defence.
Over/under 2.5 goals punters will be heading for the over at odds of around 4-6 but, if one agrees that Real Madrid ought to beat Manchester United at home, backing the Meringues to win either 2-1 or 3-1 makes a lot of appeal. One can get odds of around 15-2 and 11-1 about the two scores so dutching them produces a potential 4-1 payout.
Some bookmakers are betting on the number of goals that Ronaldo scores against his former club. The Portuguese superstar is averaging about a goal a game for Real Madrid this term. That combined with Manchester United's leaky defence is sufficient to put no Ronaldo goals off one's punting agenda, while three or more goals seems fanciful. One can back one Ronaldo goal at odds of around 13-8 and two Ronaldo goals at odds of around 11-4. Dutched odds of around 8-15 that Ronaldo scores either one or two goals seems a little on the long side given everything mentioned above.