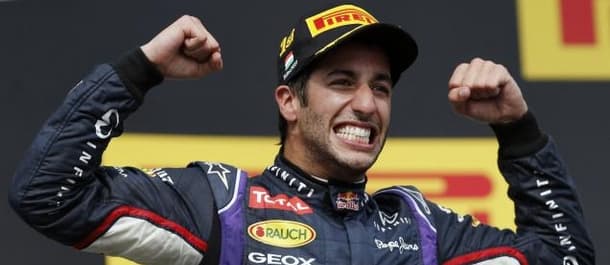 The Hungarian Grand Prix is the only race on this season's Formula One calendar that Mercedes has not won since 2013 and, consequently, one is looking elsewhere than the Silver Arrows in the 2016 edition that will take place on Sunday.
Lewis Hamilton has won the Hungarian Grand Prix four times to match the excellent efforts of Michael Schumacher but the British driver has not taken the chequered flag first at the Hungaroring since 2013 when he did the pole position-race win double. Hamilton finished third in the 2014 Hungarian Grand Prix and he ended up sixth in last year's renewal.
Nico Rosberg hates Hungary. Rosberg has competed in 10 editions of the Hungarian Grand Prix and never has the German driver stood on the podium – his best finish was fourth in 2014. Based on those numbers it is absolutely impossible to recommend backing Rosberg this weekend.
Red Bull is likely to challenge Mercedes for Hungarian Grand Prix honours and the driver in whom one is most interested is Daniel Ricciardo, who has experienced Hungaroring success in recent years. Ricciardo marked his first season driving for Red Bull's senior team by winning the 2014 Hungarian Grand Prix after starting from fourth place on the grid. Ricciardo qualified fourth fastest for the 2015 Hungarian Grand Prix and he rose one position up the pecking order during the race, finishing third to Sebastian Vettel and Daniil Kvyat. Ricciardo had no luck in his defence of the Hungarian Grand Prix title last year, touching wheels with Valtteri Bottas at the start and damaging his vehicle's front wing in a collision with Rosberg on the 64th lap.
The Hungarian Grand Prix's Hungaroring home is similar in many respects to the Monaco Grand Prix's street circuit and Ricciardo was heading for victory in Formula One's most famous race this season before disaster struck. Ricciardo began the Monaco Grand Prix from pole position and he was vying with Hamilton for the race win until the Australian driver's Red Bull mechanics made a big error during a pit stop, having the wrong tyres on standby. Ricciardo lost priceless seconds while his Red Bull colleagues fetched the correct tyres and he could not catch and overtake Hamilton.
The Hungaroring is a relatively low-speed track with lots of corners and very few straights. Because cars negotiate 12 of the Hungaroring's 14 corners at less than 200 kilometres per hour, the circuit rewards vehicles with superb aerodynamic balance, mechanical grip and acceleration – Red Bull ticks all those boxes. As a previous Hungarian Grand Prix winner, Ricciardo is a strong contender for this year's renewal and one's idea of the best bet is to back him at odds of 1.91 with Betfred and Totesport to finish in the top three.
Ricciardo's Red Bull teammate, Max Verstappen, will have his supporters, not least because the Dutch teenager made waves by finishing fourth in the 2015 Hungarian Grand Prix. One would be surprised if Verstappen does not mature into a Formula One champion but the youngster remains a work in progress and he is prone to pushing just a little bit too hard. Tyre management is important at the Hungaroring and, currently, one would prefer to back Ricciardo ahead of Verstappen, although expects the latter to perform well.
Tips Summary
Ricciardo to Finish in the Top Three of the Hungarian Grand Prix
Sunday 24th July, 13:00 GMT
Odds: 1.91
F1
Formula One
Hungarian Grand Prix
Ricciardo