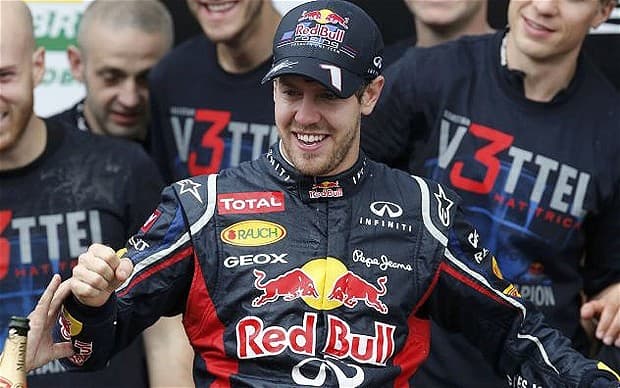 Sebastian Vettel and Red Bull are bookmakers favourites to win this years Driver's & Constructors Championship, but we think different.
The phenomenal Sebastian Vettel and Red Bull have won the last three Formula One drivers and constructors titles but will 2013 see new names engraved on the respective trophies?
With Vettel trading at odds of around 8-5 to win his fourth consecutive Formula One championship and some bookmakers listing Red Bull at odds on for the team competition, the betting industry's opinion leaders think that this year's front row of the grid will have an eerily familiar look.
However, some veteran Formula One analysts, including BBC expert Gary Anderson, are not so convinced that Vettel and his Red Bull teammate, Mark Webber, will be the drivers to beat in 2013 based on last week's testing in Jerez.
Anderson has been doing some number crunching and says that he has come up with a list that reflects the true order of the cars and their drivers, doing his bit to disprove the theory that trying to assess Formula One testing times is as difficult as it is determine the true value of a classic contender's training gallop up Warren Hill in Newmarket.
Anyone can find the list of the fastest lap times recorded during the four days of Formula One testing in the southern Spain city. Ferrari's Felipe Massa came out on top with a 1:17.870 lap, with Kimi Raikkonen and Jules Bianchi second and third respectively. Of the drivers quoted at relatively short prices for 2013 championship glory, Vettel was fifth, Jenson Button was ninth, Lewis Hamilton was 10th, Sergio Perez was 11th and Webber was 15th. Fernando Alonso was absent, with Pedro de la Rosa driving his Ferrari.
Unfortunately, on its own, the raw times are not far off worthless. Fortunately, former Jaguar, Jordan and Stewart technical director Anderson has produced a list of fully adjusted lap times that taking an educated guess as to the amount of fuel that each driver's car was carrying at the time of their fastest lap and other important variables.
Anderson's list sees Perez in first position, with Massa, Nico Rosberg, Button, Romain Grosjean and Raikkonen rounding out the top six in that order. Vettel occupies eighth spot, Hamilton is 11th, Webber is 14th and Alonso, of course, does not feature and it would be unfair to burden him with de la Rosa's 18th placing when Massa is sitting pretty in second.
One should note that Anderson has an asterisk against, among others, Massa and Rosberg, because they did not record a lap time that constituted a high fuel load. Even so, if Anderson is correct – and he is a better judge than most punters who bet on Formula One – then Vettel and Red Bull are too short to win their fourth respective championships in a row.
What is the best way to use Anderson's data for betting? In the 2013 Formula One drivers title market, one could lay Vettel, although one is unlikely to strike a deal that pays odds better than around 4-6, which is relatively unappealing given the season runs for more than eight months. Punters who are not afraid of backing outsiders could consider Perez at odds of around 18-1, although his McLaren colleague, 2009 champion Button, looks an even better bet at around 13-2 (at 188bet).
The 2013 Formula One constructors title market sees Red Bull trading at odds of around even money (at PaddyPower), with McLaren at around the 3-1 mark and Ferrari next in line at around 4-1. Every other team is in double, triple or quadruple figures. The odds are such that there is no desperate need to choose between McLaren and Ferrari even though preference is for the former. Dutch them and one can get odds of around 6-5 about either McLaren or Ferrari dethroning Red Bull.
The 2013 Formula One season will get under way in Melbourne next month, with the Australian Grand Prix taking place on 17 March. One can guarantee that the various long-term markets will be subject to significant changes as soon as the race in Australia's sport-mad city concludes so now is the time to have a crack at securing some terrific value.
Other odds-against ante-post Formula One bets that appeal include Massa at 6-4 to win at least one of the 19 races – the Brazilian has 11 grand prix victories to his credit so he knows what it takes to come home first – and 5-4 that the consistent 31-year-old ends the championship in the top six.
For more information and ways to bet on Formula 1, check out our F1 betting guide.