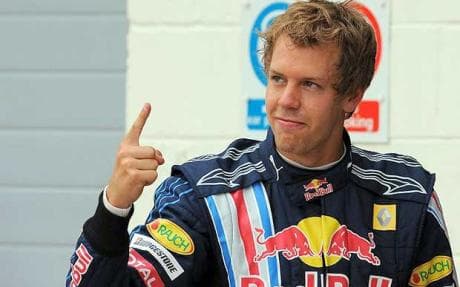 Red Bull is back as the undisputed top team in Formula One and such is its current dominance that a Red Bull dual forecast in the Japanese Grand Prix is over the odds.
Sebastian Vettel has won each of the last three races to all but guarantee that he will win the championship for the fourth season in a row, while Mark Webber placed on the podium in the only one of those events that he completed, with the Australian's car suffering engine failure near the end of the Singapore Grand Prix and being taken out by Adrian Sutil's vehicle during the Korean Grand Prix.
Not only that but Vettel has sat on pole position for each of the last three races and registered hat-tricks – the combination of pole position, fastest lap and race win – in each of the last two events. Not for the first time, Red Bull has returned from a mid-term break and put a big gap between it and its Formula One rivals. Mercedes was looking like getting on top of Red Bull before the brief hiatus but now the German outfit is miles behind the Austrian one.
Vettel is available at odds of 1.62 with Betfred to win the Japanese Grand Prix for the third time in four years. Since linking up with Red Bull in 2009, Vettel has earned four Japanese Grand Prix pole positions and three Japanese Grand Prix race wins – the only blemish in the German driver's record pertains to the 2011 Japanese Grand Prix in which tyre problems meant that he could only finish third.
Tyre degradation is an issue for all Formula One teams at the moment but, on the evidence of the last few races, it appears that Red Bull is a long way from being the most inconvenienced so that does not look like a reason to bet against Vettel, who does look a rock-solid favourite and deservedly rated about a 62 per cent chance of winning.
There is nothing wrong with backing Vettel at odds on but what about backing Red Bull to have the first two drivers across the finish line at odds of 6.00 with Ladbrokes. The beauty of this play is that it covers the possibility that Red Bull will dominate the Japanese Grand Prix but that its glamour boy will not take the chequered flag first.
Webber has his critics – many Formula One pundits think that he is not worthy of his seat in the strongest team – but the Australian does have some clear strengths, the most obvious of which is his speed on fast tracks. Suzuka is a circuit that favours bravery over finesse and that brings Webber into calculations because his results on quick tracks – Silverstone is the circuit that springs to mind first and foremost – are every bit as good as those of Vettel.
Webber has qualified second fastest behind Vettel for two of the last three Japanese Grand Prix races so he has shown that he has the pace to be a factor at Suzuka. Sure, Webber is not quite in the same class as Vettel overall and his race-to-win ratio means that bookmakers are fully justified in quoting him at odds of around 15.00 to triumph, but the Australian does look like his Red Bull teammate's biggest threat in the land of the rising sun. Webber is available at odds of 2.75 with Bwin to finish in the top three and he is trading at odds of 5.00 with Ladbrokes to win the Japanese Grand Prix if one excludes Vettel from the race results.
There are several Japanese Grand Prix match bets from which to choose but the pick of them is Webber to beat Lotus star Romain Grosjean at odds of 1.60 with Bwin. Webber leads his mythical match with Grosjean 10-4 this year, with his wins including successes at Silverstone and Spa-Francorchamps, tracks that are not dissimilar to Suzuka. Odds of 1.60 equates to a win chance of 62.5%, yet Webber is batting at 71.4% against Grosjean in 2013 and Suzuka should suit the Australian's Red Bull better than the Frenchman's Lotus.