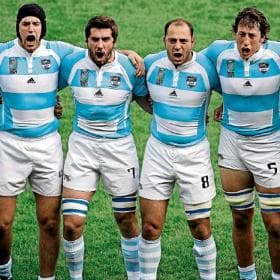 It is incomprehensible that Argentina is the underdog for its Rugby Championship home game against Australia so the Pumas are worth supporting at odds of 2.00 with Betfred.
When Argentina played Australia at Paterson Stadium in Perth three weeks ago, the Pumas had the better of pretty much every key statistic except the one that matters most: the score. Argentina went down 13-14 despite holding Australia scoreless in the second half, enjoying 59 per cent of total possession and making three line breaks to one. And also, Argentina's pack owned its Australia's eight at scrum time.
All except one result – Argentina's 13-73 away loss to South Africa – in this year's Rugby Championship suggests that, at worst, the Pumas are on a par with Australia and that, with the Wallabies having to hit the road for the final round of the competition, the match betting should be different to that which bookmakers have framed for the game that will determine the third- and fourth-placed finishers.
Australia fans will not want to hear it but their Wallabies ought to be about six-point underdogs versus Argentina in Rosario. Such a handicap line would see Argentina trading at odds of around 1.50 to beat Australia for the fourth time in nine matches on Argentinian soil. Bookmakers are crazy to be offering odds of 2.00 that Argentina gets the chocolates.
Argentina's forwards dominated their Australia counterparts in the reverse fixture and the manner in which the Pumas took on New Zealand's scrum last weekend will have caused Wallabies coach Ewen McKenzie to have sleepless nights. No rugby union team has handled the change of scrum laws better than Argentina and, backed by a raucous home crowd that will be jump on any sign of Australia weakness, the Pumas will target the Wallabies pack and look to earn penalties in kickable areas to mount some major scoreboard pressure.
Some rugby union analysts would argue that the hypothetical six-point spread may actually be kind on Australia. There is a school of thought that Argentina is a 15-point better side at home. If that is the case then Argentina ought to be no bigger odds than 1.20 to beat Australia and condemn the Wallabies to the Rugby Championship wooden spoon.
Another big factor in Argentina's favour is the appointment of a northern hemisphere referee, England's Wayne Barnes, to control the game. Officials from north of the equator tend to referee the breakdown and set pieces more stringently than their southern hemisphere counterparts. If Argentina establishes forward supremacy over Australia, as almost everyone expects, penalties should come to the Pumas.
New Zealand managed to beat Argentina 33-15 because, while the All Blacks did not achieve parity up front, they were vastly superior to the Pumas in the backs and converting possession into tries. Australia does not appear capable of mirroring New Zealand's achievement because the Wallabies have scored only five tries in their five matches since McKenzie succeeded Robbie Deans. One try in Rosario is unlikely to be sufficient to prevent Australia losing.
There is no obvious betting opportunity in the other Rugby Championship game between South Africa and New Zealand. On South African soil, bookmakers are quite right to bet with New Zealand as the most marginal of favourites. It takes a great team to beat New Zealand, regardless of venue, and South Africa has won only one of its last eight matches against the All Blacks. New Zealand was 14 points too good for South Africa in Auckland three weeks ago, which when one takes into account that the Springboks played most of the second half with 14 men, means that the All Blacks were value for about a seven-point triumph. Move the game to Johannesburg and there should be very little to choose between the top two sides in rugby union currently.
It seems unlikely that either South Africa or New Zealand will win emphatically so a winning margin combination – the Springboks 1-10 at odds of 3.20 with Ladbrokes and the All Blacks 1-10 at odds of 3.20 with the same bookmaker – works out at dutched odds of 1.60 and is a more attractive play than trying to pick the winner at odds of around evens.