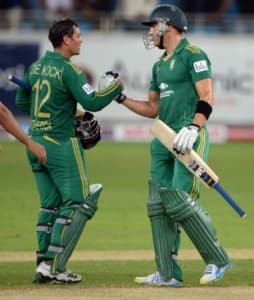 The First Twenty20 International between South Africa and Pakistan went according to plan and there is little reason to think that the Second Twenty20 International between the teams will be any different in spite of a change of venue.
South Africa opener Quinton de Kock top scored with 43 runs as the Proteas made 153 runs off their 20 overs, thereby landing the recommended top South Africa batsman bet. One had suggested dutching South Africa's openers, Hashim Amla and De Kock, and they ended up being their side's top two contributors with 43 runs and 31 runs respectively.
Pakistan displayed its usual lack of cricket smarts to lose the First Twenty20 International by four runs on the famous Duckworth-Lewis method. In spite of there being storm clouds in the sky above Johannesburg, Pakistan did not get ahead of the run rate and, when the umpires abandoned play with the away team having batted for only 9.1 overs, South Africa was in front on the equally loved and hated statistical chart.
Twenty20 cricket at all levels is all about batting – sorry, bowlers – and Pakistan's batting performances have been well below the required level for quite some time now. Pakistan's batsmen were abysmal throughout their side's recent One Day International series loss to South Africa in the United Arab Emirates, averaging fewer than 200 runs per innings and not making the most of the absences of Dale Steyn and Amla.
Having been on the cusp of becoming the world's top ranked Twenty20 International team a few weeks ago, Pakistan may end the year ranked as low as number five. Talk about a missed opportunity. South Africa, on the other hand, may close within touching distance of the leader, Sri Lanka.
Bookmakers have trimmed their odds about South Africa winning the Second Twenty20 International following its success in the First Twenty20 International, which was its sixth consecutive limited-overs triumph over Pakistan. The best odds available about South Africa extending its winning run against Pakistan are those of 1.50 that BetVictor are quoting. They are fair in the circumstances.
Perhaps more enticing, though, is another dutched bet on either Amla or De Kock being South Africa's top batsman. With Amla trading at odds of 4.33 with BetVictor and De Kock available at odds of 4.50 with Paddy Power, a dutched bet across those two online bookmakers means one can get odds of slightly higher than 2.20 about one of South Africa's classy openers being their side's most significant run maker.
There are two keys to this bet. First, Amla and De Kock are no mugs at the crease, with Amla being particularly highly rated by his peers. If one conducted a poll of every Test cricketer playing at the highest level currently, one would expect Amla to be voted the top batsman across all forms of cricket. And second, Pakistan's bowling attack is almost as bad as its batting line-up given the playing conditions and absence of Mohammad Irfan, who has a hip injury. Pakistan's best bowlers are its spinners and they are nowhere near as effective on South African pitches as they are on tracks either in the Middle East or on the Indian subcontinent. Irfan was Pakistan's star performer with the ball during its tour of South Africa earlier this year, taking 25 wickets.
Newlands in Cape Town will be the venue for the Second Twenty20 International between South Africa and Pakistan. Newlands has staged 10 Twenty20 International matches since 2007 but only three of them have featured South Africa. For the record, South Africa has beaten Bangladesh by seven wickets, defeated England by 19 runs and lost to Australia by five wickets. Pakistan has a 100 per cent record in Twenty20 International games at Newlands, beating Bangladesh by four wickets and vanquishing New Zealand by six wickets.
One may want to wait until the Second Twenty20 International toss takes place before getting stuck into South Africa at odds on, though. Eight of the 10 Twenty20 International matches at Newlands have gone the way of the team that batted first, including each of the last four games.