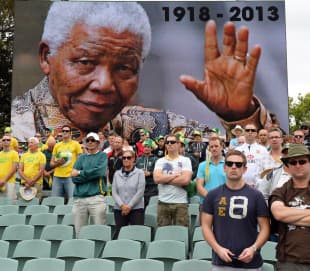 The death of Nelson Mandela and the manner with which South Africa beat India in the First One Day International make one's Second One Day International betting decision easy.
One only has to remember the 1995 Rugby World Cup to see what Mandela means to South Africa and its sports teams, with the Springboks defying the odds to beat New Zealand 15-12 in a final that few punters thought that they would reach, let alone win. South Africa sportspeople will be very difficult to defeat in the coming days as the Rainbow Nation mourns the passing of its dearly beloved father. South African president Jacob Zuma has announced that Mandela's funeral will take place on Sunday 15 December 2013.
South Africa thrashed India by 141 runs in the First One Day International, making a mockery of its poor recent record at Johannesburg's Bidvest Wanderers Stadium. Prior to putting India to the sword, South Africa had won only one of its last 11 completed One Day International games at the ground. But victory was never in doubt for South Africa once Hashim Amla and Quinton de Kock put on a superb 152 runs for its first wicket, with AB de Villiers and Jean-Paul Duminy scoring half centuries batting down the order to support Amla's 65 runs and De Kock's 135 runs. South Africa made 358 runs for four wickets before bowling out India for 217 runs with nine overs of the away side's allocation remaining.
As one highlighted in one's First One Day International preview, the difference between South African and Indian playing conditions is stark. To put it bluntly, India did not have the bowlers to restrict South Africa's batsmen to a par-or-worse score and Dale Steyn is one of the last bowlers that one would want to face while trying to slog fours and sixes from the beginning of a mammoth run chase. Steyn took three wickets for 25 runs in the eight overs that he sent down but it was Ryan McLaren's three wickets that really hurt India because he dismissed top of its top four.
It is expecting a lot for India to regroup from its First One Day International shellacking and beat South Africa in the Second One Day International, particularly in light of the emotions that the Proteas players will be feeling right now. South Africa smashed India by 135 runs in the last One Day International match between the teams at Durban's Sahara Stadium Kingsmead two years ago and a similarly wide margin in 2013 would not surprise so look out for handicap lines.
South Africa is trading at odds of 1.72 with Ladbrokes to win the Second One Day International and clinch the series with one game left to go. Given that South Africa was an excellent bet at odds of 1.80 to win the First One Day International, odds of 1.72 seem, at worst, equally attractive in the unprecedented emotional circumstances.
With regards to Second One Day International exotics, the aplomb with which Amla and De Kock despatched India's top bowlers in Johannesburg means that one should consider dutching South Africa's openers in top batsman markets. There is a good chance that one of South Africa's opening pair will post a big score and make it difficult for their teammates to overtake it in the balls allowed. Bookmakers are being a bit slow to go up with top South Africa batsman odds but one should be able to get between 4.00 and 4.50 about Amla and De Kock individually, which equates to a dutched bet that has an odds-against dividend.
In case one missed the First One Day International preview, it is worth pointing out that home advantage has been key in One Day International series between South Africa and India. The home side has won six of them – India won 2-1 in 1991, South Africa won 5-2 in 1992, India won 3-2 in 1999, South Africa won 4-0 in 2006, India won 2-1 in 2009 and South Africa won 3-2 in 2011 – with the 2005 series in India ending 2-2 after one match was abandoned without a ball bowled. And if one factors in the One Day International tournaments featuring South Africa, India and one or more minnows such as Bangladesh, Kenya and Zimbabwe, the record of the home team continues to shine brightly. To cut what would be an incredibly long story short, India has not won a One Day International competition in South Africa despite having seven chances over the last two decades.