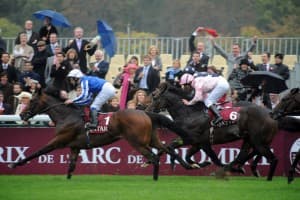 For many horse racing fans, there is nothing better than the Prix de l'Arc de Triomphe, the Group One contest over 2,400 metres that is billed as not so much a race as a monument.
Popularly known as the Arc, it takes place at Longchamp in Paris, usually on the first Sunday in October. Open to all non-juvenile thoroughbreds, it is the one of the world's richest races and, arguably, Europe's most prestigious.
First run in 1920, the Prix de l'Arc de Triomphe's honour roll reads like a Who's Who of European horse racing. Six thoroughbreds have won it twice – Ksar (1921 and 1922), Motrico (1930 and 1932), Corrida (1936 and 1937), Tantieme (1950 and 1951), Ribot (1955 and 1956) and Alleged (1977 and 1978) – with Motrico being the oldest winner aged seven.
Four jockeys have won the Prix de l'Arc de Triomphe four times – Jacques Doyasbere (1942, 1944, 1950 and 1951), Freddy Head (1966, 1972, 1976 and 1979), Yves Saint-Martin (1970, 1974, 1982 and 1984) and Pat Eddery (1980, 1985, 1986 and 1987) – and Andre Fabre's seven wins in 1987, 1992, 1994, 1997, 1998, 2005 and 2006 make him the top trainer.
Three horses have won the Prix de l'Arc de Triomphe by six lengths – Ribot (1956), Sea Bird (1965) and Sakhee (2001) – while last year's champion, German filly Danedream, set the outstanding race record of two minutes and 24.49 seconds.
Following an eventful few days before the final declarations for this year's Prix de l'Arc de Triomphe, days in which the likes of Danedream and Nathaniel were ruled out, there is set to be 18 runners in Sunday's fifth race at Longchamp.
Prix de l'Arc de Triomphe Betting Tips
What promised to be a top-class edition of the Prix de l'Arc de Triomphe has been downgraded to an average albeit intriguing one following the withdrawals of defending champion Danedream and Eclipse Stakes winner Nathaniel.
The result of Danedream and Nathaniel failing to make it to Longchamp is that Ballydoyle has decided to declare Camelot and punters have backed the English 1,000 Guineas, English Derby and Irish Derby winner into odds of around 3-1, with the booking of Frankie Dettori being a factor as well.
Camelot is out to restore his reputation after failing in his English Triple Crown bid, finishing second in the English St Leger at Doncaster to 25-1 outsider Encke.
Connections of Camelot have reasoned, correctly, that they have more to gain than lose from running the three-year-old son of Montjeu in the Prix de l'Arc de Triomphe. Victory at Longchamp would crown him as Europe's top middle-distance horse and make the English St Leger look like a blip.
But Japanese Triple Crown winner Orfevre makes more appeal at the odds, with the four-year-old son of Stay Gold winning his Longchamp prep race, the Prix Foy, very impressively for a horse having his first run outside Japan, particularly as it was not run to suit the mount of Christophe Soumillon.
Like so many French middle-distance races, the Prix Foy was nothing more than a three-furlong sprint tacked on to the end of a mile-long canter. Orfevre was held up towards the rear of the field and should have been disadvantaged by the pedestrian pace but he quickened well, grabbed the lead with one and a half furlongs remaining and went clear of Meandre, Joshua True, Fiorente and Aventino. He was good value for more than the official margin of one length and he is odds on to improve substantially after his first run in France.
According to Timeform's adjusted ratings, Orfevre is the class act of what remains of the Prix de l'Arc de Triomphe field and he rates the best bet in a race for which many horses are trading at well under their true odds.
A prime example of this is Masterstroke, who would not be single figures with some bookmakers if he was trained by anyone except Fabre. The form of his Deauville defeat of Gatewood, whose previous run resulted in a Group Three bronze medal at Goodwood, is a long way short of the standard required to win a Prix de l'Arc de Triomphe.
Prix de l'Arc de Triomphe Betting Offers
Bet365 and BetVictor have the best Prix de l'Arc de Triomphe betting offers, at least of those available before the day of the Longchamp race that sorts the men from the boys.
Not only is Bet365 offering a Prix de l'Arc de Triomphe best price guarantee but also it will refund bets on non-runners. Its Prix de l'Arc de Triomphe best price guarantee means that you will get the starting price if it ends up being bigger than the price that you take when you bet.
BetVictor is offering enhanced each-way terms of 1/4 odds the first four places on the Prix de l'Arc de Triomphe so, if you are thinking of backing an outsider – remember, Danedream (20-1), Shareta (66-1), Snow Fairy (14-1) and So You Think (9-2) filled the first four places last year – go to BetVictor, the online business of Victor Chandler.
Both Bet365 and BetVictor have bonus offers available to new clients, with the Bet365 one worth up to 200 British pounds. Visit www.bet365.com and www.betvictor.com
For alternative bookmaker choices, let's look at he top rated sites for betting on the Prix De L'Arc De Triomphe.
Best Online Bookmakers for Prix De L'Arc De Triomphe Betting
Prix de l'Arc de Triomphe Betting Strategies
It is a young man's race
Three-year-old colts have won 46 of the 90 editions of the Prix de l'Arc de Triomphe and four-year-old colts account for another 19 wins so concentrate on the young men.
Respect Andre Fabre's runners
Masterstroke may be under the odds but he and Meandre are worthy of respect because they are trained by the Prix de l'Arc de Triomphe master, Chantilly handler Andre Fabre.
Side with last-time-out winners
Since the turn of the century, only Bago (2004) and Workforce (2010) have won the Prix de l'Arc de Triomphe after losing their previous race. That compelling statistic is bad news for every 2012 competitor except Great Heavens, Masterstroke, Mikhail Glinka, Orfevre, Saonois and Shareta.