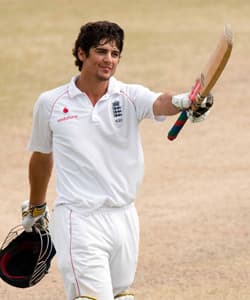 The Ashes ledger is all square at 31 series victories for Australia, 31 series victories for England and five series draws but one can get good odds about the English moving ahead of their Australian rivals over the next two months.
That England is odds against with Bet365 offering odds of 2.10 about Alistair Cook's team retaining the Ashes with a series win, is remarkable given the events of a few months ago when England cruised to a 3-0 Ashes series home victory.
Listen to some Australia supporters and one would come away thinking that England had been lucky to make it four Ashes series wins out of the last five meetings of the sides. But England was not lucky at all and the 3-0 scoreline did not flatter it. England played tough Test cricket and made the most of Australia's considerable shortcomings. Sure, England did not play with panache but Cook's team won with something up its sleeve when one considers that several of its star players, including the captain, were fairly disappointing.
Australia had its moments in England but the lesson that one should learn from the last Ashes series is this: even when England is a notch or two below its best and Australia is playing to the peak of its power, the odds are that the English will either win or draw. England has lost only one of its 16 Test matches under Cook's captaincy and Australia simply is not good enough to win the two or three games that it requires in order to wrestle back the prized Ashes urn.
England's critics will say that it does not have a great deal of depth beyond its first-choice 11 and that is a fair comment, particularly in relation to its bowling stocks. But England's best side is very good in comparison to that of Australia, which has issues throughout its entire line-up.
First, Michael Clarke and Shane Watson, arguably Australia's two most important batsmen, are carrying injuries into the Ashes series. Clarke has a bad back that never seems to get better and Watson had a dodgy hamstring after playing far too much cricket in recent times. Australia needs Clarke and Watson to play well, otherwise it may struggle to score runs with a middle order comprising Steven Smith, George Bailey and Brad Haddin. England's bowlers will be licking their lips once they have taken sufficient wickets for Smith to walk to the crease. Smith is not a genuine Test number five, Bailey is a One Day International specialist set to make his Test debut at the age of 31 and Haddin has seen better days at 36. Besides, Haddin was never in Adam Gilchrist's class.
Second, Australia is unable to field its strongest bowling attack. Jackson Bird, James Pattinson and Mitchell Starc are out through injury, leaving Ryan Harris, Mitchell Johnson and Peter Siddle to shoulder home expectations. Harris is likely to break down at some point during the Ashes series, Johnson is likely to be rattled by England's Barmy Army fan group and Siddle is likely to prove that he is a seamer who is just that little bit short of being top class. Australia has struggled to take 20 wickets in a game for some time, hence why it has won only four of its last 17 Test matches.
And third, Australia has prepared for the Ashes series with a lucrative but ill-advised seven-game One Day International series in India. Cricket Australia needed the money that the matches generated but, whereas England has been getting set with red-ball cricket in the host country, Australia has been playing white-ball cricket in different conditions.
England has a poor record at Brisbane's Gabba, venue for the First Test, but not even those numbers – the English have not triumphed in Queensland since 1986 – is insufficient to put off backing Cook's team at odds of 2.10 to get away from Australia with another Ashes series win to its credit.
Perhaps the pick of the Ashes series exotics is the odds of 1.67 that Stan James is offering about Australia having the lowest all-out score of the contest. Australia's batting line-up is more susceptible to a collapse than that of England, with the Australians being bowled out for 128 runs at Lord's earlier this year. England's lowest all-out total in the last Ashes series was 215 runs at Trent Bridge.