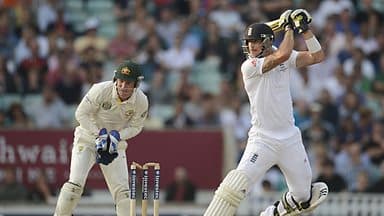 England's chance of retaining the Ashes went up in smoke in Adelaide this week and it is highly likely that the Poms will hand back the urn to Australia in Perth next week.
There is no place on Earth where England's plays worse Test cricket than the West Australian Cricket Association Ground in Perth. England has played a dozen Test matches against Australia at the WACA Ground for one win, three draws and eight losses. England's only WACA Ground success happened in 1978 and, even though the Poms retained the Ashes with a 3-1 series victory three years ago, they copped a shellacking in Perth. England scored 187 runs and 123 runs in their innings and Australia, thanks to nine-wicket hauls by Ryan Harris and Mitchell Johnson, won by the game by 267 runs.
The WACA Ground is famous for its speed and bounce, which are conditions in which England struggles and Australia revels. Australia's Bureau of Meteorology is forecasting stinking hot conditions for Perth over the next week, with temperatures warmer than any English day on record. That is another advantage for Australia. And the WACA Ground is a result pitch as well. Just seven of the 40 Test games at the famous venue have been draws and either Australia or the away team has won each of the last seven matches.
England's confidence is shot to pieces, Australia has a game plan that is working against everyone in the English batting order and the WACA Ground conditions look being absolutely made to order for Michael Clarke's cock-a-hoop side. The thought of backing Australia at odds on to beat England in a Test match only a few weeks ago would have been sufficient to put a chill down the spine of most sensible punters but times have changed and one has to move with the times.
Australia is available at odds of 1.73 with William Hill to defeat England in the Third Test and regain the Ashes that it won most recently in 2007. With not a cloud forecast to be in the Perth sky for the duration of the Third Test and neither team's batting line-up likely to post the kind of scores required to produce a five-day draw, Australia is a value bet.
Turning one's eyes to the Third Test exotics and the option that stands out from the crowd is a line on England's first innings runs. Paddy Power is trading the market and it is offering odds of 1.83 about England scoring more than 310.5 runs and the same odds about the Poms scoring fewer than 310.5 runs. Paddy Power has set the line too high so one should be looking to bet under it at odds of 1.83.
Since 2000 the WACA Ground has hosted 13 Test games between Australia and touring sides. Over that period just three of the 13 away teams have been able to score more than 310.5 runs in their first innings – New Zealand scored 534 runs for nine wickets declared in 2001, India scored 330 runs in 2008 and the West Indies scored 312 runs in 2009 – while the average touring side's first dig has been a bit less than 257 runs. England's three efforts have produced knocks of 185 runs, 215 runs and 187 runs. Quite how Paddy Power has come up with 310.5 runs as its line is baffling. One gets that Paddy Power has to pitch a line at which it is not going to filled in with over punters and that it is a difficult balancing act. However, surely Paddy Power's team of analysts should have come up with a line in the mid to high 200s. Back the under at odds of 1.83 because it looks as though Paddy Power's line is about 50 runs too high.
Alternatively, bet on England's first innings not featuring an individual century at odds of 1.62 with Unibet. Ian Bell was England's top scorer in either innings when the Poms played at the WACA Ground three years ago and the batsman whom spin king Shane Warne nicknamed the Sherminator only managed a best effort of 53 runs.