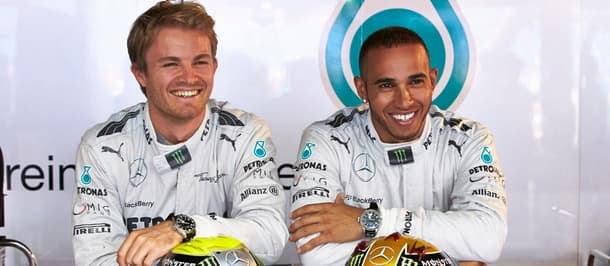 The Italian Grand Prix is Ferrari's home race but it has not won at Monza since 2010 and one cannot see anything other than another Mercedes victory in Sunday's major event.
Formula One followers say that there is a strong correlation between the Belgian Grand Prix and the Italian Grand Prix because both races take place on power circuits that have more in common than not. Mercedes was dominant throughout the Belgian Grand Prix when one thought that one of the other teams with a Mercedes-powered car, most probably Williams, would make a race of it with the Silver Arrows. That did not happen, though, with Mercedes drivers Lewis Hamilton and Nico Rosberg topped the qualifying timesheets and both men finishing the race more than half a minute in front of Romain Grosjean in his Mercedes-powered Lotus.
The Italian Grand Prix market on which one is going to focus is that which enables punters to bet on the same driver being the pole sitter and the race winner. Bwin is trading this market on it is offering odds of 1.65Bet €100 to win €16513/20Bet £100 to win £165-154Bet $100 to win $1650.65Bet HK$100 to win HK$165-1.54Bet Rp100 to win Rp1650.6500Bet RM100 to win RM165 that an Italian Grand Prix competitor does the Saturday-Sunday double. One thinks that option represents the best Italian Grand Prix bet and it does not require one to choose between Hamilton and Rosberg, which has to be a positive for any gambler.
When it comes to the importance of pole position, there are few Formula One circuits at which being on the best spot on the grid is more crucial than Monza. The last time that an Italian Grand Prix pole sitter did not parlay Saturday success into Sunday success was in 2009 when Hamilton, trying to overtake Jenson Button on the penultimate lap, crashed into the barriers. The safety car came out and Rubens Barrichello won the race ahead of Button.
Since the turn of the century there have been 15 editions of the Italian Grand Prix and 12 of them have been won by the driver who started from pole positions. The exceptions have been the races in 2002 (Juan Pablo Montoya lost the lead at the first turn and retired with chassis damage when he was in third place), 2006 (Kimi Raikkonen edged out Michael Schumacher by 0.002 seconds in qualifying but the Finn finished second to the German in the race) and 2009.
Twelve out of 15 equates to odds of 1.25Bet €100 to win €1251/4Bet £100 to win £125-400Bet $100 to win $1250.25Bet HK$100 to win HK$125-4.00Bet Rp100 to win Rp1250.2500Bet RM100 to win RM125 and one would argue that such is the dominance of Mercedes that one can almost guarantee that either Hamilton or Rosberg will secure the Italian Grand Prix pole position, thereby eliminating the possibility of a race outsider starting from the best spot on the grid and causing Bwin's odds to move the wrong way.
SkyBet is offering odds of 1.61Bet €100 to win €16161/100Bet £100 to win £161-164Bet $100 to win $1610.61Bet HK$100 to win HK$161-1.64Bet Rp100 to win Rp1610.6100Bet RM100 to win RM161 that Hamilton qualifies for the Italian Grand Prix as the fastest driver and goes on to win the race. Remarkably, Bwin is offering longer odds about any driver achieving that Italian Grand Prix double so, by betting with it, one gets Rosberg and others for free.
Anyone betting on Italian Grand Prix exotics should note that Red Bull drivers Daniel Ricciardo and Daniil Kvyat will receive grid penalties. Red Bull boss Christian Horner has confirmed that both Ricciardo and Kvyat will have to use a new power unit in the Italian Grand Prix, which means that Formula One bosses will slap them with 10-place penalties. Horner said that it makes sense for Red Bull to take its medicine in the Italian Grand Prix because Monza is a track at which the cars are flat out 75 per cent of the time and, therefore, it does not play to his team's current strengths.
Tips Summary
Any driver to with the race from pole position
5th September 13:00 GMT (Qualifying)
6th September 13:00 GMT (Race)
Odds: 1.65Bet €100 to win €16513/20Bet £100 to win £165-154Bet $100 to win $1650.65Bet HK$100 to win HK$165-1.54Bet Rp100 to win Rp1650.6500Bet RM100 to win RM165