Marc Marquez looks like a slightly false favourite for the Indianapolis MotoGP that heralds the start of the second half of a MotoGP season that has been very competitive.
Marquez leads the title race after nine rounds on 163 points, 16 more than Dani Pedrosa and another 10 in front of Jorge Lorenzo. Six-time MotoGP champion Valentino Rossi is fourth on 117 points, although he has won a race this term in what is the most interesting for many, many years.
Bookmakers like Marquez's chances of extending his MotoGP championship advantage with victory at what motor sports fans call the Brickyard. Marquez is trading at odds of around 3.00 to win the Indianapolis MotoGP, with the Spaniard leading the way for a couple of reasons.
First, Marquez has won on his last two Indianapolis starts, taking out the Moto2 races in 2011 and 2012. Most bookmakers have seen Marquez's raw Indianapolis statistics and fallen head over heels in love with them. However, it is well worth noting that Marquez was not dominant in either Indianapolis Moto2 event and his Indianapolis results in what is known now as Moto3 were poor. Marquez did not place higher than sixth in three Indianapolis races in the 125cc category.
And second, Marquez has won only one legitimate race this year. One says that because two of Marquez's victories came either when Pedrosa and Lorenzo were absent or riding with serious injuries. Pedrosa and Lorenzo were not on the grid when Marquez took out the German GP and both of them were riding through the pain barrier in the United States, putting up with broken collarbones to stay in the title hunt. Pedrosa and Lorenzo placed fifth and sixth respectively, superb achievements in the circumstances.
Marquez, Pedrosa and Lorenzo have competed in, arguably, six fair fights this season if one excludes the Italian GP from which Marquez retired and the aforementioned German and United States Grand Prixs. Of those half a dozen contests, Marquez has won one, whereas Pedrosa and Lorenzo have won two apiece. Rossi won the Netherlands MotoGP.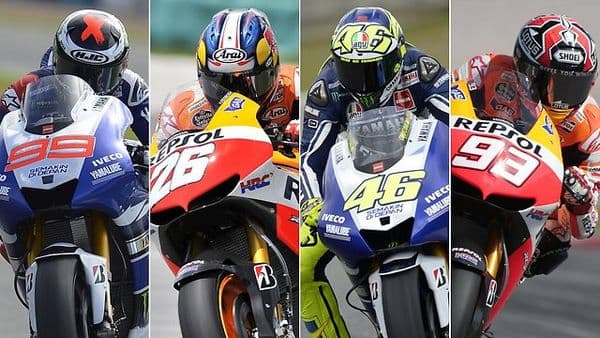 Who of the 4 usual suspects will win the latest round of the Moto GP Circuit?
Will Indianapolis be a fair fight? Well, it would appear that some bookmakers – the ones listing Marquez at odds of around 2.50 – do not think so. Both Pedrosa and Lorenzo sustained broken collarbones before the mid-term break and, according to most doctors, it takes three months for an adult's clavicle to repair itself fully. The key word is fully because it is the one into which people who do not follow the many forms of motor cycling will read too much.
For example, broken collarbones are the most common injuries that speedway riders sustain. Most speedway riders are back on their brake-less motor cycles competing at the highest level without any noticeable impact upon their performance about three or four weeks after fracturing their clavicles. Sure, the bone is not 100 per cent but it is sufficiently close to it not to be a hindrance. Pedrosa and Lorenzo rode through the pain barrier to finish in the top six of the United States Grand Prix. That was four weeks ago so one can expect them to be very competitive in this week's event.
So who should one back to win in Indianapolis? Well, Pedrosa appeals the most at odds of around 3.80. Pedrosa won the 2012 Indianapolis race by more than 10 seconds having qualified in pole position. No-one got close to Pedrosa, with his fastest race lap being only two-tenths of a second off his pole time. Pedrosa finished second in the 2011 Indianapolis MotoGP, five seconds behind Casey Stoner but five seconds ahead of everyone else. He also won the 2010 Indianapolis MotoGP in spite of starting from fifth place on the grid. He secured pole position for the 2009 event but had a shocking time in the race and was the 10th rider to see the chequered flag. And Pedrosa was eighth in the 2008 Indianapolis MotoGP.
He has beaten Lorenzo easily in each of the last three Indianapolis MotoGPs and, if either of them is going to be under the weather this week, it will be Lorenzo, whose collarbone fracture was worse than that of Pedrosa.
It is great that MotoGP is competitive this year, with three evenly matched riders vying for championship glory and the likes of Carl Crutchlow and Rossi not far off the pace as well. Back Pedrosa to win his third Indianapolis MotoGP.