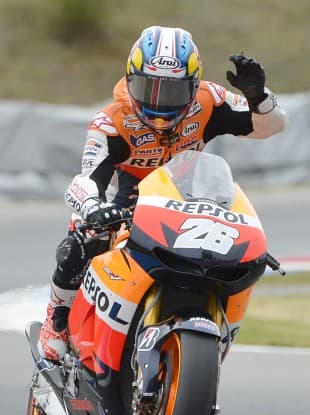 With Marc Marquez needing only to place fourth or higher in the Valencia MotoGP, bookmakers have installed Jorge Lorenzo as the favourite to win the final race of the championship.
But there is a better chance than bookmakers think that Dani Pedrosa will win the Valencia MotoGP, thereby assisting his Repsol Honda teammate, Marquez, secure the MotoGP in his rookie season. Pedrosa is available at odds of 4.50 with Betfred to win his fourth race of the year.
One can understand why bookmakers have decided not to have Marquez at the top of their Valencia MotoGP markets. Marquez has placed first, second or third in every race that he has completed so the Spaniard will like his odds of finishing in the top four provided that he goes the full distance. For the record, Marquez has six firsts, six seconds and three thirds from his 17 starts, with his blanks occurring in Italy and Australia, where he was disqualified. And Marquez has won only once in four races in Valencia, although he did pull off the biggest-ever comeback in grand prix motor cycling history when he triumphed from 33rd and last position on the grid in last year's Valencia Moto2.
Betting on the Valencia MotoGP boils down to a simple choice between Lorenzo and Pedrosa. Given the state of the Valencia MotoGP market and the history of the event, Pedrosa rates as the value pick at odds of 4.50 when Lorenzo is odds on with some bookmakers and not bigger than 2.38 with any of them.
Pedrosa qualified fastest for the 2012 Valencia MotoGP and, even though the Spaniard ended up starting the race from pit lane because he made pre-race changes to his motor cycle, he took the chequered flag first, more than 30 seconds in front of Katsuyuki Nakasuga and at least one minute ahead of the rest. Lorenzo started from second place on the grid but he did not make it past lap 13 because of an accident.
All up, Pedrosa has won six races in Valencia across the three classes – the 125cc class in 2002, the 250cc class in 2004 and 2005 and the MotoGP class in 2007, 2009 and 2012. No-one else has won more than three races and that includes Casey Stoner, who was a wizard on the circuit. Lorenzo has celebrated victory in Valencia only once in 10 attempts.
Pedrosa and Lorenzo have classed in the same Valencia race six times and only once has the former been on the losing side of their Spanish argument. Pedrosa defeated Lorenzo in 2002 (first versus 22nd), 2005 (first versus second), 2008 (second versus eighth), 2009 (first versus third) and 2012 (first versus retired). The only time that Pedrosa lost to Lorenzo was in 2010 (seventh versus first) and that was a race in which the loser's damaged left collarbone stopped him from sustaining a serious challenge all weekend.
Successful long-term betting is all about obtaining value and one cannot argue that Pedrosa is overpriced to win the Valencia MotoGP. It makes more sense to back Pedrosa at odds of 4.50 to win the race but he is overpriced at odds of 2.55 with Bwin just to finish ahead of Lorenzo. That market takes Marquez out of the equation but one prefers the longer odds available on the main line because the MotoGP championship leader has too much to lose from pushing really hard.
Marquez goes into the Valencia MotoGP on 318 points, with Lorenzo second on 305 points and Pedrosa out of the title race in third on 280 points. The Valencia MotoGP race winner will receive 25 points, with 20 points for second place, 16 points for third place, 13 points for fourth place, 11 points for fifth place, 10 points for sixth place, nine points for seventh place, eight points for eighth place, seven points for ninth place, six points for 10th place, five points for 11th place, four points for 12th place, three points for 13th place, two points for 14th place and one point for 15th place. Therefore, Lorenzo must finish at least fourth in Valencia to have a chance of title glory.