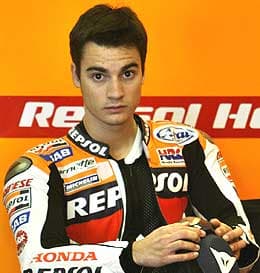 Dani Pedrosa represents the San Marino MotoGP value at odds of 6.00 with Bwin because there really ought to be little to choose between Marc Marquez, Jorge Lorenzo and Pedrosa in betting markets on the race winner.
With Marquez available at top odds of 2.30 with 188bet and Lorenzo trading at maximum odds of 3.00 with Coral, Pedrosa is the best value San Marino MotoGP play if one wants to bet on which motor cyclist wins the 13th event of the season.
MotoGP championship leader Marquez has won his last three races at the Misano World Circuit Marco Simoncelli but none of them was in the top class and twice he failed to secure pole position. With Lorenzo and Pedrosa pretty close to full fitness after recovering from their respective collarbone injuries, one could argue that Marquez's early results when he was racing against opponents without health issues do not justify him being the clear San Marino MotoGP favourite.
Lorenzo has won each of the last two San Marino MotoGPs and he has not been out of the top two in any of his six visits to the Misano World Circuit Marco Simoncelli, five of which have been as a competitor in the premier category. Lorenzo won the British MotoGP last time out and, on balance, should be about the same odds as Marquez to take out Sunday's race.
Pedrosa, who is the meat in the MotoGP championship sandwich between Marquez and Lorenzo as he occupies second position in the standings, won the 2010 San Marino MotoGP from pole position and he was due to start last year's edition from the ideal place on the grid before everything started to go wrong. First, Pedrosa experienced some mechanical problems that led to him being demoted to the back of the pack. And the race had barely begun when Hector Barbera's front wheel hit Pedrosa, causing a crash. Pedrosa had a nightmare day.
Backing Pedrosa is purely a value call. If one was to frame a 100 per cent San Marino MotoGP winner market including only Marquez, Lorenzo and Pedrosa – most bookmakers are betting that kind of percentage – one could make a case for offering odds of 2.75 about Marquez, 2.75 about Lorenzo and 3.75 about Pedrosa, which makes the latter the best play at the available odds of 2.30, 3.00 and 6.00 respectively.
Of the San Marino MotoGP exotics, backing Andrea Dovizioso at odds of 1.60 with Bwin to beat Nicky Hayden is the pick of the bunch. Dovizioso and Hayden are Ducati Team buddies who are eighth and ninth respectively in this term's title race. Dovizioso leads Hayden 8-4 in their personal battles this season and, having trawled through the San Marino MotoGP archives, one has come to the conclusion that the Italian is a great chance to extend his advantage to 9-4.
Dovizioso and Hayden have competed against each other in five San Marino MotoGPs at the Misano World Circuit Marco Simoncelli and the Italian is yet to post an inferior finish to the American. Dovizioso's San Marino MotoGP form figures read, starting with 2012 and going back to 2008, fourth, fifth, fourth, fourth and eighth. Hayden was seventh in the 2012 San Marino MotoGP, failed to finish the races in 2011, 2010 and 2009 and did not even start the 2008 edition.
Home advantage favours Dovizioso – it may be called the San Marino MotoGP but the Misano World Circuit Marco Simoncelli is in Italy, albeit not far from the border with the small republic – who beat Hayden in this year's Italian MotoGP.
There are six races remaining on this term's MotoGP calendar so Pedrosa and Lorenzo will probably need Marquez not to complete at least once in order to have a good chance of overhauling the rookie in the championship. Marquez boasts 233 points going into the San Marino MotoGP, which puts him 30 ahead of Pedrosa and 39 points in front of Lorenzo. Race victories are worth 25 points, with 20 points for second places and 16 points for third places. Marquez has only missed the top three once this season and that was when he failed to finish the Italian MotoGP at the Mugello Circuit.