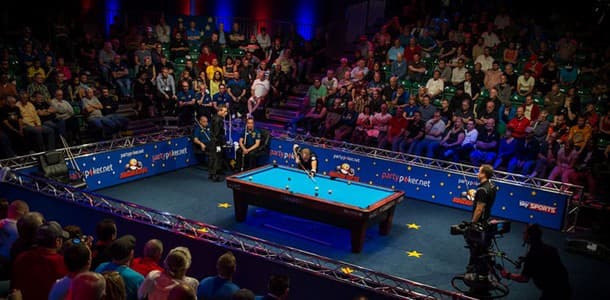 It's Europe versus America time again as the Mosconi Cup Nine-Ball Pool spectacular returns to the Alexandra Palace in London. 12 months on from an 11-4 triumph in Las Vegas, Europe now seem a class above their American rivals and a victory this year would be an incredible nine wins in a row.
The Mosconi Cup remains one of the most unique events of the sporting calendar. Expect a loud and boisterous atmosphere, far removed from the normal for snooker or pool. Lots of crowd involvement and plenty of niggle between the teams. The Mosconi Cup isn't quiet handshakes and jolly well played.
Winners celebrate. Losers skulk off. I first got hooked when Steve Davis beat Earl Strickland in 2002. How could anyone not enjoy this drama? All four nights will be live on Sky Sports from Tuesday 4th Dec to Friday 7th Dec, so it's a perfect midweek treat.
Europe go into this Mosconi Cup as a tight 1.44Bet €100 to win €14411/25Bet £100 to win £144-227Bet $100 to win $1440.44Bet HK$100 to win HK$144-2.27Bet Rp100 to win Rp1440.4400Bet RM100 to win RM144 with Bet365. USA are available at 3.00Bet €100 to win €3002/1Bet £100 to win £300+200Bet $100 to win $3002.00Bet HK$100 to win HK$3002.00Bet Rp100 to win Rp300-0.5000Bet RM100 to win RM300 with BetVictor.
These prices seem correct but I have found some better value tips in the side markets.
Quick Guide to the Mosconi Cup format
Two teams of five compete over the best of 21 games over four nights. Each game is the first to five racks (frames). A mix of singles play and doubles. Nine-Ball is quick-fire, helter-skelter stuff. The pool balls numbered 1-9 are in play, the object ball is always the lowest remaining ball. Whoever pots the Nine wins the rack. Plant and combination shots galore mean the balls aren't always potted in exact order.
Mosconi Cup 2018 Teams
Team Europe lines up with Niels Feijen, Albin Ouschan and Jayson Shaw as experienced heads. Also joining them are rookies Eklant Kaci and Alex Kazakis. The Albanian teenager Kaci has been the star player on the European Pool circuit this year and is one I'm looking forward to seeing in action.
Team USA has a more experienced group. Shane van Boening (The South Dakota Kid) leads the way as always. SvB is arguably the worlds best player but he has a rotten record in the Mosconi Cup. The Prince of Pool Corey Deuel has been playing this event long enough to have been on three winning American teams. He also has an overall winning match record. Billy Thorpe and Skyler Woodward have both been on losing sides in recent renewals although Thorpe was their best player on his Mosconi debut last year. Tyler Styer completes the line-up making his debut.
Mosconi Cup Betting Tips
The outright market seems accurately priced. Where we might find some value is in the highest points scorer on each team. Happily, we have two favourites who have question marks against them. So let's go picking winners.
Team USA Top Points Scorer Selection
On the American side, Shane Van Boening is a very tight 2.75Bet €100 to win €2757/4Bet £100 to win £275+175Bet $100 to win $2751.75Bet HK$100 to win HK$2751.75Bet Rp100 to win Rp275-0.5714Bet RM100 to win RM275 . Van Boening is undeniably brilliant with far more big titles to his name than his colleagues. However, he has been terrible in the Mosconi Cup winning just 26 of his 66 matches. He just doesn't get into the team spirit mode which is essential in these events. At one stage this summer he reportedly considered avoiding the get-togethers that were organised to encourage team bonding.
Therefore Van Boening needs to be taken on but none of the alternatives are too inspiring. Skyler Woodward has been dismal in his Mosconi appearances and no-one seems too excited over the rookie Tyler Styer. Billy Thorpe showed glimpses of good attitude last year and is reasonably priced at 5.50Bet €100 to win €5509/2Bet £100 to win £550+450Bet $100 to win $5504.50Bet HK$100 to win HK$5504.50Bet Rp100 to win Rp550-0.2222Bet RM100 to win RM550 . But my preference is for Corey Deuel at 5.00Bet €100 to win €5004/1Bet £100 to win £500+400Bet $100 to win $5004.00Bet HK$100 to win HK$5004.00Bet Rp100 to win Rp500-0.2500Bet RM100 to win RM500 with BetVictor. A winning record of 27 from 47 games is a standout in his team. Many of his defeats were in close encounters when his hotheaded nature worked against him. Age is no barrier in the pool game and he is hopefully calmer in his 40s.
Team Europe Top Points Scorer Selection
Jayson Shaw is the bookies favourite here at 3.50Bet €100 to win €3505/2Bet £100 to win £350+250Bet $100 to win $3502.50Bet HK$100 to win HK$3502.50Bet Rp100 to win Rp350-0.4000Bet RM100 to win RM350 with Betway. He's an exciting player and entitled to be favourite. However, his shot selection is flawed at times and his game can quickly get ragged. He has also taken some time out from pool this year so might be a little rusty.
It's hard to quite know what to expect from the two European rookies, whilst Albin Ouschan doesn't seem in the form that gave him Most Valuable Player honours 2 years ago. Dutchman Niels 'The Terminator' Feijen is my selection. He looks rock solid in this market at 4.50Bet €100 to win €4507/2Bet £100 to win £450+350Bet $100 to win $4503.50Bet HK$100 to win HK$4503.50Bet Rp100 to win Rp450-0.2857Bet RM100 to win RM450 with BetVictor. His Mosconi career record of 41 wins from 62 games is admirable. He's also been in decent form this year including a $20K win in front of the Sky cameras at the Masters in Gibraltar.
Mosconi Cup Betting Selections
TIP! Top American points scorer – Corey Deuel

TIP! Top European points scorer – Niels Feijen
Hopefully, we've nailed the winners here. But most importantly Go Team Europe. Whooop.
Europe
Mosconi Cup
Nine-Ball
Pool
USA