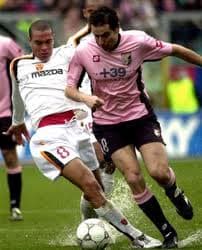 Juventus is on the brink of its 29th Italian Serie A title but, for the next few weeks, it will be the races to finish third and out of the bottom three that will grip fans.
With Juventus and Napoli on course to fill Italy's automatic UEFA Champions League spots, all eyes are whether it will be Milan or Fiorentina that earns the right to be Italy's third team in next term's edition of European club football's most prestigious tournament. It is a fight that promises to go down to the final round of the Italian Serie A season.
Most Italian bookmakers are favouring Milan over Fiorentina, with the Rossoneri trading at odds of around 4-9 to make the Italian Serie A top three and the Viola trading at odds of around 13-8. Milan is on 62 points after 34 rounds, putting it one point ahead of Fiorentina with each having four games to go.
Remarkably, three of Milan's remaining four fixtures are the same as those of Fiorentina. Both sides have a home match against Roma and away games versus Pescara and Siena to come, with the only differences being that Milan will entertain Torino and Fiorentina will host Palermo.
Milan in the driving seat with an easier Round 35 assignment than Fiorentina – bookmakers have the Rossoneri at odds of around 2-7 for three points against Torino, whereas the Viola are in the vicinity of evens to beat Roma – but punters must take note of Italian Serie A rules before steaming in to back either team, particularly Milan.
Italian Serie A rules stipulate that, in the event of two sides finishing the season on the same number of points, head-to-head results take precedence over goal difference and other tie-breakers. Milan drew 2-2 with Fiorentina in Florence on 7 April 2013 but the Rossoneri lost 1-3 to the Viola at the San Siro on 11 November 2012, all of which means that Fiorentina leads Milan on head to heads.
In all honesty, the Italian Serie A top three betting market looks about right. Milan has an excellent chance of winning all its remaining matches and, if the Rossoneri pick up 12 points, Fiorentina will have to settle for fourth position.
With Pescara (22 points) almost certain to be playing in Italian Serie B next term, it looks as if four teams are in contention to fill the other two relegation spots, with bookmakers quoting odds about Siena (30 points), Genoa (32 points), Palermo (32 points) and Torino (36 points).
With Siena having to play three of the top four – Fiorentina and Milan at home and Napoli away – one can appreciate why it is trading at odds of around 1-5. The Bianconeri will do well to get to 32 points, let alone leapfrog one of the sides above it on the ladder. Siena is going down.
Torino has two winnable home matches so it would somewhat of a surprise if the city rival of Juventus slipped into the Italian second tier. So that leaves Genoa and Palermo.
Not only does Genoa have a slightly easier run home than Palermo but also the scheduling of Genoa's games is better than that of its relegation rival. Round 35 sees Genoa host Pescara and Palermo travel to Juventus. The likelihood is that three points will separate the sides with three rounds to go and one can see Palermo struggling to haul in Genoa.
Genoa's other three matches are at home to Internazionale and away to Torino and Bologna, while Palermo's games are at home to Udinese and Parma and away to Fiorentina. Palermo may get an easy day at the office against Parma on the final day of the Italian Serie A but, by that stage, Genoa may be out of reach. Back Palermo to be relegated at odds of around 1-2 because it should be shorter in the market than Genoa.
For the record, Genoa and Palermo have drawn their two Italian Serie A clashes this season and the competition rules do not speak of away goals. Therefore, should Genoa and Palermo end the campaign level on points, it will come down to goal difference. At the moment, Genoa has a negative goal difference of 17, two goals worse than that of Palermo.
It is approximately 20-1 bar Edinson Cavani in betting on this term's Italian Serie A top goal scorer. The Napoli striker has 23 goals to his credit, five more than Udinese forward Antonio Di Natale. Cavani is long odds on to become the first Napoli player to top the chart since Diego Maradona in the 1987-1988 Italian Serie A season.