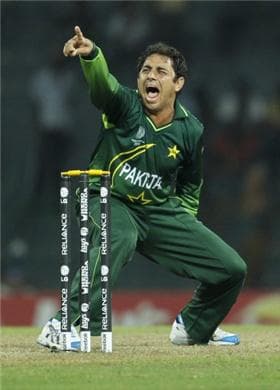 Pakistan secured victory in its One Day International series against Sri Lanka by not just winning the Fourth One Day International but taking its Asian rival to the cleaners.
Umar Gul and Saeed Ajmal with the ball and Mohammed Hafeez with the bat were Pakistan's star men in what was a great all-round team performance. Gul removed three of Sri Lanka's top four batsmen inside the first eight overs of the first innings of the game, with Dinesh Chandimal, Tillakaratne Dilshan and Kusal Perera not making it into double digits before they were back in the pavilion. Ajmal took care of Sri Lanka's middle and lower order, ending the match with figures of four wickets for 39 runs. Sri Lanka was all out for 225 runs having wasted seven deliveries and Pakistan, through unbeaten century maker Hafeez, knocked off the required runs with more than eight overs up its sleeve.
The venue for the Fifth One Day International will be the same as the one for the Fourth One Day International – Abu Dhabi's Sheikh Zayed Stadium – so Sri Lanka cannot hope for a change of fortune based on a change of scenery. Pakistan's success in the Fourth One Day International was as emphatic as one gets between two superpowers of limited-overs cricket and the reality is that the Pakistanis, having rediscovered their mojo towards the end of their tour of South Africa, are unlucky not to leading the five-game series 4-0.
Pakistan was good value for more than its 11-run victory in the First One Day International and it was a couple of balls away from winning the Second One Day International. Pakistan romped away with the Third One Day International, thrashing Sri Lanka by 113 runs and it would have gone to registering another three-digit success had it batted out its full 50 overs in the Fourth One Day International. As infuriating as Pakistan is to follow – it is the best side in the world at snatching defeat from the jaws of victory – even fans of its greatest foe, India, would acknowledge that it is in superb end-of-year form. Pakistan is making mincemeat of Sri Lanka.
Finally, bookmakers have clocked on to Pakistan deserving favouritism versus Sri Lanka, although still Stan James are offering odds of 1.90 about the de facto home team. There is a theory that Pakistan drops the ball, so to speak, in dead rubbers when it has achieved its primary objective. However, the theory does not have any foundation based on the results over the last 10 years.
For the record, since December 2003 Pakistan has taken part in 15 One Day International matches that one could describe as series-ending dead rubbers after the Pakistanis had won the main event. Pakistan has a positive ledger of nine wins and six losses in those games and it seems to do best of all when the supposedly unimportant match takes place at home or, at least, in its United Arab Emirates home from home.
Pakistan all-rounder Shahid Afridi is out of the Fifth One Day International for personal reasons. Afridi is one of the most enigmatic cricketers of recent times and, while he is capable of winning a game on its own, he is equally capable of costing his side victory. Afridi was not a factor in the Fourth One Day International that Pakistan won in first gear – he took no wickets for 37 runs and did not have to bat because Pakistan's top order took care of business – so it would be fanciful to suggest that his absence will assist Sri Lanka in ending the series on an artificial high.
Back Pakistan to rub Sri Lanka's nose in it one last time. Pakistan should have been trading at odds of around 1.70 to win the Fourth One Day International and, even allowing for the largely inconsequential nature of the Fifth One Day International, bookmakers should be quoting those odds rather than those of 1.90 that are available in places.