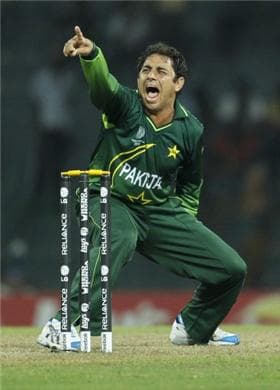 Saeed Ajmal was Pakistan's chief destroyer in its First Test defeat of South Africa and the veteran spin bowler is likely to be his team's most potent weapon in the Second Test.
Ajmal ended the First Test, in which Pakistan landed a huge upset, with match figures of six wickets for 133 runs. His fellow spinner, Zulfiqar Babar, took five wickets but the workload of Ajmal went a long way to him being top of the pops. Ajmal bowled 61.5 overs, whereas Babar only got 46 overs. When the game was there for Pakistan to win, home skipper Misbah-ul-Haq kept throwing the ball to Ajmal.
Bookmakers have framed their top Pakistan bowler markets for the Second Test at the Dubai Sports City Cricket Stadium with Ajmal as their universal favourite but the generally available odds of 3.25 about the 36-year-old off spinner appear somewhat generous given that Ajmal is in form and, historically, he has enjoyed success at the venue.
The Dubai Sports City Cricket Stadium has staged four Test matches since Pakistan went into exile in 2010. Pakistan has won each of the last three games at the ground and Ajmal has been the home side's top wicket taker in all those matches.
Ajmal has had Test hauls of seven, eight and 10 wickets in those three games, helping Pakistan to crush England twice – by 10 wickets and 71 runs – and smash Sri Lanka once by nine wickets. Most bookmakers have not put sufficient distance between Ajmal and his Pakistan colleagues in their betting markets. Ajmal is trading at odds of 2.50 with Bet365 and that, all things considered, is much closer to the mark.
Betting on the actual result of the Second Test is a tricky assignment. Normally one would be keen to lay the draw at the Dubai Sports City Cricket Stadium – a few batsmen have managed to compile centuries but many willow wielders have been skittled for single-digit scores – and bet on either Pakistan or South Africa winning the match. But Pakistan coach Dav Whatmore's comments in the lead up to the game suggest that the home team may adopt a negative approach because the series is its to lose with one match remaining.
Whatmore swears that he has not instructed the Dubai Sports City Cricket Stadium curator to prepare a benign wicket on which it will be relatively easy for Pakistan to bat out time. But the pitch preparation staff would have to be stupid not to understand the state of play and produce a surface on which South Africa could rescue the series.
William Hill is offering odds of 3.20 that the Second Test ends in a draw. That is probably the pick of the game plays but one really should keep stakes low because the scorecards of the four Test matches played at the Dubai Sports City Cricket Stadium are littered with ducks, ones and twos.
There is an interesting price, while it lasts, about the Second Test featuring at least one ton. One can snap up odds of 1.40 with Stan James that there is at least one century in the game. Three of the four Test matches at the Dubai Sports City Cricket Stadium have seen at least one batsman get to three figures. In total there has been seven tons. Bet365 is quoting odds of 1.12 about the same eventuality so the market is sure to correct itself in the coming days. But if one can get on at odds of 1.40 then it is a decent wager, particularly if one subscribes to the theory that the local curator would be an idiot to serve up anything other than a flat deck that, at best, takes spin on the last couple of days. It assists both the draw and century bets that South Africa does not have a world-class spinner in its ranks.