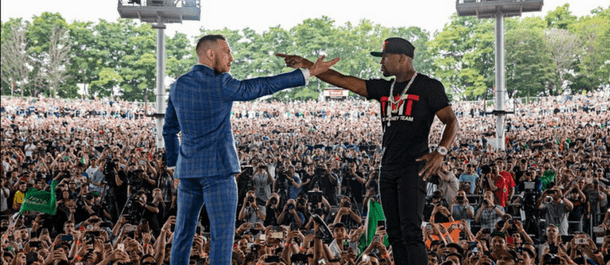 If Conor McGregor defeats Floyd Mayweather on August 26, it will be one of the most incredible moments in sports history. That's right. Not just boxing history, combat sports history, or even the massive sporting achievements that have occurred in the United States, it would be one of the most memorable accomplishments in sports worldwide.
Conor McGregor will be stepping into a boxing ring for his first-ever professional boxing contest against the greatest boxer of our generation. Floyd Mayweather has been boxing for his entire life. He's racked up victory over victory against potential boxing Hall-of-Fame athletes such as Oscar De La Hoya, Manny Pacquiao, and Canelo Alvarez. All of this and after 49 professional fights you can count on one hand the number of times he has been significantly troubled.
So, why don't the odds reflect this situation?
The Public Has Fallen for the Trap
By now, you should have noticed that the people who are profiting from 'The Money Fight' are doing their best to promote this as an extremely close contest. Dana White, Showtime and everyone involved in the fight from a promotional perspective are only trying to boost interest in the fight and raise pay-per-view numbers. If the public were to believe that the 49-0 Floyd Mayweather should dominate Conor McGregor in his cross-over to boxing, it wouldn't be generating the same attention. That's why we hear about Conor McGregor apparently beating up Paulie Malignaggi over 12 rounds. It's also why Floyd is spreading doubt about his abilities going into the contest; he wants the fans to believe that Conor has a realistic chance of stopping him.
It's Difficult to Bet on Floyd Mayweather
It really is. No one knows how Mayweather will get the job done against McGregor. Will he take him the distance, or will he finish him within three rounds? Will John Kavanagh and the corner of Conor McGregor need to throw in the towel to prevent Conor taking too much damage? We don't know. However, many people are quick to get caught up on how he will do it and simply forget the fact that no matter how he does it, it's still a win.
It's More Fun to Bet on Conor McGregor
This is also very true. Lay some money down on McGregor, and you'll be in for an exhilarating experience when August 26 arrives. If he loses, you'll hear plenty of people say 'oh well, it was worth the try.' On the other hand, betting on Floyd Mayweather isn't fun, either. The odds are still short enough to create hesitancy, especially when all the good news is flooding in on McGregor's side.
The Bottom Line
If you're looking for value, bet on Floyd Mayweather. The promoters are doing a fantastic job of spreading belief in Conor McGregor, and it's quite contagious. Seemingly every casual fan believes that McGregor can not only defeat Mayweather but knock him out, as well. If you want to make money betting on 'The Money Fight' (and after all, isn't that what sports betting is all about?), back the 49-0 boxing legend to defeat Conor McGregor. It's quite simple.
Floyd Mayweather vs Conor McGregor
Floyd Mayweather to Win
Saturday 26th August – 11:30 pm (ET) / 03:30am GMT
Odds: 1.29Bet €100 to win €12929/100Bet £100 to win £129-345Bet $100 to win $1290.29Bet HK$100 to win HK$129-3.45Bet Rp100 to win Rp1290.2900Bet RM100 to win RM129 – BetVictor
Boxing
Conor McGregor
Floyd Mayweather